Is it easy to make an informed decision when buying insurance? Let's think about buying a car from a car dealership for a moment – it is a significantly more complex product than auto insurance. Yet, despite the complexity, it is astonishing how much more information is available for car buyers: car specifications, consumer reviews, consumer car ratings (e.g. from JD Power), price comparisons and many others! Typically, consumers go to a car dealership being quite well informed about the car dealership's offer and about a car they would love to get. Consumers also normally know a ballpark figure of how much they are ready to pay.
Buying insurance has two major challenges for consumers:
Consumers can only compare based on price, not on insurance quality. It is very hard to find how well your future claims will be handled until you actually face it. For example, how long does the claim process usually takes? Days or months. Some consumers reported that they had to wait for over 9 months to get their claim paid.
The insurance market is enormous; it is not clear how many providers were taken into account when getting a quote for example from an insurance broker or an online site. The fact is that quotes from various insurance providers can vary by over 2 times.  Imagine that you could be paying twice as much for something similar!
Is there a way to help consumers get similar information for insurance? Actually, yes and it uses both technology and consolidated consumer experience reviews.
Insurance Trust Seals for Brokers
If a consumer decides to get insurance from an independent insurance broker, there are three important things to know in advance that are similar to buying a car from a dealer:
Insurance Broker vs Car Dealership
Are the insurance products offered by the broker reliable? vs Are the cars sold by the dealer a good product?
How many and what companies does the insurance broker work with? vs. Does the dealer have a wide selection of cars?
Is the broker certified to sell the product he/she offers? vs. Is the car dealer authorized to sell these cars?
How would you feel about getting an insurance product from the company which got such kind of insurance review: "I was unable to get the insurance company to pay for the damage the roof cleaner did to my car, after fighting them for a year! I have seen their adjustors, and several other adjustors see the damage. I have found this insurance manipulative and dishonest. I wish they (insurance agent) never sold me this insurance. I trusted them, but my trust has been seriously violated, and I will not be dealing with (this insurance agent) or with insurance company in the future." – One of consumer reviews collected by InsurEye
Consumer reviews are collected by InsurEye, an independent Canadian company which captures consumer reviews for insurance and shares them with Canadians. These reviews build the basis for a new service on a Canadian market: Insurance Trust Seal for insurance brokers. This Trust Seal reflects three major things:
It lets you know how good the products offered by the insurance broker are, this is based on independent consumer opinions (using customer service, value for money, claim experience lenses)
It highlights how many and which insurance providers the insurance brokers works with
It checks if the broker is allowed to sell the insurance (certified and trained on products they offer)
Some Brokers Strive For Transparency and Want to Educate Customers
Over 20 Canadian brokerages (both Life and Non-Life insurance) have joined the Insurance Trust Seal initiative and that number is increasing! These are the pioneers who both believe in educating their consumers, taking time to explain the products, and who are open to innovation in the industry. Examples of such brokers are (by province):
Insurance Brokers with Trust Seal in Ontario:
Insurance Brokers with Trust Seal in Nova Scotia:
Insurance Brokers with Trust Seal in Alberta:
Insurance Brokers with Trust Seal in Saskachewan: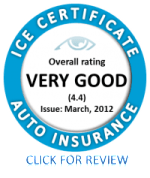 You will recognize these trusted brokers through a round InsurEye Trust Seal on their web pages. The seal is interactive and by clicking on it consumers are able to find out more about broker licensing and the consumer ratings for insurance products sold by the brokers. This should help consumers identify the best and most trusted insurance brokers in Canada. Remember, many want to sell you insurance but only few try explain it!
InsurEye Inc. is a Canadian company that provides an independent platform for consumer insurance reviews and Insurance Price Comparison based on aggregated consumer data. These tools cover most Home, Auto, and Life insurers across the country and are free for Canadians to use.