How can you market and sell insurance more effectively?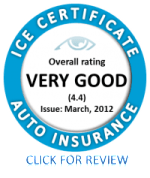 Insurance brokers are actively seeking new online ways to reach out to and capture potential customers. InsurEye offers home, auto, and life insurance brokers a unique ICE (Insurance Customer Experience) Trust Seal program to help them achieve their business goals.
The InsurEye ICE Trust Seal, placed on your home page, enables you to effectively communicate the value of your product portfolio to consumers (based on independent consumer reviews) and thus achieve higher sales. The embedded personalized Trust Seal is visible to all site visitors, and will differentiate you from the competition while increasing customer confidence.
Tired of navigating new visitors to your website only to see a few of them turn into actual customers? Try InsurEye Trust Seal!
---
How does Insurance Trust Seal work?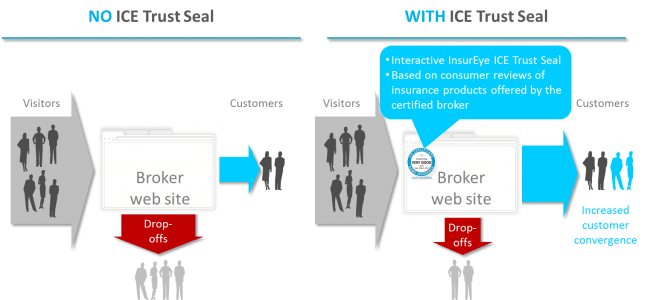 ---
Why does it work?
70% of consumers trust consumer reviews provided by other consumers
Ratings provided through the InsurEye ICE Trust Seal are based on independent consumer experiences and reviews
Transparency and education of potential customers builds trust resulting in sales increase
InsurEye's goal is to provide consumers with honest and unbiased perspectives on insurance
---
InsurEye Certification Service
The ICE (Insurance Customer Experience) is an ongoing program.  You can decide to participate at any time. Our service covers the following aspects:
Analysis of customer satisfaction levels for the insurance products you offer
Generation of a unique insurance seal that you can place on your home page
Creation of your individual certificate page on the InsurEye web site so that customers can review certificate details
Update of certificate on a quarterly basis. Please note that customer satisfaction levels can either improve or decrease over the course of time.
---
Is the technical side complicated? Not at all!
The technical implementation of the certificate is very easy – all you need are a few lines of code that are easily added to your homepage. The whole process takes no more than a few minutes. If you do not have the IT resources, we are happy to guide you through this step for no extra charge.
---
Discover more, contact Us
Simply send a note to businessinquiry@insureye.com for more information and to discuss how our service can increase your business.
Interested in details? Read about this program in our ICE certification introduction materials: 

Do you know our Website Testimonials Widget for your website? Check it out and find out how it can help you to grow your business.
---