Enrich your online presence with website navigator plug-in
Navigator technology: This is one of interactive online tools that emerged from the InsurEye Credit Card Navigator. This tool informs consumers about the protection they already have on their credit cards, while explaining the details of that coverage. This tool is available now as a white-label product and can be seamlessly integrated into any existing or new website.  It ideally complements personal finance websites, allowing financial service providers to enrich their online presence and offer more insight to site visitors. Some primary benefits of having the Credit Card Navigator on your web site are:
Higher engagement of site visitors means that they stay longer on your web site
Educational and referential aspect of the tool increases the chance of users coming back
Having interactive consumer-oriented services means differentiation from competitors
The easy and fast plug-and-play implementation requires nearly zero effort on your side. The Credit Card Navigator design can be adjusted to optimally fit your web site.
Customer Experience Publishing: This is a tool that captures, compiles, and publishes all the testimonials and endorsements shared by your customers on your website. We do it through interactive widgets seamlessly integrated into your website. Find out more here about our  Testimonials Widget and Endorsement tool and how this Testimonials Plug-in compares to other tools.
---
Credit Card Navigator – Client reference, example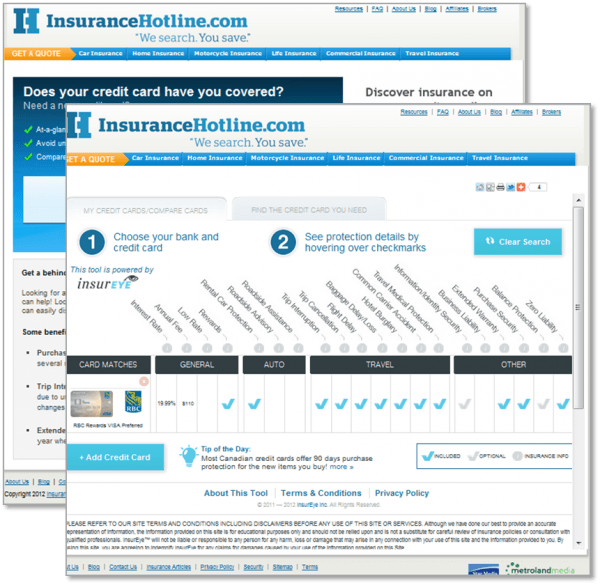 Whitelabel InsurEye's Credit Card Navigator was successfully used by one of the largest Canadian insurance online providers, InsuranceHotline.com (Torstar company). The tool educated site visitors about insurance coverage on credit cards and assisted them with finding a new credit card.
Check out our In the Media section to see a live demonstration of the InsurEye Credit Card Navigator featured on CTV and Canada AM for its launch on InsuranceHotline.
"At InsuranceHotline.com our main objective is to educate and inform consumers about many types of insurance" says Tammy Ezer, Marketing Director at InsuranceHotline – "We are very excited to announce this partnership with InsurEye because it allows us to expand our offering to include credit card insurance comparison."
Visit our Credit Card Navigator at InsuranceHotline to find out more!
---
Unique insurance insight with interactive website widget
A first in Canada, the InsurEye Consumer Experience is an interactive online platform for consumer feedback on the pricing and quality of insurance products. This platform is now available as a white-label tool, offering your site visitors an independent consumer perspective across home, auto, and life insurance. This insight complements the following web sites:
Insurance providers, brokers, and aggregators
Real estate and mortgage services
Personal finance and financial planning
Automotive
Parenting and education
Health
---
Website plug-in / widget from InsurEye: Our service offering
InsurEye offers all of its products "as a service", meaning that our products include management of all operational aspects. Our white-label package includes the following services:
Customization of look and feel, i.e. color scheme
Providing scalable back-end infrastructure to run the tool
Regular content updates, i.e. adding new products
Technical user support
---
Discover More, Contact Us
Simply send a note to contact@insureye.com for more information and to discuss how our tools can increase your business.
Do you know our Website Testimonials Widget for your website? Check it out and find out how it can help you to grow your business.