5 Reasons to Get a Condo Insurance Quote
Get a free, no-obligation quote
Find out if you are overpaying today
Talk to a live agent if you have questions to your quote
Invest several minutes to save up to $200 per year
Customize your insurance protection as you want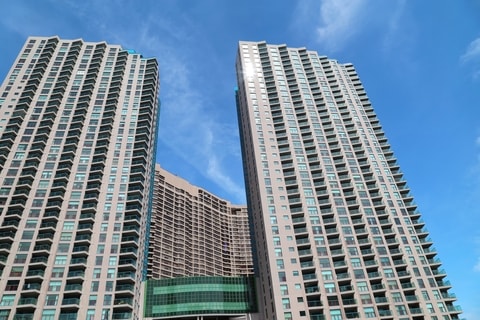 Condo Insurance Guide: Intro
Welcome to your condo insurance guide. Condo insurance is also known under several other names, including:
— Condominium insurance
— Apartment insurance
— Tenants condo insurance (when you rent a condo)
These categories relate to the same insurance. If you are looking for condo insurance for your new condominium or simply renting a condo unit, we can provide you a competitive quote and help to get you the proper insurance coverage for your property. If you want to find out if you are overpaying for an existing condo insurance policy, give it a try, complete the quote and find out how much you can save.
What are typical home and condo insurance premiums across Canada?
This chart illustrates the average home insurance premiums across Canada for both rented and owned property (not condo insurance but overall home insurance). Renters' insurance rates are typically lower than home owners premiums due to the nature of insurance:
Renters' insurance typically covers only the content of your rented property and sometimes liability. It does not cover the building itself since it is covered under the insurance property of the homeowner. A homeowner's policy covers numerous risks associated with property such as earthquake, fire, theft, etc. It's important to know that it is not the market value of the house that is covered, but rather the rebuild value, which is often lower than the market value of the house. If something happens to the property, the insurance company would carry the rebuilding costs so that a homeowner gets back an equivalent home.
Personal condo insurance is very affordable when you consider the protection it provides. An insurance policy can cost as little as $20/month. Insurers indicate that an average personal condo insurance policy in Canada costs between $27 and $33 per month. Here is more information on condo insurance rates in several large Canadian cities:
Commercial Condo Policy vs Personal Condo Policy
Commercial condo policy (

BLUE IN THE PICTURE BELOW

): Protects condo building itself, including common areas located both inside and outside of the condo building. Examples of such areas are shared hallways, entrance/foyer area, swimming pool, gym, elevators, roof, etc. It also protects residents in cases such as falling condo glass, which is not a rare thing in large cities.

Personal condo policy (

RED IN THE PICTURE BELOW

): Protects the financial interests of individual unit owners, including unit improvement and personal property. Many unit owners don't buy this coverage as they mistakenly believe that they are covered under the commercial condo policy.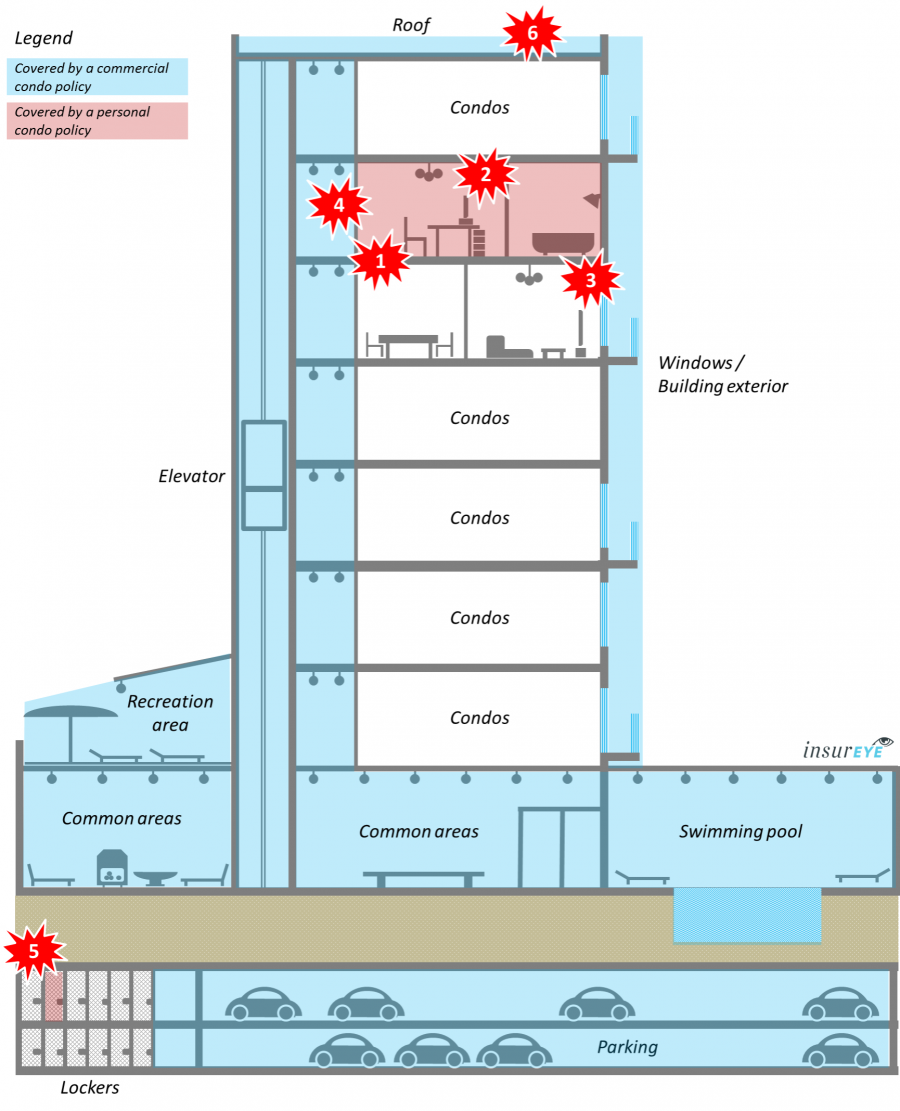 Here is what your personal condo covers (see the numbers on the picture)
Upgrades #1: You are responsible for insuring any upgrades or improvements that have been made, including those during the original construction or by a previous owner. Upgrades or improvements include hardwood floors, new cabinets or counter tops, crown moulding, and wallcoverings. Some condo corporations have passed bylaws making unit owners responsible for all flooring materials and countertops in their units, regardless of whether or not they were upgrades or improvement. Coverage limits for upgrades usually start at $2,500.

Contents #2: Any of your personal or specialty property inside your unit must be insured under your personal condo policy. This includes furniture, electronics, household goods, clothing, etc. Most policies will protect your contents against water damage, as well as other types of loss. With most policies, you can choose a limit that starts at $20,000 and goes as high as you need.

Third party liability #3: Should you, for example, forget to turn off the kitchen faucet and it causes water damage to unit owners beneath you, they can sue you for damages. This coverage also protects you if somebody gets injured while in your premises (e.g. slipping on a wet floor). Condo insurance would include this type of liability protection. Typical amount of coverage ranges between $500,000 and $3,000,000.

Theft #4: This item is strongly linked to the #2, Contents. Should any of your property be lost due to theft, most Condo Insurance policies would cover it. Overall, risk of theft is not that high in condos because of condo security services such, for example, security staff on premises, fobs required to access elevators and common areas.

Your locker #5: Did you know that from an insurance perspective, your private locker is considered to be part of your insured premises? So, if something is stolen from it, you can rest assured that your personal condo policy will protect you. It is important though to mention that you should let your insurer know that you have a locker.

Special insurance assessments: There are a number of situations where commercial condo policies do not cover all damage. In these cases, the condo corporation can make assessments against individual unit owners. This most commonly occurs when a unit owner is responsible for the damage or if the loss originates from a single unit. Condo corporations can also make assessments against unit owners if there is a shortfall in the commercial condo policy. These assessments can total $25,000 or more. As a unit owner, you can protect yourself against insurance-related assessment by having the right personal condo policy.

And the bonus one – Additional living expenses: What would you do if you couldn't live in your unit because it suffered damage and is undergoing insured repairs? If you don't have friends or family members to stay with, you could be out of pocket thousands of dollars for temporary accommodations. Your personal condo policy includes protection for additional living expenses, which includes the cost of temporary accommodation. Limits of coverage usually start at $10,000.
How can you save on condo insurance?
Change your content coverage: Do you rent an apartment or condo? You can often lower your content coverage. No need to insure your belongings to up to $250,000 if you only have a laptop and some IKEA furniture!
Monitoring: Is there other security like a doorman or security guard on the premises? This may mean an additional discount.
Neighbourhood: For your personal safety and possible lower premiums, live in a low-crime, safe neighbourhood.
Hydrants and fire-station: Ask if your proximity to a hydrant or fire station will save you money.
Professional Memberships: Are you a member of a professional organization such as Certified Management Accountants of Canada? Some companies offer discounts to professional members, and some organizations offer their members insurance policies. (e.g. Meloche Monnex Insurance)
Students: Some carriers provide discounts for students. (e.g.State Farm)
Alumni: Graduates from some Canadian universities, such as University of Toronto, McGill University and NAIT, may qualify for a discount through select providers. (e.g. TD Insurance)
Dependent students: Dependent students living in their own apartment can be covered by their parents' home insurance policy at no additional charge. Check with your insurer for this benefit. (e.g. Desjardins Insurance)
Stop smoking: Some insurers increase their premiums for the homes with smokers since this means an increased risk of fire
Direct insurers: Have you always dealt with insurance brokers or agents? Getting a policy from a direct insurer, also called a captive agent, may save you money. A captured agent only sells products from one company. (e.g. Belairdirect)
Our Publications related to Home Insurance