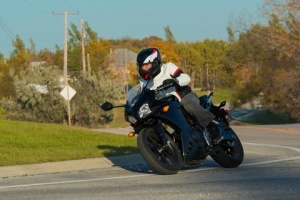 Welcome to your Motorcycle Insurance Guide. This page will make you familiar with key aspects of Motorcycle Insurance and highlights potential savings opportunities. Overall motorcycle is insurance is obligatory across Canada and premiums can strongly vary across provinces and insurance providers. There are four key components of motorcycle insurance:
1. 3rd Party Liability: Similarly to car insurance this type of coverage protects you in case you inflicted a loss or damage to another party
2. Accident Benefits: If you are injured in an accident, this type of coverage protects you. You can be either at fault or not at fault.
3. Loss or Damage Coverage: This coverage protects you against a variety of losses such as but not limited to fire, vandalism, theft, etc.
4. Hit and run coverage: Protects you in case of an accident with a driver who left an accident site (also called hit-and-run) or uninsured motorist.
These types of coverage are similar to ones you would get with an auto insurance policy. There are also many aspects that will allow you to save on motorcycle insurance – we offer below a comprehensive list to start with:
Motorcycle Insurance: Our Savings Tips
Bundle: Do you need Motorcycle, Home and Auto Insurance? Many companies will offer you a discount if you bundle them together and buy them from the same company.
Motorcycle Make and Model: Wisely choose your motorcycle, as some models are more susceptible to theft or even have a history of more risky drivers. Also repair costs would impact your premiums: more expensive models are often more expensive to repair.
Age counts: Younger drivers bring in typically less experience and considered a higher risk for an insurance companies. That would be reflected in insurance costs. As you age, you can expect your motorcycle insurance costs to go down.
Claims and driving history: Keeping your driving and claims record clean helps to reduce your insurance premiums – that must be quite clear to all riders.
Storage matters: Similarly to car insurance storing your motorcycle in a secure garage will drive lower insurance premiums – motorcycle is consider to be an easier theft target than a car.
Anti-theft system: Installing a certified anti-theft system on your bike results in a lower risk of theft and thus can often lead to insurance discounts.
Minimal coverage: Driving an old motorcycle without large value? Get a minimal coverage required by law (mainly liability) w/o collision damage (you are still protected if you damage somebody's vehicle but damages on your motorcycle will not be covered)
Our Publications related to Auto Insurance
Car Insurance by Location