Home insurance guide: Intro
Welcome to your home insurance guide. Typically, home insurance can be divided into several categories:
— Home or house insurance
— Tenant's (or renter's) insurance
— Condo insurance protection
— Seasonal property (or cottage) insurance protection
These categories differ by the type of coverage included and, typically, by the level of insurance premiums. Complete the quote and find out how much you can save.
Some home elements result in higher insurance costs. Discover all of them.
Have you ever wondered why home insurance costs vary so widely? When searching for home insurance, a number of factors can increase your home insurance costs, from those related to the building to those outside the house.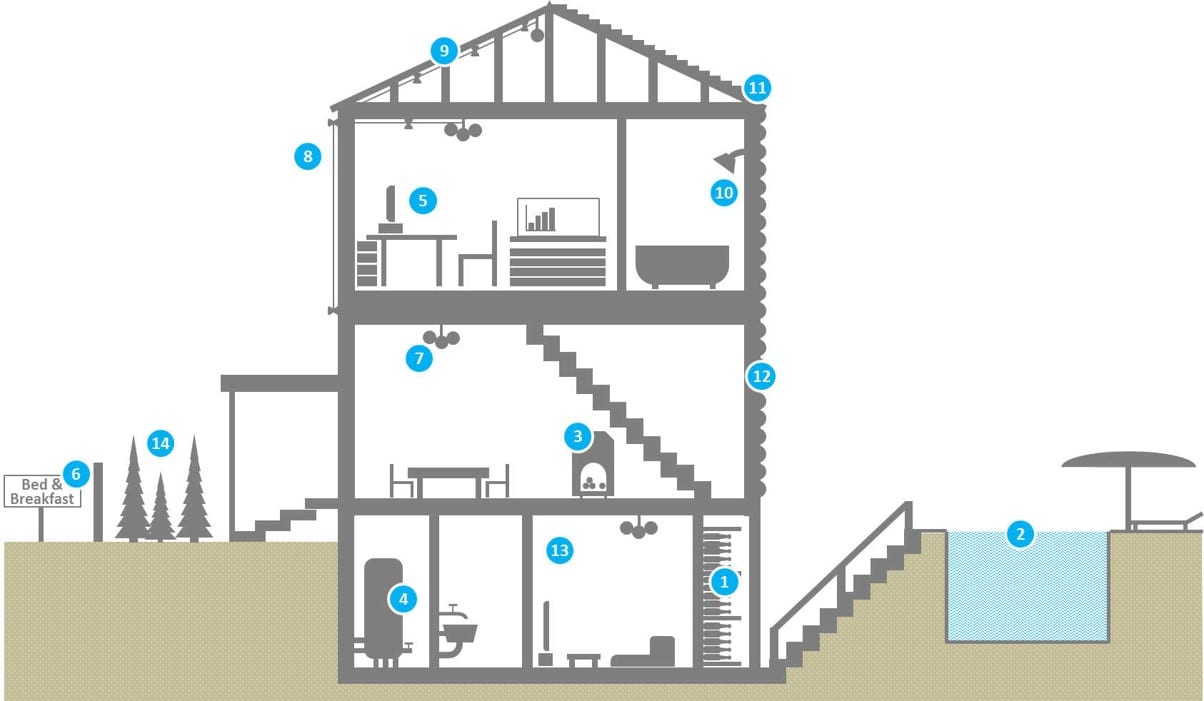 Tenant and condo insurance: what you must know
Are you a condo owner? In Canada, there are two different insurance policies involved in condo protection:
Condo insurance for homeowners covers contents, upgrades, third-party liability, theft, locker contents, additional living expenses, and special insurance assessments.
Commercial condo insurance is purchased by the condo owner; it covers the building's exterior, roof, infrastructure, and any common areas (elevators, lobby, halls, etc.)
Which policy do you need if you rent a condo in Canada? Condo tenant insurance covers your contents (should they be damaged through fire, theft, etc.), third party liability, and additional living expenses (the costs of the hotel room or rental unit you would need to stay in if the condo unit you were renting became unliveable (due to fire, flooding, etc.).
The overview below will help you understand what each insurance policy covers.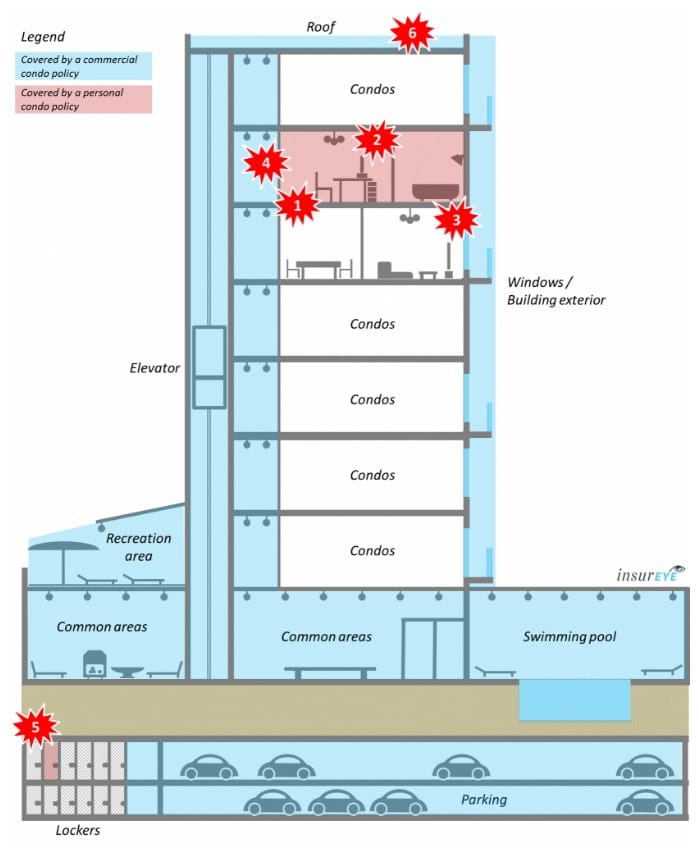 Here is an overview of elements covered by a typical condo insurance policy:
Condo unit upgrades, e.g. hardwood floors, new cabinets, etc.
Condo contents, e.g. any of your personal items, such as electronics, clothes, etc.
Third-party liability, e.g. if you flood your neighbours beneath you.
Theft from your condo unit, e.g. after a break-in
Your locker's content, e.g. any items you stored there that have been stolen.
Special insurance assessments, e.g. passed to you by your condo corporation if their policy did not have enough coverage.
Do you know how to save on condo insurance? Get a quote—it only takes 5 minutes.
What are typical home insurance rates in Canada?
As is shown in the chart above, which outlines the average home insurance premiums for rented and owned property across Canada and in Alberta, insurance rates are typically lower for renters than they are homeowners' premiums. Here's why:
Renter's insurance (also called tenant insurance) typically covers the content of your rented property, and it sometimes also covers liability. The building itself is not covered because it should be covered by the homeowner's property insurance.
A homeowner's policy covers the building, and thus covers the risks associated with that property, including earthquake, fire, theft, etc.
It is important to note that your insurance covers the rebuild value—not the market value. The rebuild value is often lower than the market value, but should something happen, the insurance company covers the costs required to rebuild an equivalent home.
Home insurance and flooding – what you must know.
Nearly 50% of all home insurance claims in Canada are related to water damage and flooding, thus it is crucially important to understand this type of risk.
From an insurance company's perspective, there are four types of flooding that can occur in Canada. Some are more likely to happen than others, and that means your insurance company is going to handle each of them differently. Knowing how each one is treated enables you to properly protect yourself—and your dwelling.
Take a look at the four different types of flooding that are listed below.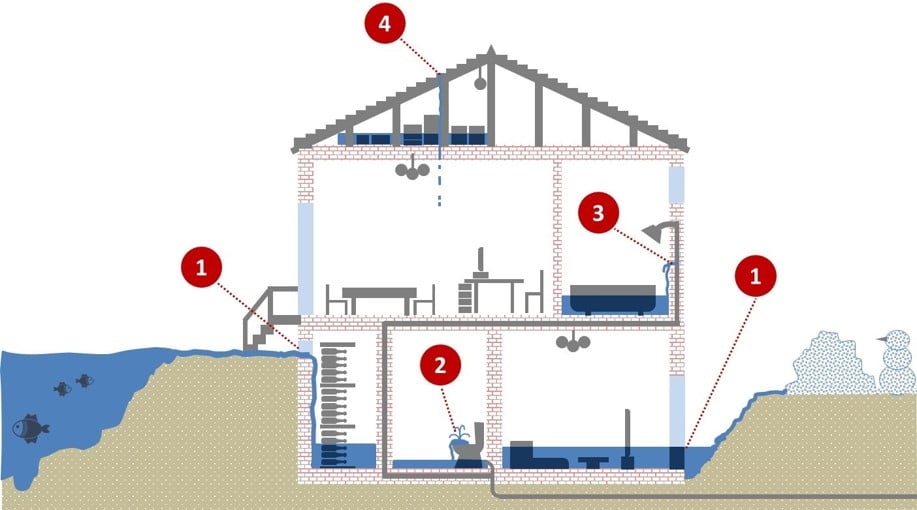 Here are the four main flooding types you should know about:
Overland flooding: originates outside of your home; typically, you would need an additional overland water endorsement to cover this risk.
Sewer backup: originates in your home when water enters your home, e.g. via a toilet or sewage. You would typically need an additional sewer backup endorsement to cover this risk.
Plumbing issues: originate inside your home and are typically covered by a standard home insurance policy.
Leaking roof: originates on the roof / in the attic and is often not covered if it occurs due to insufficient maintenance. If the same issue results from stormy weather, it might be covered.
Get home insurance to protect your home against flooding so you can stay dry.
How can you save on home insurance?
Pipes: Insurers prefer copper or plastic plumbing. Consider upgrading your galvanized/lead pipes during your next renovation cycle.
Renovations: Renovating your house can result in lower home insurance premiums because home insurance premiums for older, poorly maintained homes are usually higher. Also, updating only parts of your house, such as the basement or kitchen, may lead to savings on your insurance.
Professional Memberships: Are you a member of a professional organization, such as Certified Management Accountants of Canada? Some companies offer discounts to professional members, and some organizations offer their members insurance policies.
Stop smoking: Some insurers increase their premiums for homes with smokers since smoking adds an increased risk of fire.
Claims-free discount: You can be rewarded for being claim free. Terms and conditions vary, and not all insurers offer this discount, so ask around if you have been claim free for a long time.
Alumni: Graduates from some Canadian universities, such as University of Toronto and McGill University, may qualify for a discount through select providers.
Avoid living in dangerous locations: Steer clear of buying a house in earthquake or flood-prone zones.
Interested in more saving tips for home insurance? Get an insurance quote below and connect with an experienced insurance professional to get more tips.
Home Insurance by Location