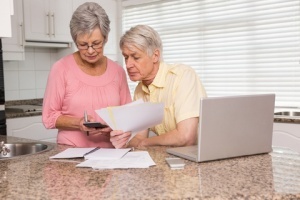 Burial Insurance Guide: Intro
Welcome to your burial insurance quotes guide. This page will give you a good understanding of burial insurance, and will inform you of savings opportunities, as well as provide a number of other useful tips based on our publications.
Burial insurance is often used as a synonym for funeral services insurance, or final expenses insurance.  The burial expenses in Canada are significantly higher than cremation expenses. The cost of a burial can vary between $3,000 and $15,000, with $7,500 being the average amount. It's no wonder that more and more Canadians make a decision in favor of cremation, with average costs of only $700, though it could reach as much as $2,500.
Typically, permanent life insurance is the best way to take care of burial expenses without leaving your loved ones with multiple unpaid bills or debts. These life insurance policies can be either traditional life insurance, simplified issue life insurance, or guaranteed life insurance.
Get a free Burial Insurance quote
What is the difference between life insurance policies covering burial costs?
All life insurance policies covering burial expenses should be permanent life insurance, meaning that the coverage exists till death. There are, however, significant differences between the three life insurance policy types:
1. Traditional permanent life insurance, in the form of a Term 100, Whole Life, or Universal life Insurance, requires a medical exam (blood test, blood pressure check etc.) and completion of a full questionnaire of health-related questions.
 2. Simplified issue life insurance would still have a set of health questions but does not require a medical exam.
 3. Guaranteed issue life insurance does not require you to answer any medical questions and there is no medical exam.
Obviously, guaranteed and simplified issue insurances are typically more expensive than term life insurance, since the insurer considers it to be more risky due to the absence of a medical exam and (for guaranteed life insurance) health questionnaire.
How can you save on burial (life) insurance?
Be healthy, save on insurance: If you are in a good health and have a good build when you apply for a life insurance policy, insurers will reward that with lower premiums. Insurance companies use a so called BMI index (body-mass index, a ratio of your height and weight)  to determine your premiums.
Family history: Having a healthy family without any serious diseases lowers your life insurance premiums as you are less likely to face a critical illness. Known serious issues in your family's medical history can increase the premiums by 50% to 250%.
Stay Happy – otherwise it can become really expensive: Mental health matters – those with a history of depressions pay between 50% and 200% more.
Rounding mathematics matters: If you decide to buy a life insurance policy, make sure that your age rounds down and not up, i.e. if you are going to be 60 years old on December 31, buy the policy in the first 6 months of the year where your age is still rounded down to 59 and not 60.
Driving safe, save on life insurance: Ensure you have a good driving record before applying – a bad driving record is punished by life insurance provider (as by auto insurers) – your premiums will go up by extra 25-50%.
Time goes by, driving offenses disappear (almost): If your driving record improved while you have a life insurance policy, you can review your premiums with your insurer and get them reduced (typical time for smaller offenses to come off your driving record is 3 years).
Other tips: Contacting an experienced, licensed broker (see a button below) will help you to find other ways to reduce insurance premiums of your life insurance premiums. Discussion with broker is entirely free and there is absolutely no obligations to buy.
Get a free Burial Insurance quote
Our Publications related to Life Insurance