Welcome to your disability insurance quoting guide:
Welcome to your guide for disability insurance quote. This page will give you a good understanding of disability insurance, will inform you of savings opportunities in disability insurance, and also provide a number of other useful tips based on our publications. We will also help you to find the best disability insurance quote across more than 20 top Canadian insurers.
Over 3.6 million Canadians have a disability (that's one in eight, or roughly 13% of the population) and it only increases with age. Let the statistics do the talking:
1 in 3 people, on average, will be disabled for 90 days or longer, at least once before age 65
The average length of a disability that lasts over 90 days is 2.9 years.
If you look at Ontario, the statistics are more alarming:
More than 15% of Ontarians have a disability (1.85 million people) – which is 1 out of 7 Ontarians
More than 40% of senior Ontarians (age 65 or older) have a disability
This trend is going up and it is expected that over the course of the next 20 years, 1 out of 5 Ontarians (20%) will be faced with a disability. This highlights the importance of disability insurance that starts with a disability insurance quote in Ontario. Click here if you are interested in finding out approximate monthly disability insurance costs for your age and profile.
What is Disability Insurance?
Disability insurance typically provides you with financial security by replacing a part of your earnings when an accident or illness causes you to become disabled and unable to work or earn an income.
An example below shows that if you used to earn $4,000 monthly prior to your disability, you can expect disability payments in the range between 50% ($2,000/month ) and 85% ($3,400/month) of your current salary, depending on the insurance policy you choose. Typically, disability insurance is limited to a maximum of 85% of your salary/income. Get an online disability insurance quote by clicking the green button if you want to compare costs for different disability insurance policies.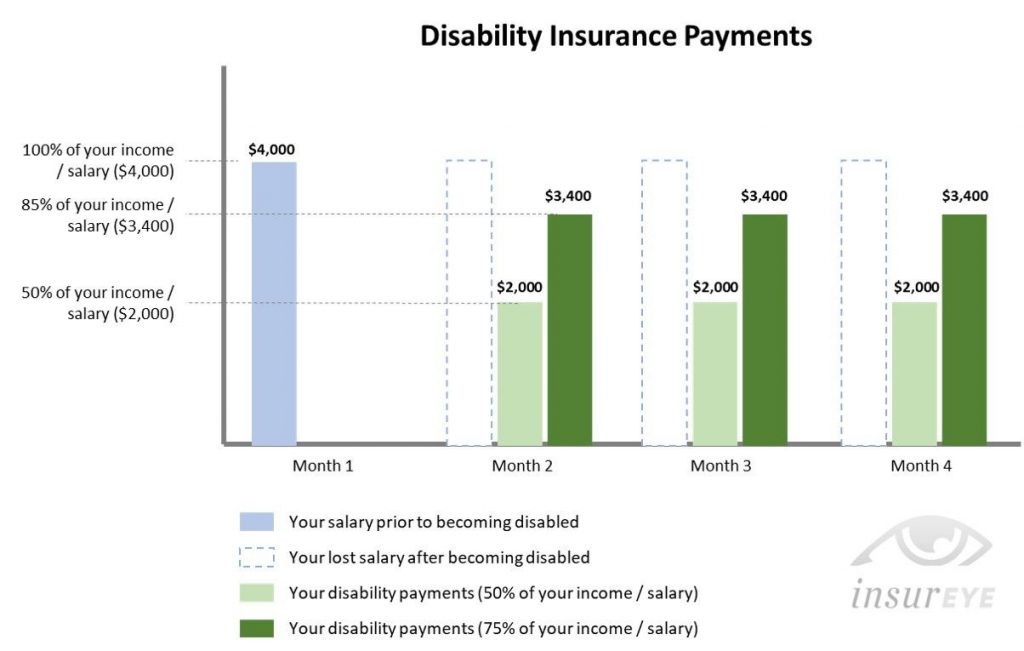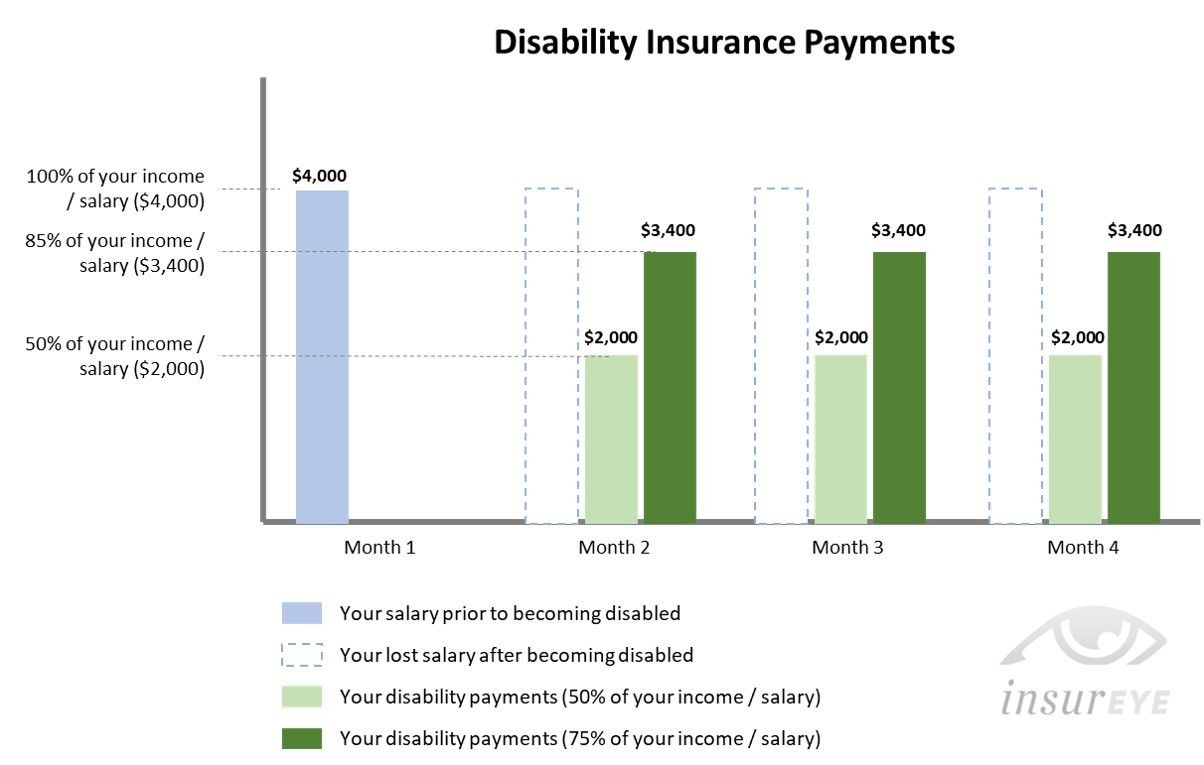 This way you can still continue to pay your bills, ensure that your family is financially secured and that your kids can get a proper education.
Depending on the definition of disability chosen by the insured, they may receive payments to recover their lost income due to total or partial disability, and whether they are unable to work at their primary occupation before the injury or whether they can work at secondary occupation.
5 Things that matter when getting disability insurance
When searching for a disability insurance quote – consumers should look for the five features below. It should be noted that many of these features are only available for a select number of occupations, i.e. professionals such as lawyers, doctors, engineers or company executives.
Non-cancelable coverage. This means the insurance company cannot cancel your coverage or adjust your premiums on a class-wide basis. This ensures that the coverage will remain in effect until the insured turns 65. The premiums are guaranteed to never increase.
'Own occupation' definition. This allows a professional that has a significant investment in their occupation, including years of training and acquired experience, to work in another occupation while they are totally disabled and still receive their disability benefits. The 'own occupation' rider modifies the definition of total disability under a basic plan, so you'll be considered totally disabled even if the insured is engaged in another gainful occupation.
Residual disability benefit. This benefit allows those who are not totally disabled to receive a residual disability payment. The insured can choose between receiving a partial disability payment for loss of time or duties, or the residual disability benefit – if they suffer a loss of income. The insured can choose the greater of the two.
Cost of living benefit. This is usually a rider that can be added to most disability policies, which makes sure the monthly benefit stays in line with inflation.
A future income option. This allows the insured to increase his or her coverage at different points in the future without evidence of insurability, however, it does require that the insured provide income evidence to justify the increase.
Disability Insurance – what you must know
"…Disability insurance basically pays out a monthly income in the event that the person becomes injured or sick. It's going to pay you that money to help offset your bills – things like your living expenses, your rent, all your day-to-day costs.
It's going to pay you that monthly income and the idea is, it replaces the income that you'd be earning when you are normally working…"
How can you get a better disability insurance quote?
Your job is not dangerous:
Not being involved into dangerous jobs like a member of the police bomb squad will help to avoid additional disability insurance premiums.
Bundle your life insurance products: Do you need Life and Disability Insurance? Many life insurance companies will offer you a discount if you bundle them together.
Payment frequency: In comparison to monthly payments, annual payments often save life insurance companies administrative costs (e.g. sending bills) and therefore they may reward you with lower disability insurance rates.
No dangerous sports: Some companies can increase your disability insurance premiums if you are involved into dangerous or extreme sports (e.g. sky diving, rock climbing).
If you are healthy, you pay less: If you are in a good health when you apply for a disability insurance policy, insurers might reward that with lower premiums.
Your driving record: Make sure that you have a good driving record before applying – a bad driving record can be punished by some life insurance providers.
Compare quotes from different providers: Disability insurance quotes can vary a lot across various insurers. Make sure to work with an experienced insurance broker to find the best rate as opposed to an insurance agent who sells insurance policies of one insurance provider only.
Other tips: Contacting an experienced, licensed broker (see a button below) will help you to find other ways to reduce insurance premiums of your disability insurance premiums. Discussion with broker is entirely free and there is absolutely no obligations to buy.
Disability Insurance: elimination period and Benefits period explained
"…When you buy an individual disability policy, they don't usually break it down into short term and long term. They have what's called an elimination period, which is generally anywhere from 30 days up to 120 days. The shorter the elimination period, the more expensive the premium.
Then they have a benefit period, which would be two years, five years or up generally up to age 65; so, the longer the benefit period, the higher the premium.
Those would be two of the variables that swing together to determine your premium, along with the monthly indemnity, which is the amount of benefit you receive if you become disabled.
…"