Are you an insurance broker? This referral program is for you!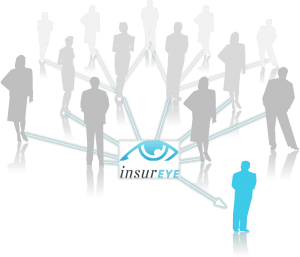 Thousands of Canadians use our independent Insurance Price Comparison and Insurance Consumer Experience service to stay informed about the prices and quality of insurance products.
Our broker referral program is very simple. Once registered, you will be listed on our platform for the locations you choose so that our site visitors can contact you.
The independent third-party nature of our services results in an objective opinion, attracting Canadians who want to be informed about insurance
Regionally targeted potential customers will have access to your contact information
Potential customers are already informed about the customer satisfaction ratings of the products you offer
Potential customers understand the meaningful price range for the insurance product
Added optional benefit of using our InsurEye Trust Seal, communicating the value of your product offering to the customer
---
Your opportunity to connect with customers who are looking for insurance
As the first independent insurance consumer review and insurance price comparison service in Canada, the InsurEye platform attracts consumers who start their insurance search here. We offer you the unique opportunity to leverage this direct channel, demonstrate your value to consumers, and connect with potential customers!
Our constant presence in leading Canadian media shows that our insight, information, and perspectives are valued and broadly shared.
---
More about our insurance referral program
Our visitors come from all across Canada because our insurance reviews cover nearly all Canadian insurers and their products. This includes reviews of both large nationwide insurers, as well as regional insurance providers such as ICBC in British Columbia, AMA in Alberta, or SGI in Saskatchewan. As a participating insurance broker, you will enjoy the following service offering:
Get listed and appear in targeted consumer insurance search results by location and product
Appear in consumer requests originating from the areas you serve
Communicate key data of your insurance business: products offered, companies you work with, etc.
Post a short pitch demonstrating your unique value to consumers, i.e. professional degrees, special service approach, a brief customer testimonial
If you are interested in seeing how you would be listed on our platform, check it here for listing examples for Auto Insurance Broker in Referral Program or Life Insurance Broker in Referral Program.
Important: The number of free spots for our referral program varies across different provinces. Please find out from the table below if there are spots available for your location. If not, we still encourage you to contact us, so that we can add you to our waiting list."
| Province | Home Insurance | Auto Insurance | Life Insurance |
| --- | --- | --- | --- |
| Alberta | Yes | Yes | Waiting List |
| British Columbia | Yes | Yes | Waiting List |
| Manitoba | Yes | Yes | Yes |
| New Brunswick | Yes | Yes | Waiting List |
| Newfoundland and Labrador | Yes | Yes | Yes |
| Nova Scotia | Yes | Yes | Yes |
| Ontario | Waiting List | Waiting List | Waiting List |
| Prince Edward Island | Yes | Yes | Waiting List |
| Quebec | Yes | Yes | Yes |
| Saskatchewan | Yes | Yes | Yes |
---
Broker Network today

Insurance Brokers in Canada
---
Discover More, Contact Us
Simply send a note to contact@insureye.com for more information and to discuss how our service can increase your business.
Do you know our Website Testimonials Widget for your website? Check it out and find out how it can help you to grow your business.