What is Typical Home Insurance cost in BC?
The chart above illustrates the average BC Tenant Insurance (also called Renters Insurance) and Homeowners Insurance premiums as compared to other regions. Renters insurance rates are typically lower than home owners premiums due to the nature of insurance: Tenants insurance in BC typically covers only the content of your rented property and, sometimes, liability. It does not cover the building itself since it is covered under the insurance property of the homeowner.
Overall average home insurance rates in BC are higher because of the several reasons:
Earthquake protection: Seismic activity of the region often results in additional coverage (insurance riders) against earthquakes that customers prefer to purchase to have a peace of mind. It is especially important along the coast.
High rebuilding costs: High share of more expensive real estate indirectly impacts home insurance premiums. Though home insurance is driven by rebuilding costs as opposed to market value of a property, British Columbia has a high share of premium, more expensive properties that are more expensive to rebuild. In addition to that construction of the buildings is sometimes more complicated than in other provinces since these should be build considering seismic hazards (e.g. special structure, lateral bracing requirements, etc.)
Remember that all properties are unique when dealing with home insurance in BC – get your free home insurance quote and find out how much you can save in insurance premiums.
Tenants and Condo Insurance Quotes in BC – Important to know
If you own or rent a condominium unit in British Columbia, remember that there are three insurance policies that might be involved in your condo protection:
Your individual condo insurance for homeowners: covers your condo contents, upgrades, third-party liability, theft, locker contents, additional living expenses and, often, special insurance assessments.
Tenant insurance policy: If you rent a condo in BC, chances are, your landlord will require this insurance from you. Tenant insurance (also called renters insurance) covers your contents (if they were to be damaged in a fire or a break-in, for example), 3rd party liability and additional living expenses (such as a hotel room or rental unit in case the condo unit you were renting becomes unliveable due to fire, flooding, etc.). It is, typically, cheaper than a homeowners insurance policy because it covers less risks.
Your condo corporation's commercial condo insurance policy: covers the building's exterior, roof, building infrastructure, and common areas (such as the elevators, lobby, halls, etc.)
Use the overview below to understand what is covered by your individual condo policy (or tenant insurance) and what is covered by the commercial condo insurance.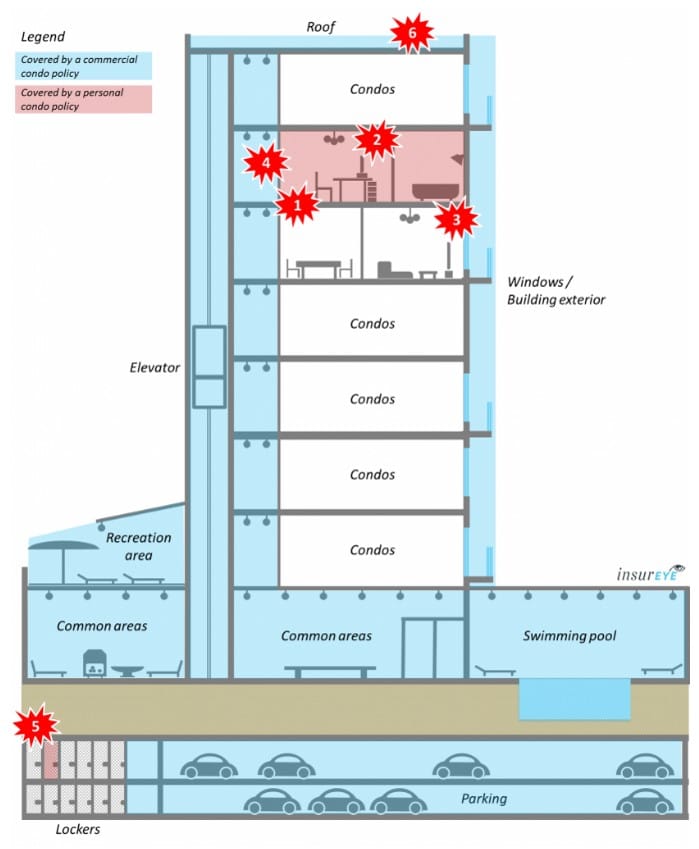 Home Insurance quotes in BC – examples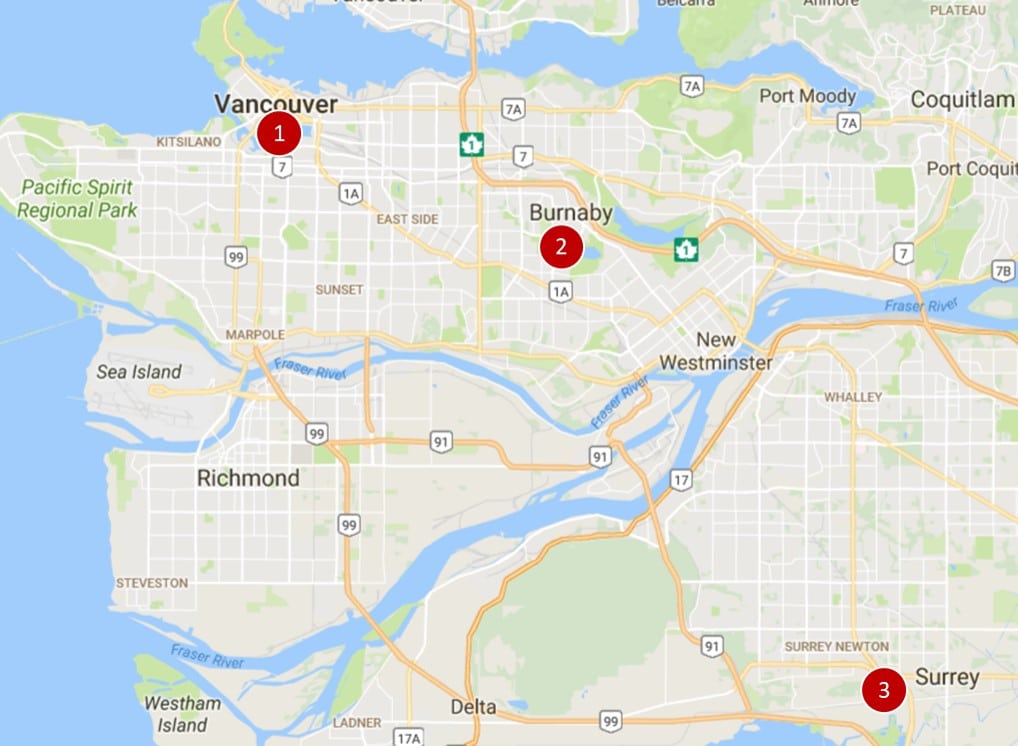 Sample quote:
Condo insurance for a 2-bedroom condo in the downtown Vancouver, Homer and Nelson St, next to Emery Barnes Park: $27 per month ($312/year)
Sample quote:
House insurance in Burnaby, BC for a 2-storey house, located at Forest and Spruce street, approx. 2,200 sqft: $77 per month including flood insurance ($924/year)
Sample quote:
Home Insurance in Surray, Sullivan Grovenor, next to the intersection of 152 St and Panorama Drive, 2-storey house, 2500 sqft: $68 per month including flood coverage ($797 annually)
Sample quote:
House insurance in Victoria, BC for a 2-storey house, located along Dorset Road, approx. 2,500 sqft: $82 per month including flood insurance ($984/year).
How to Get Cheap Home Insurance Quotes in BC – Several tips for you
Change your content coverage: Do you rent an apartment or condo? You can often lower your content coverage. No need to insure your belongings to up to $250,000 if you only have a laptop and some IKEA furniture.
Renovations: Renovating your house can result in lower home insurance premiums, as home insurance premiums for older, poorly maintained homes are usually higher. Also, updating only parts of your house, such as the basement or kitchen, may lead to savings on your insurance.
Wiring: Not all wiring is created equal. Make sure you have approved wiring and be sure to avoid aluminum wiring, which can be very expensive to insure. Not all insurers will cover houses with aluminum wiring, and those that do usually require a full electrical inspection of the house.
Neighbourhood: For your personal safety and possible lower premiums, live in a low-crime, safe neighbourhood. Your insurance rates in Vancouver (downtown's east side) might be slightly higher than the rates you'd pay for the same property in safer neighbourhoods.
Claims-free discount: You can get rewarded for being claim free. Terms and conditions vary and not all insurers offer this discount, so ask around if you have been claim free for a long time. You will get the best home insurance quotes in BC if you have never filed a claim during the last 10 years.
Bundle: Most companies offer a discount if you bundle polices, such as home and auto.
Mortgage insurance: Do you have life insurance? If so, you may have enough coverage to forgo mortgage insurance. Mortgage insurance is another name for a life/critical illness and disability insurance that pays off your outstanding debt on your home in case of a tragic event. For example, a term life policy large enough to pay off your home is usually cheaper.
Stability of residence: Lived in the same residence for years? You may be eligible for a stability discount. A few insurers offers one.
Interested in more saving tips for Home Insurance in BC? Get a home insurance BC online quote below and connect with an experienced insurance professional to get more tips.
Home Insurance Companies in BC
There are several big P&C (Property and Casualty) / home insurance companies in BC including
Intact Insurance
TD Insurance (owned by TD Bank)
Aviva
RSA Insurance (includes Western Assurance – WA, Canadian Northern Shield Insurance – CNS, and Johnson Insurance)
Economical Insurance (includes Sonnet Insurance)
The Co-Operators
Wawanesa Insurance
The list of mid-size and small property / home insurance companies in BC is quite long as well:
Square One Insurance
Travelers
Gore Mutual Insurance
BCAA
Peace Hills Insurance
Several others
Insurance brokers are also very present in BC and they also offer insurance coverage through an array of insurance companies. Examples of larger insurance brokerages in BC are
Westland Insurance Group
HUB International Insurance Brokers
Western Financial Group
Etc.
A number of Quebec-based companies though such as Desjardins Insurance, Industrial Alliance, La Capitale do not see British Columbia as their primary market.
What locations in BC do you serve?
Through our partners, we can offer home insurance quotes in BC and across the entire province, including home insurance in: Vancouver, Victoria, Surrey, Burnaby, Abbotsford, Coquitlam, Richmond, New Westminster, Kamloops, Vernon, Kelowna, and Nanaimo.