Get a Home Insurance quote now.
Start saving.
Toronto real estate has been tumultuous in the last few years. At first, everything was going, up, up and up. Record low-interest rates made huge mortgages more attractive, and few new suburbs were developed thanks to the Greenbelt. Almost 90, 000 Newcomers were moving to Toronto each year, along with Canadians from other parts of the country. The high demand and low supply put a squeeze on property prices, causing average property values to rise double-digits, year over year, with seemingly no end in sight. The City of Toronto was undoubtedly a seller's market — sellers could expect essentially any listing they put on the market to be snapped up almost immediately. Buyers had few options, especially for detached houses, and bidding wars were rampant.
The situation was perceived to be so unbalanced in the first few months of 2017 that the provincial government stepped in to cool the market. It announced the Fair Housing Plan, a series of measures to cool the market, which included a foreign buyer tax and rent control. The market reacted immediately. Sellers who previously were sitting on their properties, waiting to list at the market's peak, got nervous that moment may have passed and put their home up for sale. Meanwhile buyers, still desperate but now uncertain, simply waited to see what would happen.
Reacting to a Market Slowdown
What happened was a plunge in sales. (Not, as some media headlines would lead one to believe, a price plunge. Although prices for detached houses have softened, Toronto condos are up 15.1 per cent so far year-over-year, according to the Toronto Real Estate Board, and showing no sign of slowing their meteoric rise).
Then the federal government announced they would be tightening mortgage-lending criteria.
Activity picked up somewhat in the latter half of 2017 as buyers presumably rushed to buy before stress-testing kicked in on January 1 of this year.
What Are Sellers' Market Conditions?
So, with increased supply, and the potential to reduce demand thanks to these two successive government measures, exactly how competitive is the City of Toronto housing market right now?
Zoocasa calculated it, using a sales-to-new-listings ratio.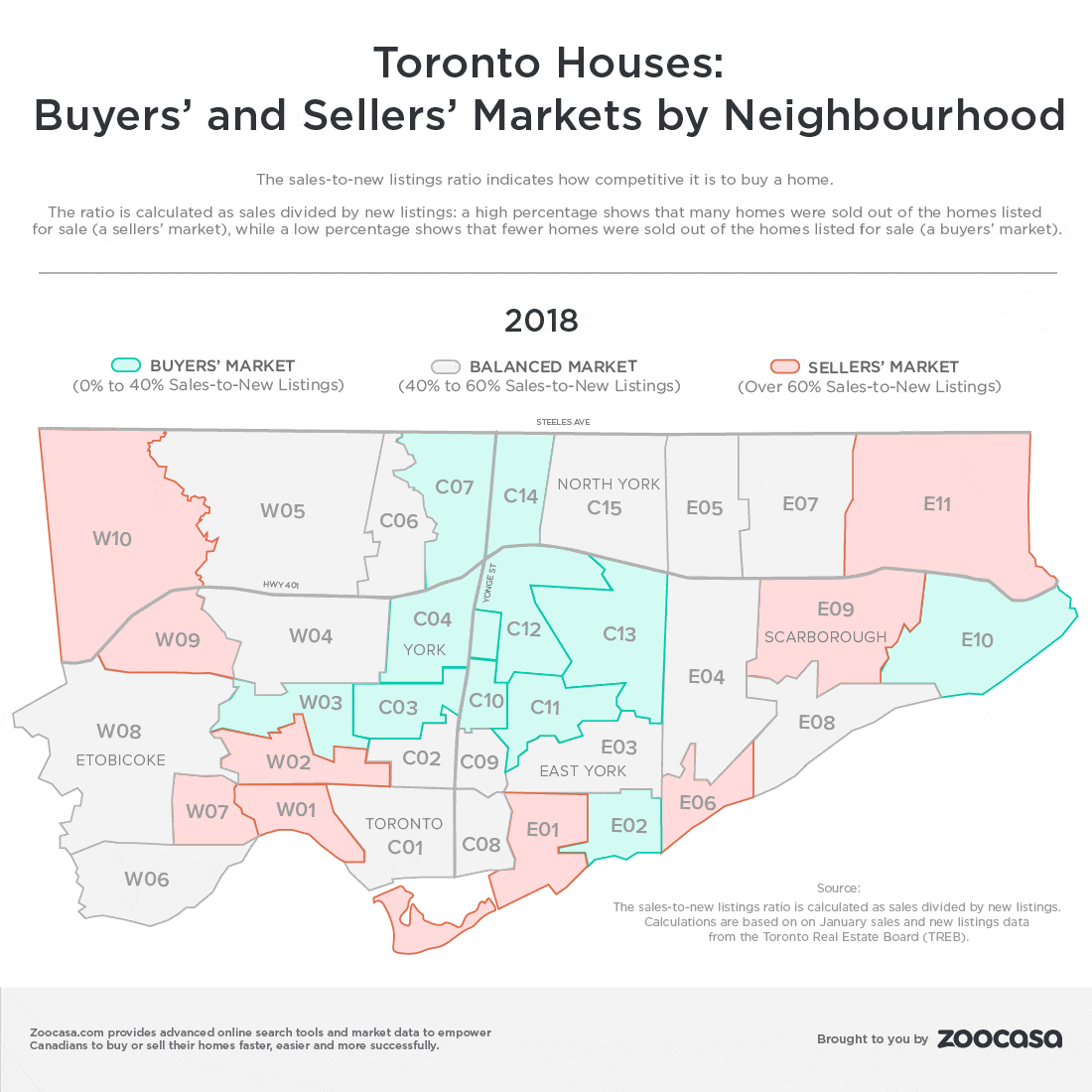 The ratio is calculated by dividing the number of sales by the number of new listings within a certain time frame in that region: for example, the number of sales and the number of new listings that came to the market in January in Toronto.
A low ratio up to 40 per cent indicates fewer homes listed for sale are being purchased, and is considered a buyers' market. A ratio between 40 – 60 per cent indicates roughly half of all homes listed for sale are being purchased, and is considered a balanced market. A ratio above 60 per cent means most of the homes listed for sale are being purchased, and is considered a sellers' market.
Zoocasa looked at every ward in Toronto from 2014 to 2018 to see how it has fluctuated between a buyers', sellers' or balanced market.
What Zoocasa found is that Toronto is truly a city of neighborhoods. Each ward differs from its neighbour in how competitive it has been, and currently is. Overall, however, a dramatic change among Toronto houses are clearly seen from 2017 to 2018. Almost every ward in 2017 was a seller's market, while this year looks like it's shaping up to be far more balanced.