4 Reasons to get a Home Insurance Quote in Calgary
Find out if you are overpaying for your existing home insurance
Request an insurance quote from10 home insurers
Talk to a live insurance broker and ask any questions you want
Get home, tenant, house or cottage insurance including flooding coverage
What Are Typical Home Insurance Premiums In Calgary / Alberta?
The chart above illustrates the average Tenants Insurance and Homeowners Insurance premiums in Alberta and across Canada. Renters insurance rates are typically lower than home owners premiums due to the nature of insurance:
Tenants insurance (also called renters insurance) typically covers only the content of your rented property and sometimes liability. It does not cover the building itself, since it is covered under the insurance property of the homeowner. That's why tenant insurance in Calgary would cost less than home insurance for landlords.
A homeowner's policy (for landlords) covers numerous risks associated with the property such as earthquake, fire, theft, etc.
Tenants and Condos Insurance Quotes in Calgary – what you should know?
If you own a condominium unit in Calgary, remember that there are always two insurance policies involved in your condo protection:
1.Your own condo insurance for homeowners: covers your condo contents, upgrades, third-party liability, theft, locker contents, additional living expenses and, often, special insurance assessments
2.Your condominium corporation's commercial condo insurance policy: covers the building's exterior, roof, building infrastructure, and common areas (such as the elevators, lobby, halls, etc.)
If you rent a condo in Calgary, you need Calgary tenant insurance or rental insurance. Very often a landlord will require you to get this insurance as a part of the rental contract.
It typically covers your contents (if they were to be damaged through fire or theft, for example), third party liability and additional living expenses (such as a hotel room or rental unit in case the condo unit you were renting becomes unliveable due to fire, flooding, etc.).
Use the overview below to understand what is covered by which insurance policy.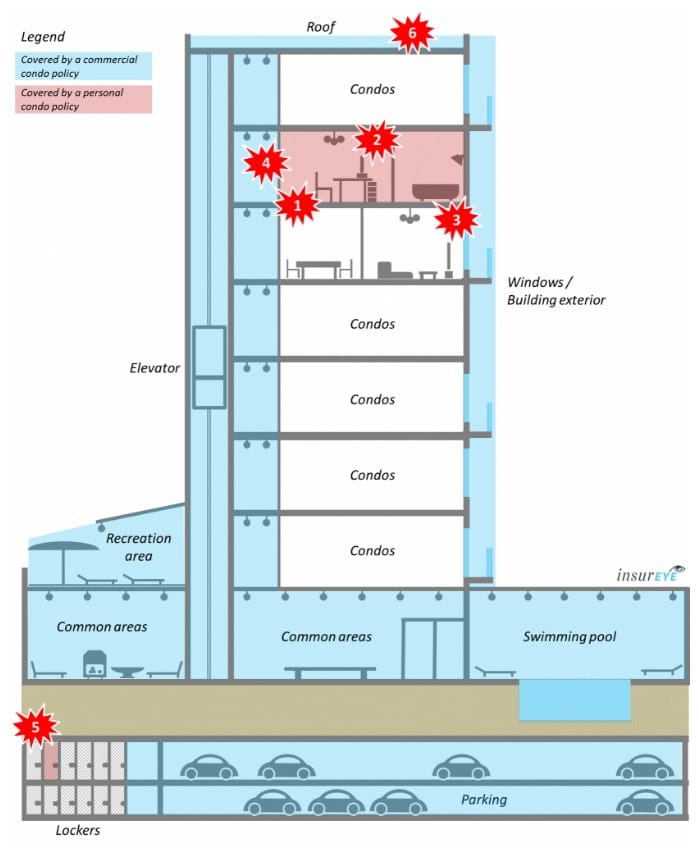 Home Insurance and Flooding in Calgary: Basis Knowledge
Calgary historically has a history of flooding and thus, as a homeowner, it is important to understand the key aspects of house insurance and flooding.
If you live in flood-endangered area of the city, your Calgary home insurance rates can be significantly higher than average. Please find further below a link to the flooding maps for Calgary and Alberta.
It is important to know that there are four major flooding types and these can be treated differently by your home insurance policy. Hover over the pic to see them.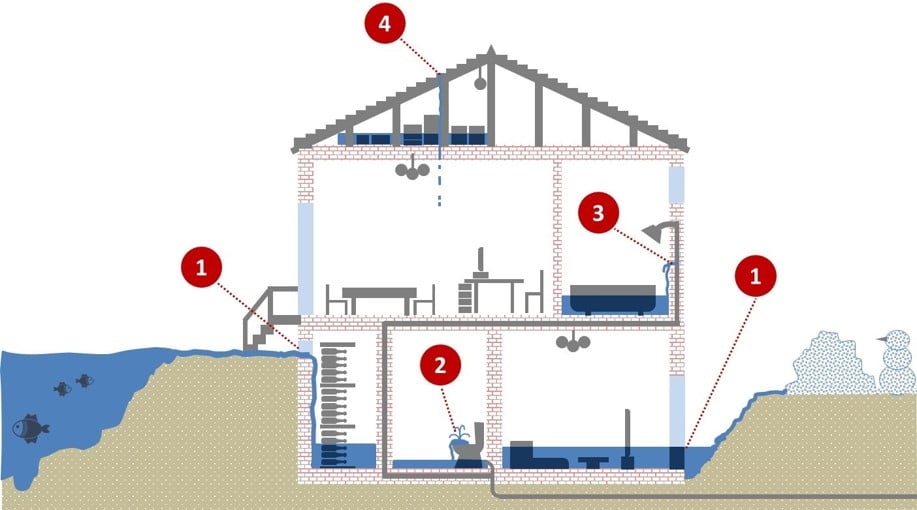 Overland flooding: Happens when water enters your house / dwelling from outside (e.g. due to rain or melting snow). Often it is not covered by a standard home insurance policy and needs to be purchased in addition to it. Some insurers do not cover it at all
Sewer backup: Happens when sewage water is pushed back into your home causing a lot of damage. In many cases it is not covered by a standard home insurance policy but can almost always be purchased on top of it for a few additional dollars per month.
Plumbing issues (e.g. pipe burst): Happens within your dwelling and, in most cases, covered by your standard home insurance policy as long as you comply with absence rules (e.g. somebody regularly visiting your home in your absence).
Leaking roof: Make sure that it the leakage is not caused by a lack of maintenance – in this case insurers are likely not to pay for it. If it is damaged due to a particular issue, e.g. hail – standard home insurance policies will typically cover it.
Link to various flooding maps for Calgary at the University of Alberta
Calgary Home insurance quotes, examples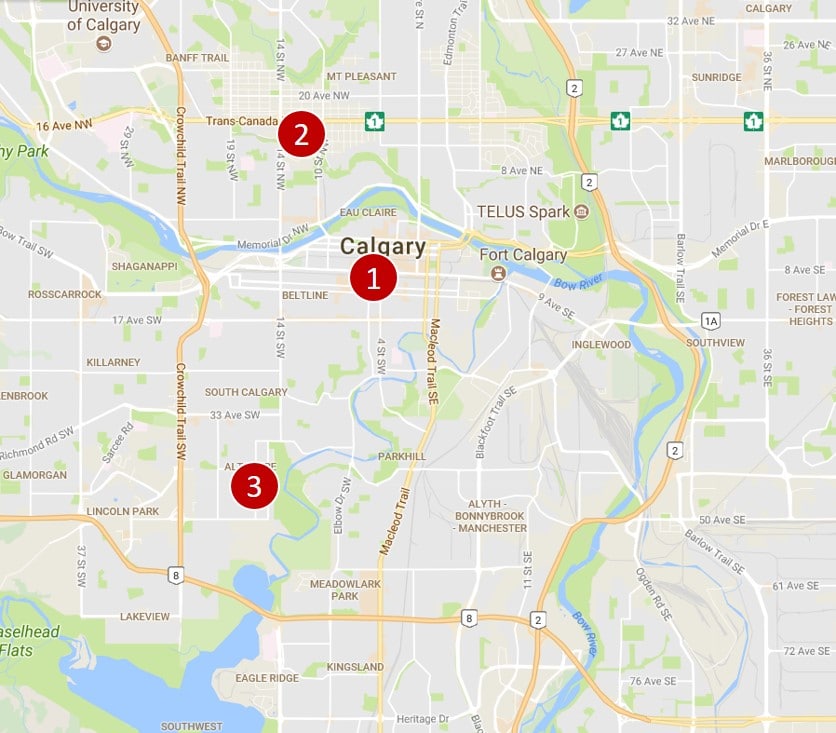 Sample quote:
Condo insurance for a 2-bedroom condo, 12th floor, 850 sqft in the downtown Calgary (12 Ave SW), next to Central Memorial Park: $23 per month ($276/year)
Sample quote:
House insurance in Calgary, Mt Pleasant for a 1-storey house, next to Trans-Canada Highway and 4 St NW: $62 per month including flood insurance ($744/year)
Sample quote:
Home Insurance in Calgary, Altadore, close to the River Park, 2-storey house, 2,800 sqft: $98 per month including flood coverage ($1,176 annually)
How to Save on Your Policy and Get Cheap Home Insurance in Calgary?
Here are a few idea how to get cheap home insurance quote in Calgary and save on your home insurance.
Change your content coverage: Do you rent an apartment or condo? You can often lower your content coverage. No need to insure your belongings to up to $250,000 if you only have a laptop and some IKEA furniture!
Monitoring: Is there other security like a doorman or security guard on the premises? This may mean an additional discount.
Hydrants and fire-station: Ask if your proximity to a hydrant or fire station will save you money.
Professional Memberships: Are you a member of a professional organization such as Certified Management Accountants of Canada? Some companies offer discounts to professional members, and some organizations offer their members insurance policies. (e.g. Meloche Monnex Insurance)
Students: Some carriers provide discounts for students. (e.g. State Farm)
Alumni: Graduates from some Canadian universities, such as University of Toronto, McGill University and NAIT, may qualify for a discount through select providers. (e.g. TD Insurance)
Dependent students: Dependent students living in their own apartment can be covered by their parents' home insurance policy at no additional charge. Check with your insurer for this benefit. (e.g. Desjardins Insurance)
Stop smoking: Some insurers increase their premiums for the homes with smokers since this means an increased risk of fire
Direct insurers: Have you always dealt with insurance brokers or agents? Getting a policy from a direct insurer, also called a captive agent, may save you money. A captured agent only sells products from one company.
Benchmark your costs: Use price comparison tools to know how much other companies are charging for similar policies and get an idea what the best home insurance in Calgary may cost you.
Pay attention to consumer reviews: Other consumers often share useful insights and experiences. You can inform yourself and avoid unexpected costs. E.g. read reviews for TD Home Insurance, Calgary
Interested in more saving tips for Home Insurance?Get an insurance quote below and connect with an experienced insurance professional to get more tips
Our Publications related to Home Insurance