Getting a life insurance policy can be complicated, but the situation becomes even more difficult if you have a serious precondition such as Multiple Sclerosis. There are 3 different categories of Life Insurance that applicants can choose from: traditional, simplified or guaranteed issue.
Various life insurance policies are available for applicants with Multiple Sclerosis but they may vary depending on your condition. If you are interested in getting a free quote for Life Insurance with Multiple Sclerosis, please, click on the button below or complete a form below.
Get a free quote for Life Insurance with Multiple Sclerosis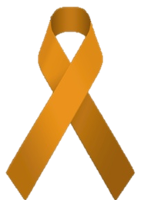 If you are interested in understanding better different life insurance types such as traditional life insurance, simplified issue life insurance and guaranteed issue life insurance and want to know what types of life insurance are available for you, have a look at our infographic further below. It will also inform you what life insurance types are available for other serious preconditions.
People with MS: Key question asked by insurance companies
Most insurance companies that provide life insurance for people with Multiple Sclerosis will be interested in the following question: "How severe is your MS stage?" That will determine the type of an insurance policy that you can apply for:
Mild condition with no disabilities
If Multiple Sclerosis has a mild form and there are no disabilities or other medical conditions, you can often qualify for traditional issue life insurance. It means that your maximum coverage limit can typically vary between $3,000,000 and $5,000,000.
More advanced stage and need for a caregiver
If Multiple Sclerosis is in a more advanced stage and you need a caregiver or have disability, you can qualify only only for simplified issue life insurance. It means that your maximum coverage limit can typically be between $50,000 and $300,000.
Interested in life insurance with MS precondition?
There are insurance companies who can insure customers with MS. It is important to work either with these companies or with an insurance broker who specializes in such cases.
Contacting an experienced, licensed broker (see a form below) will help you to find a life insurance for MS that fits you needs or simply answer all your questions related to this topic. Discussion with broker is entirely free and there is absolutely no obligations to buy.
An experienced insurance broker can also help if you need a specific insurance type such as e.g. funeral expense insurance.
Key insurance types and serious preconditions
An overview below provides a brief overview of various life insurance types. It also explains what insurance types are available to you, if you have a serious precondition. Any other question left? Please feel free to connect with an insurance professional to discuss your situation in details.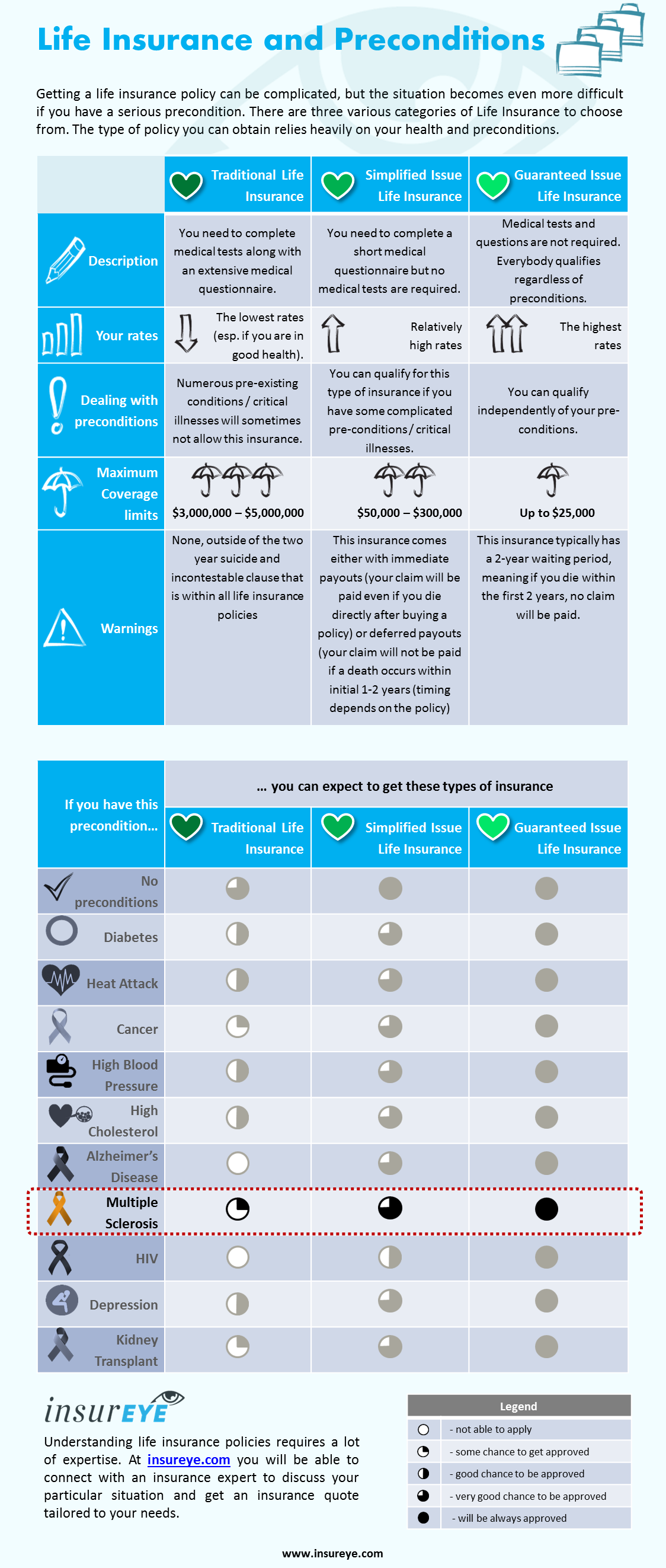 Click on the link if you are interested in downloading this infographic Life Insurance with Multiple Sclerosis as PDF.