How Much Do Others Choose to Pay for Life Insurance in BC and in Canada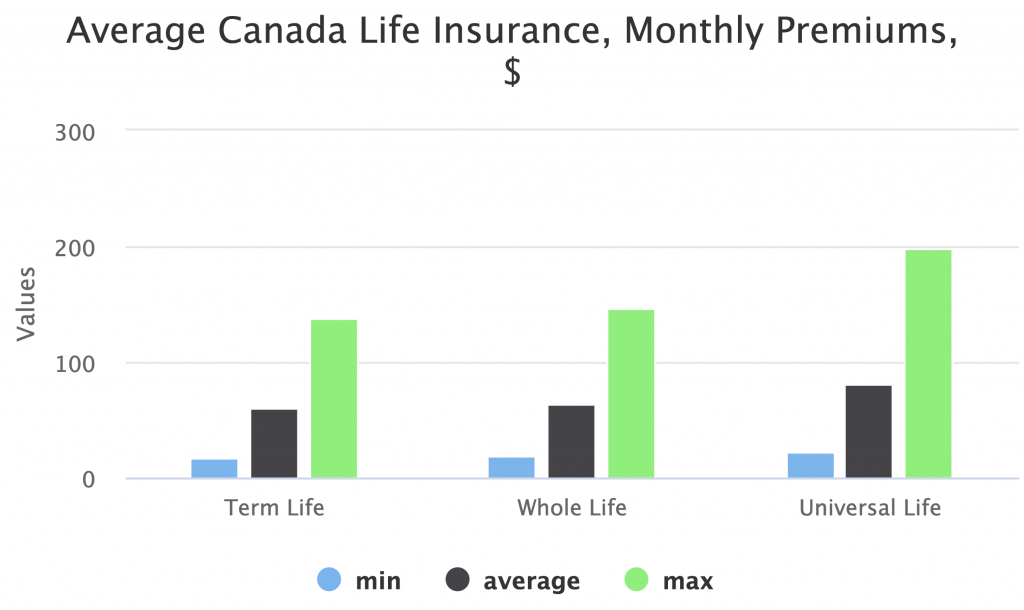 The chart shows a comparison of term life and universal life insurance premiums that consumers pay for Life Insurance in Canada. Please consider that though these are self-reported data.
We found out that many consumers in British Columbia are underinsured.
Life Insurance premiums will also strongly depend on number of factors – these are average premiums.
Overall there are several important questions to answer before choosing Life Insurance:
How much coverage (e.g. $100,000 or $$2,000,000) do I need and how long (e.g. for the next 25 years to insure my mortgage vs till end of my life to ensure that my family is safe)?
What type of life insurance product do I need (e.g. Term Life, Whole Life, Universal Life etc.)?
What provider should I choose?
When you are getting a quote with us, we not only calculate the best rate for you based on your needs but also give an opportunity to speak with an experienced adviser who can answer all your questions, address your concerns and explain all insurance details.
Several Numbers You Must Know when looking for Life Insurance in BC
In most cases, your financial obligations will dictate your need for life insurance – e.g. mortgages, lines of credit, need to ensure that your children and love ones have been take care of.
Here are a few numbers to help you when searching for life insurance in British Columbia:
| | |
| --- | --- |
| Item | Estimation |
| Average property price in Canada, July 2017 | $478,696 |
| Average property price in BC, July 2017 | $698,718 |
| Average property price in Vancouver, July 2017 | $1,029,786 |
| Average debt in Canada, 2016 | $22,081 |
| Average debt in BC, 2016 | $23,597 |
| Average debt in Vancouver, 2016 | $24,445 |
| Average financial needs to raise a child to the age of eighteen, 2012 | $243,660 |
How Do Different Aspects Impact Your Life Insurance Rates in BC?
| | | |
| --- | --- | --- |
| # | Aspect | Rate Impact |
| 1 | Smoking | Increase of 200% |
| 2 | Drinking | Increase of 50% |
| 3 | Your Family History | Increase of 50 – 250% |
| 4 | Your Medical History | Excludes coverage for some deseases |
| 5 | Your Depression History | Increase of 50 – 200% |
| 6 | Your Physical Build | Decrease of 25% to Increase of 200% |
| 7 | Your Driving Record | Increase of 25% to 50% |
| 8 | Your Gender | Decrease of 25% for Women |
Life Insurance Regulation Body in BC


Similar to other provinces there is s regulation body in British Columbia that regulates life insurance matters, The Insurance Council of British Columbia. Council's mandate is to provide a level of protection to the public pertaining to the sale of insurance products and services under the framework provided by the Act. The key objectives of The Insurance Council of British Columbia are:
Ensure education requirements for licensing meet the minimum standards necessary to protect the public
Provide licensing ensuring that all licensees are competent, trustworthy, financially reliable and intend to carry on the business of insurance in good faith and in accordance with the usual practice
Discipline licensees when there has been a breach of the Act or Rules
It is one of four Alberta Insurance Councils. The Councils are formed under the Insurance Act and they derive their authority under a delegation from the Minister of Finance for the province. Together with General Insurance Council, the Life Insurance Council is responsible for licensing and discipline of insurance agents, brokers and adjusters in the Province of Alberta.
Examples of Term Life Insurance Rates in BC
Life insurance quote in Victoria for a male, 35 years old, non-smoker, Term 15 life insurance with $350,000 coverage: starting at $24 / month
Life insurance quote in Vancouver for a female, 35 years old, non-smoker, Term 20 life insurance with $250,000 coverage: starting at $17 / month
Life insurance quote in Burnaby for a female, 45 years old, non-smoker, Term 20 life insurance with $500,000 coverage: starting at $57 / month
Life insurance quote in Nanaimo for a male, 45 years old, non-smoker, Term 20 life insurance with $500,000 coverage: starting at $81 / month
Life Insurance in British Columbia – What you Must Know
"When looking at the life insurance in British Columbia, the first thing you want to determine is your age and license in that province. That's crucially important.
Another thing you want to look at is what are your overall needs? If you look at the average residence value in B.C., you're talking $700,000 versus close to $480,000 in all of Canada. It's quite a bit more expensive. In fact, the average detached home is over $1.5 million. It's a big number, and a lot of these people have large mortgages.
When you're looking at your life insurance, you want to look at what your overall needs are, and mortgage is a big part of it, as well as your other debt.
Consumer debt is a little higher in Vancouver than it is in B.C., [and] in general than, [than] it is in other provinces. You want to factor all that in when determining your life insurance needs, and your disability insurance needs.
If you have a high mortgage and high consumer debt, that's going to be adding to your overall monthly expenses.
So, you want to really look at that and factor all that in when determining your needs."
How Can You Save on Life Insurance in British Columbia?
Member of something? Some insurers reward it: Are you a member of a professional organization (e.g. Certified Management Accountants of Canada or The Air Canada Pilots Association)? Then some insurance companies will offer you a discount.
Got Life, Disability and Critical Illness? Cancel Mortgage insurance: Mortgage insurance is a fascinating product created by money lenders. Simply said, it is a different name of Life, Disability and Critical Illness insurance policy associated with payments for your mortgage. Got a mortgage of $500k together with mortgage insurance for that? Well, if you have a Life policy large enough, you can save yourself mortgage insurance.
Bundles can be cheaper: Getting several insurance products from one provider e.g. Life insurance together with Disability Insurance and Critical Illness can be often rewarded by lower premiums. Or you can sometimes bundle Life insurance with Non-Life insurance (e.g. Home or Auto) – that depends from insurance provider.
Avoid insurance agents: Insurance agent is not equal to insurance broker. Agents typically work for one company only and can offer only products of this company. That does not leave too many options.
Great medical record drives savings: Having a healthy medical history in the past (not equal to the good current health state in the moment of application) has impact on your life insurance. If you've had serious issues, some potential disease cases can be excluded from your coverage.
Smoking impacts your health and insurance rates: Stop smoking well in advance (at least a year) before applying for a policy – otherwise your premiums will double. Like cigars? Well, many life insurance companies consider smoking more than 1 cigar per month and you won't be able to get non-smoker rates.
Rounding mathematics matters: If you decide to buy a life insurance policy, make sure that your age rounds down and not up, i.e. if you are going to be 30 years old on December 31, buy the policy in the first 6 months of the year where your age is still rounded down to 29 and not 30.
Interested in more saving tips for Life Insurance in BC? Get life insurance BC quotes below and connect with an experienced insurance professional to get more tips.
Life Insurance companies in BC
All major Canadian life insurance companies operate in British Columbia. This province includes three major life insurance companies in BC: Manulife, Sun Life Financial, and Canada Life (a new company formed by combining Great-West Life, Canada Life, and London Life).
There are also plenty of mid-size companies to choose from, such as Industrial Alliance, Desjardins Life Insurance, SSQ Insurance, Wawanesa Life, The Co-operators, Empire Life, Foresters, Ivari, Humania, Primerica, and others.
Let's not forget banks – they have the ability to sell insurance as well. Some of these include RBC Insurance, BMO Insurance, TD Insurance, ScotiaLife Financial, and CIBC Insurance. It is important to understand that insurance is not the main focus for banks and many have simpler insurance products as opposed to what you can get from insurance giants like Canada Life, Manulife, or Sun Life.
The last category of organizations offering life insurance is network-based providers such as BCAA in British Columbia and Pacific Blue Cross.
In addition to companies, there are other avenues to get insurance. It is available through independent brokers, insurance brokerages, managing general agents (e.g. Hub Financial, PPI, etc.), financial advisors and planners, etc.
Life Insurance by Location