4 Reasons to get a Life Insurance Quote
Compare life Insurance quotes in Edmonton, AB from 20+ Canadian insurers
Benefit from low life insurance premiums starting at just a few dollars per month
Protect your family and loved ones
Talk to a live insurance broker and ask any questions you want
Life Insurance average rates – how much do Albertians pay?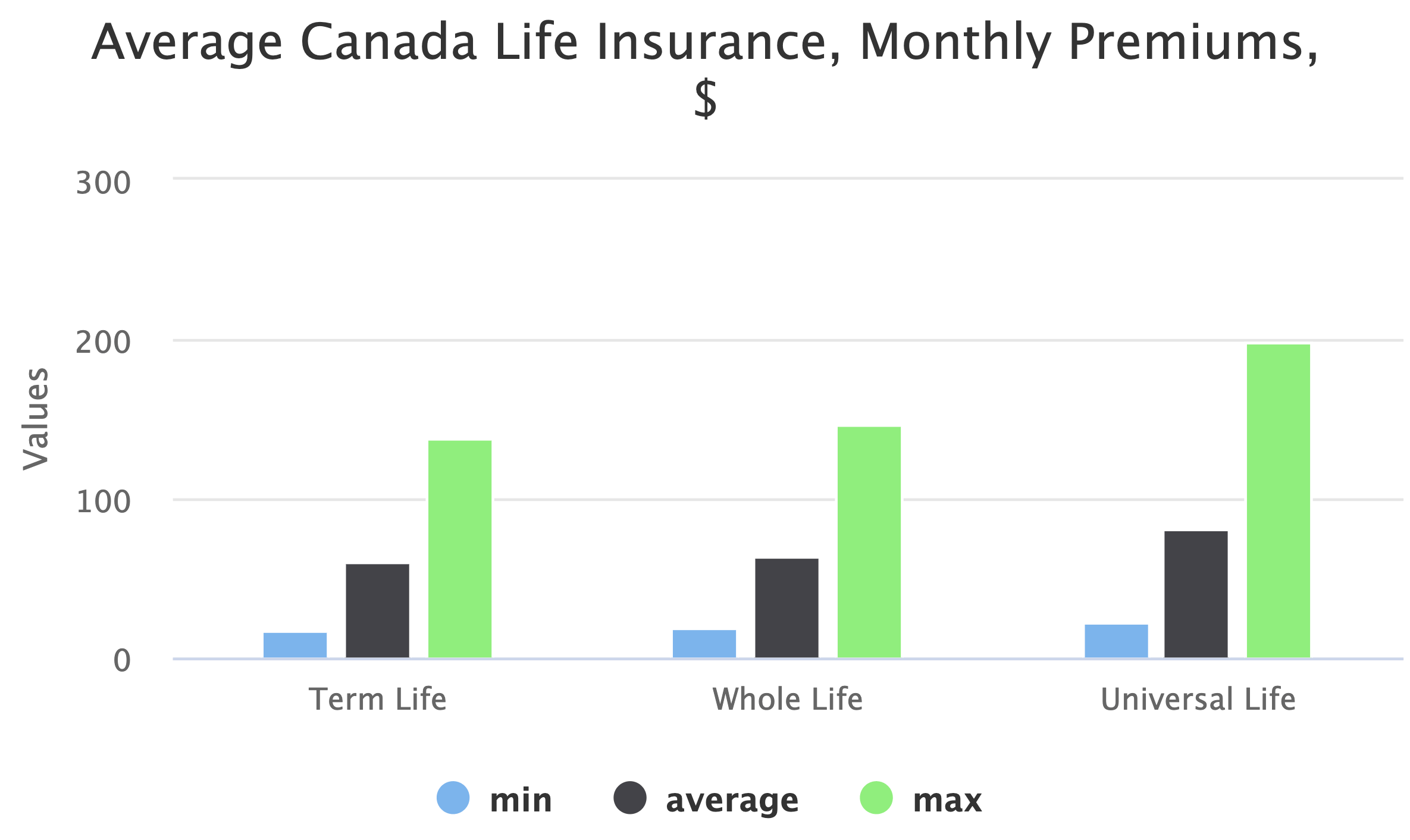 The chart shows a comparison of term life, whole life, and universal life insurance premiums that consumers pay for Life Insurance in Canada. Please consider that though these are self-reported data, we found out that many consumers in Edmonton are underinsured.
Life Insurance premiums will also strongly depend on number of factors – these are average premiums.
Overall there are several important questions to answer before choosing Life Insurance:
How much coverage (e.g. $100,000 or $$2,000,000) do I need and how long (e.g. for the next 25 years to insure my mortgage vs till end of my life to ensure that my family is safe)?

What type of life insurance product do I need (e.g. Term Life, Whole Life, Universal Life etc)?

What life insurance company should I choose?

Should I use an insurance broker or buy directly from an insurance company or bank?
When you are getting a quote with us, we not only calculate the best rate for you based on your needs but also give an opportunity to speak with an experienced adviser who can answer all your questions, address your concerns and explain all insurance details.
Several numbers to know when looking for Life Insurance in Edmonton
In most cases, your financial obligations will dictate your need for life insurance – e.g. mortgages, lines of credit, need to ensure that your children and love ones have been take care of.
Here are a few numbers to help you when searching for Edmonton life insurance:
| | |
| --- | --- |
| Item | Estimation |
| Average property price in Canada, October 2021 | $716,585 |
| Average property price in AB, October 2021 | $426,926 |
| Average property price in Edmonton, October 2021 | $341,700 |
| Average debt per person in Canada, 2021 | $57,500 |
| Average debt per person in AB, 2021 | $58,200 |
| Average interest costs per person in AB, 2021 | $1,100 |
| Average financial needs to raise a child to the age of eighteen, 2021 | $276,228 |
Sources: CREA, 2021 Canada Day Debt Report.
What aspects Impact Life Insurance rates in Edmonton and in Canada?
| | | |
| --- | --- | --- |
| # | Aspect | Rate Impact |
| 1 | Smoking | Increase of 200% |
| 2 | Drinking | Increase of 50% |
| 3 | Your Family History | Increase of 50 – 250% |
| 4 | Your Medical History | Excludes coverage for some diseases |
| 5 | Your Depression History | Increase of 50 – 200% |
| 6 | Your Physical Build | Decrease of 25% to Increase of 200% |
| 7 | Your Driving Record | Increase of 25% to 50% |
| 8 | Your Gender | Decrease of 25% for Women |
Life Insurance Regulation Body in Alberta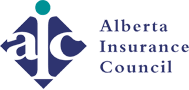 Similar to other provinces there is a regulation body in Alberta that regulates Edmonton life insurance and Alberta life insurance matters, The Life Insurance Council of Alberta.
It is one of four Alberta Insurance Councils. The Councils are formed under the Insurance Act and they derive their authority under a delegation from the Minister of Finance for the province. Together with General Insurance Council, the Life Insurance Council is responsible for licensing and discipline of insurance agents, brokers and adjusters in the Province of Alberta.
Examples of Term Life Insurance Quotes in Edmonton
Life insurance quote in Edmonton – Blue Quill for a male, 35 years old, non-smoker, Term 15 life insurance with $350,000 coverage: starting at $24 / month
Life insurance quote in Edmonton – Beverly for a female, 35 years old, non-smoker, Term 20 life insurance with $250,000 coverage: starting at $17 / month
Life insurance quote in Edmonton – Silver Berry for a female, 45 years old, non-smoker, Term 20 life insurance with $500,000 coverage: starting at $57 / month
Life insurance quote in Edmonton – Jasper Place for a male, 45 years old, non-smoker, Term 20 life insurance with $500,000 coverage: starting at $81 / month
Life Insurance in Edmonton – what you must know
Lorne Marr from LSM insurance:
"For people looking at life insurance in Edmonton, the first thing you want to look at is, "Is my broker licensed in Alberta?" Once you've met that criteria, you want to discuss with your broker "how much life insurance do I need," and "do I, in fact, need life insurance?"
People with dependents generally need life insurance much more than people without dependents. Now, those people have to look at what types of things need to be covered in terms of their life insurance needs.
A big thing is a mortgage. The average property value in Edmonton is about $380,000. That's about $100,000 less than the average property value in Canada. By the same token, the average amount of debt in Edmonton is $28,000, [which is] $6,000 higher than the average amount of debt in Canada ($22,000).
So you want to look at your mortgage, your debt, and the income that needs to be replaced, covering final expenses – once you've determined that need, then you can look at the right type of life insurance. That can be a permanent policy where the rates never go up, or a term policy where they start off a little lower and go up as you get older. If you look at that type of policy, the amount of need, all those types of things can be looked at with your broker.
A good broker can shop all the companies and make sure you get the best plan at the best price and help you fit that need."
9 tips for Edmontonians to save on Life Insurance and reduce their rates.
Great medical record drives savings: Having a healthy medical history in the past (not equal to the good current health state in the moment of application) has impact on your life insurance. If you've had serious issues, some potential disease cases can be excluded from your coverage.

Don't drink excessively and reduce your insurance rates: If you do not have any drinking issues, you can benefit from lower insurance rates – otherwise your premiums can increase by up to 50%. An intensive drinker would be considered somebody who drinks 3-4 beers a day. Remember, life insurance rates in Edmonton, similarly to other locations in Canada, depend on your driving history. Especially DUI cases are costly.

Got a solid group policy from your employer? Bingo! Group Life Insurance can be an alternative to your Personal Life insurance if your employer offers sufficient coverage – at least you are protected as long as you work for the company. On the downside the coverage ends when you leave your company.

Say no to guaranteed issue life policy: People with good health do not need a guaranteed issue life insurance policy (these are policies that do not require a medical exam but they cost more) – do a health check / exam and enjoy lower life insurance premiums.

Get rid of unnecessary riders: Check additional riders offered with a life policy to decide if you need them e.g. Accident death benefit (higher payouts in case of death through an accident), term conversion rider (in case you want convert your Universal policy into Term).

Avoid insurance agents: Insurance agent is not equal to insurance broker. Agents typically work for one company only and can offer only products of this company. That does not leave too many options.

Diabetics is not easy to ensure but not impossible: Many companies will not cover you but some will and again you'd better to rely on a broker who has experience in this field and can help to get insurance and optimize premiums.

Cancer cases are treated differently: Insurance companies treat cancer cases differently (often considering it high-risk insurance) – talking to a broker, who knows that field well, can save a lot.

Annual review: Review your policies and coverage every year, since new discounts could apply to your new life situation if it has changed. An example would be your growth of your kid (and as a consequence less funds that you need to keep as reserves) or complete payout of your mortgage.
Interested in more saving tips for Life Insurance? Get an insurance quote below and connect with an experienced insurance professional to get more tips.
Life Insurance by Location
Our Publications related to Life Insurance