Get a free Life Insurance quote from 20+ Canadian insurers
Table of Contents (click on a section to jump)
---
1. General Info about the Zika Virus
Starting last May, another pre-condition saw a dramatic rise in numbers: Zika disease. Zika is a virus that is mostly transferred through mosquito bites. Though it is relatively mild, its consequences can be terrifying, especially for pregnant women. This virus has been linked to underdevelopment of heads of newborn children, (a condition called microcephaly).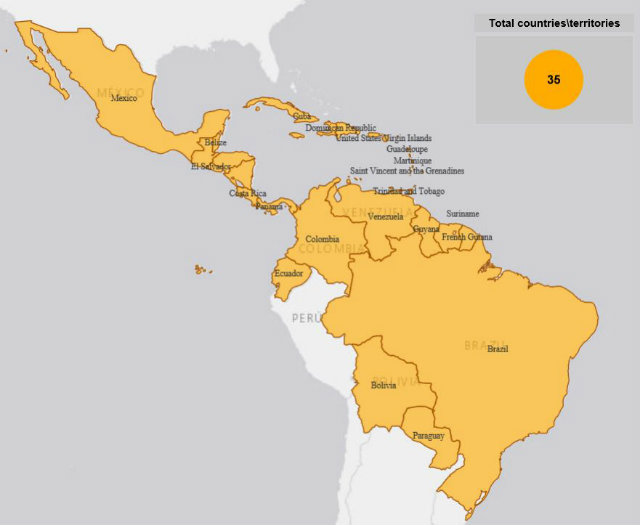 To date, the Zika virus has been identified in 35 countries – see picture (as per information from the Pan American Health Organization's website). As of April 21, 2016, there have been approximately 7,700 confirmed and over 225,000 suspected Zika cases. Currently, there is no vaccination against it and the best protection is to avoid travelling to the endangered regions and, if already there, protect yourself from mosquito bites.
It is worth noting that according to the Brazil Ministry of Health, the number of estimated cases is much higher – between ~500,000 and ~1,480,000 (meaning somewhere between 1 out of 400 and 1 out of 133 Brazilians are affected).
---
2. Zika and Insurance Risks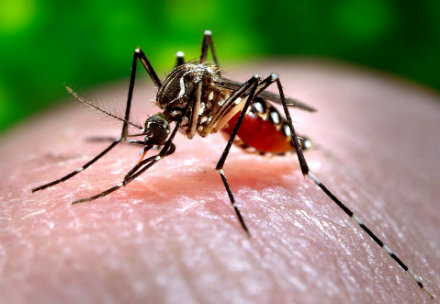 From an insurance perspective there are two risks associated with this disease – risk for disease carriers and risk for pregnant women and their babies.
Risk for babies: As mentioned earlier, the risk for pregnant women and their babies is quite significant. There is a strong connection between Zika cases and births of babies with microcephaly.
Insurance companies are always cautious to offer life insurance for cases where they do not have enough data, and Zika disease on such a wide scale is a relatively new pre-condition. Therefore, we reached out to several insurance companies to understand what life insurance protection people with Zika can expect to get and how much it would cost.
---
3. Zika Virus and the Ability to Get Life Insurance
To understand how Zika virus is seen and insured by insurance companies, we first need to understand three types of life insurance from a risk perspective. In general, life insurance can be divided into the following categories: standard (traditional), no medical life insurance – simplified issue, and no medical life insurance – guaranteed issue.
Standard life insurance comes with medical questions and medical tests, but offers the highest coverage (typically, up to $5,000,000) and has relatively low premium costs.
No medical life insurance – simplified issue does not require medical tests, but still requires the completion of a health questionnaire (which you must answer truthfully). It comes with lower coverage (typically up to $300,000) and costs more than standard (or traditional) life insurance.
No medical life insurance – guaranteed issue does not have any medical tests or questions. Everybody is pre-approved, but it offers quite low coverage (typically up to $25,000) and it costs the most. It often has a two-year waiting clause, meaning that if you die in the first two years, no claim will be paid.
We asked different insurers to explain what types of insurance are available for those with Zika disease. Several companies responded and, interestingly, the span of products offered varies a lot, meaning that costs for the policy also differ a lot. Please consider that these are three basis life insurance products but there are also other products tailored to a particular purpose such as e.g. funeral insurance plans or burial insurance.
Below you will find several examples of companies who offer life insurance for people with Zika disease.
---
4. What Life Insurance Plans and Rates do Insurers Offer for Zika Cases?
If you want to jump quickly to the results, see the table below. Otherwise we have more details for you in the following paragraphs.
Insurance Type
Simplified Issue
(Term and Permanent)
Standard (traditional) life
Simplified Issue (Term 10 and Term 20)
Standard (traditional) life
Coverage
Medium
Extensive
Medium
Extensive
Calculated rate*
Medium*
$25.20/month
Low*
$19.35/month
High*
$43.30/month
Low*
$18.45/month
Other
• Assumes no complications with Zika virus
• Assumes no complications with Zika virus
• Assumes no complications with Zika virus
• Assumes no complications with Zika virus
• Some exceptions (see below)
*To compare different rates for Term 20 policies with coverage of $250,000, we assessed premiums of a female, 32 years old, non-smoker, in good health condition, who got Zika virus 8 months ago and has been in a stable condition since then.
---
Free, no-obligation life insurance quote for you
Important: By submitting this quote, you confirm that contact data is correct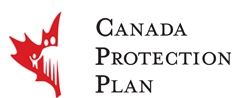 Canadian Protection Plan: This company offers some of their non-medical plans to people with Zika disease. You can apply for simplified issue, term and permanent plans.
Quote example: Canada Protection Plan offers a Simplified Issue Term 20 Policy with monthly premiums of $25.20 (adding up to $302.4/year)

Assumption Life: Similarly to Canada Protection Plan, Assumption Life offers traditional, fully underwritten insurance plans to people with Zika disease.
Quote example: Assumption Life's fully underwritten Term 20 plan will cost $19.35/month (adding up to $232.2/year).

Humania: This company offers simplified issue medical insurance as well as Term 20 and Term 10 plans – basically meaning that you will be covered for the next 20 or 10 years accordingly.
Quote example: Humania offers a Simplified Issue Term 20 Plan with monthly premiums of $43.30 (adding up to $519.6/year)

Industrial Alliance: This company's offering is probably the most different from all the providers. In fact, through Industrial Alliance, people with Zika virus can still qualify for a traditional fully underwritten permanent or term plan. This insurance comes with a few exceptions. This plan will not be available if:
The insured is not recovering well
The insured is pregnant
It is requested for a child rider (these riders offer small amounts of coverage to children under 18 or 21, depending on the plan).
Even more good news on this policy is that the coverage starts from day one, meaning there is no waiting period and there is only a short series of health questions.
Quote example: Industrial Alliance's (IA) fully underwritten Term 20 plan will cost $18.45/month (adding up to $221.4/year).
If you are interested to in this type of protection, please complete the form on your right adding Zika Life Insurance in the comment field.
---
5. Life Insurance and the Zika Virus: An Expert Opinion
We asked Lorne Marr, a renowned life insurance expert, to share his take on life insurance and the Zika virus. Lorne says: "Traditional fully underwritten policies are available to people who had the Zika virus as long as the condition is stable and controlled. Uncontrolled cases present too much risk for traditional life insurance carriers. Simplified issue policies, where there are no medical tests and a short series of health questions, are available. One caveat: while the application may not specifically ask about the Zika virus, it could fall under a catch-all question."
---
6. Zika and Life Insurance – How to Get It?
As we have shown above, there are various protection solutions available for people with Zika disease. So how can you get access to these products? The easiest way is to let an insurance broker who works with these companies do the work for you. Our partner, Lorne Marr with LSM Insurance, has access to all the insurance products offered for people with Zika. Interested in finding out more? Complete the quote form on the right.