What is Term Life Insurance? It is the simplest life insurance type and typically the cheapest one. It works in a very simple way. You choose the length of the coverage, which is called the term of the policy (e.g. term 10, term 20, term 50) in years (e.g. term 20 means life insurance that covers you for the next 20 years) and if you die within this time period, your beneficiaries will receive the coverage amount.
Typical term life Insurance are term 10, term 15, term 20, term 30 or term to 65 (insurance coverage to age 65), term to 70,term to 75. There is also term to 100 insurance, but it is considered permanent life insurance.
Insurance Tip related to Term Life Insurance: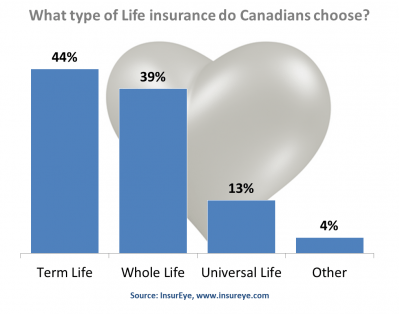 Term insurance products have lower initial premiums than Whole Life or Universal Life. So, if you are looking to maximize your initial coverage, choose Term.
It is interesting to know that according to our data most Canadians choose a Term Life Insurance (see chart).
Our Publications related to Life Insurance