Get a free Auto Insurance quote from 20+ Canadian insurers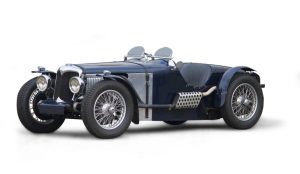 From the polished rims, the gleaming dashboard and the spotless interior, it's a welcome treat to watch owners beaming and gushing as they show off their prized classic car.
Many classic car owners extend that degree of care to choosing the right insurance service provider for their revered automobile. They've discovered the merits of shopping around for the best rates and have first-hand knowledge that all insurers are not the same when it comes to providing coverage for classic automobiles.
For one thing, all car insurance firms don't operate on the same definition of what a classic car is. For example, State Farm Canada considers a classic automobile, "a motor vehicle ten or more years old, which is rare or of special historical interest because of exceptionally fine workmanship or limited production". Furthermore, it defines a classic motor vehicle 25 years old or older as an antique.
Lant Insurance Brokers, a subsidiary of Aviva Canada, categorize classic and antique cars together, using the following description: "at least 25 years of age including commercial weight collectible automobiles such as, retired military trucks, retired semi/dump/tow/trucks, and retired farm tractors."
If you didn't bother asking your insurance representative for that information, can you imagine the shock you might experience in the event of a claim?
Armed with the fact that you have to carefully scrutinize the details when selecting a classic car insurance policy, make sure you fully understand the following important aspects before you sign on with a provider.

Most policies require that your classic car must be used on a very limited basis, such as exhibitions, car shows, or car club activities. Find out exactly what is meant by limited usage and if there is a miles/kilometre cut off for the year. Some packages allow you to drive five or six thousand kilometers yearly whereas some policies don't allow you to use the car for daily driving whatsoever.
You should clarify what is meant by actual versus agreed value. Needless to say, the valuation of your classic car is at the heart of your policy. Therefore, you have to establish if the insurance company will pay the actual or market value in the event of a major accident or write-off. The market value may not reflect the true value of your car. However, if you and the insurer come to terms with an agreed value using a licensed appraiser or expert, that option seems more favourable.
Another sticky point to consider in the appraisal process is vehicle depreciation or appreciation. Insurance companies know the depreciation concept quite well but may not be familiar with classic cars appreciating in value as time goes by. Make sure this is reflected in your policy or you may not get the fair payout you deserve. Equally as important, is to arrive at a replacement parts policy. Since many owners are painstakingly adamant to have authentic parts on their car, you have to establish that should the need arise, the cost of replacing damaged parts is reflective of the actual value.
Most of the other considerations in selecting the appropriate classic car insurance policy are straightforward. The insurance companies often insist that your car be stored in a garage or a secure facility. Many will deny you coverage if you do not have a regular insurance policy for a vehicle you drive on a daily basis. Some insurance providers want you to have at least a 10-year driving history. When these matters are being discussed, don't hesitate to point out that your driving record is impeccable and worthy of any discount available for a clean driving history. If you've been claim-free, don't be shy about divulging that either. Also, make sure to highlight an extra safety or security features added to your classic car, as you want to take full advantage of any rate discounts available.
As you can clearly identify, there are serious issues to consider before you decide on a classic car insurance policy. It is in your best interest to find a firm with a solid understanding of classic cars and one, which can place the true value on a prized vehicle.

InsurEye team thanks Rates.ca for great insights about Classical Car Insurance that we are able to share with our readers. Rates.ca is Canada's premier destination for the best auto insurance quotes. It provides access to great rates from the top brokers, agents and financial institutions in Canada while equipping consumers with relevant information along the way to help them make an educated decision.