Get a free Funeral Insurance quote from 20+ Canadian insurers
Nova Scotia has just passed a new amendment to change two acts that affect the funeral service industry. We decided to zoom in on this topic to provide more clarity and to also get a consumer-focused perspective.
What are the Recent Changes Related to Funeral Insurance in Nova Scotia?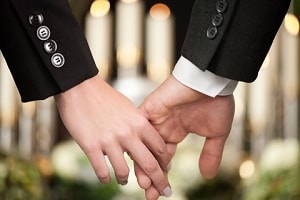 In the past, seniors had a chance to ensure their funerals were being taking care of via a payment into a funeral trust (also called a "pre-need program"), which kept money to pay for the final expenses. A negative side of this process was that a family might need to pay extra costs (cost remainder) when a person died (e.g. if a pre-paid amount was not high enough). Now, funeral insurance plans can be sold directly in a funeral home. This provides more flexibility and gives families more options when it comes to funeral costs. Once coverage and other key aspects of the funeral insurance plan are decided, the amount is locked in and can be used once needed. This new change is aligned with the way Alberta, British Columbia, Ontario, Quebec, Manitoba and Saskatchewan handle funeral insurance. Nova Scotia is the first Atlantic province to follow this path. This new regulation can be see in details here in
Cemetery and Funeral Services Regulations
. One must note that the new regulations focuses on funeral insurance plans as opposed on life insurance quotes sales in general as per
Canadian Life and Health Insurance Association
.
What Size of Funeral Insurance Coverage You Should Consider?
The main objective of funeral insurance (also called final expenses insurance or burial insurance) is to cover final expenses. First, let's look at cremation as a cheaper option and the most popular type of funeral in Canada (65 per cent of Canadians prefer cremation to burial). The range of final expenses that you should be planning for is between $1,400 (basic cremation in a special urn or vault) and $4,500 (cremation, flowers, chapel reserved for viewing etc.).

If you want an in-ground burial, that option quickly becomes more expensive. The price ranges between $3,500 (basic transportation, basic casket and a few cemetery charges) and $15,000+ (high-end burial with transportation, administration fees, expensive casket, flowers, visitation services, cemetery charges, reception, etc.).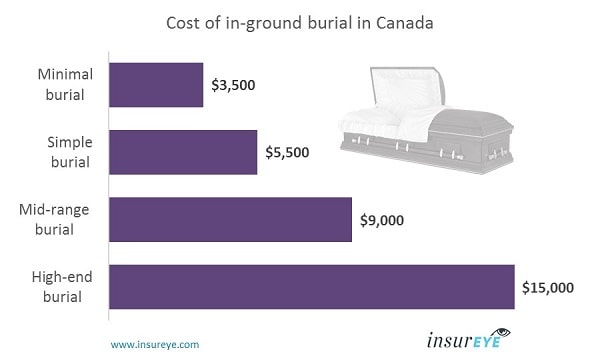 More details on what exactly each type of
in-ground burial covers can be found in this article
. Equipped with these numbers, you should be able to choose the right amount of coverage when
getting a funeral insurance quote
or a
burial insurance quote
to ensure that your loved ones do not carry a burden of unexpected expenses.
What do These New Changes Mean?
There are several things are impacted by these changes.
Consumer's choices: Having a variety of funeral insurance plans available means that seniors and their families can choose from many different plans, therefore having a choice of different options that better suit their wishes.
Potentially lower prices: Increasing competition puts pressure on insurers to offer competitive pricing. With many funeral plans available, costs will definitely be something that people will be looking at. In many cases, it is possible to get a funeral insurance quote online to get an idea of potential costs.
Defined "emergency" mechanisms: Funeral plans are not funeral-home specific and, if a particular funeral home goes bankrupt, can be transferred to other establishments.
Free, no-obligation funeral insurance quote for you
Important: By submitting this quote, you confirm that contact data is correct
Flexibility of payments: Insurance companies offer more flexible payments options – these can be tailored to the needs of policyholders.
The need to look after details: Insurance policies can be complex and have a number of constraints and limitations. A policyholder and his/her family should make sure they fully understand the funeral insurance quotes and documents they sign.
What Should Consumers Pay Attention to?
We asked Alexey Saltykov from InsurEye, a consumer-focused platform that provides independent consumer reviews for insurance and
various insurance quotes
, including funeral insurance, to comment on these new changes. Alexey says,
"Overall, I think it is a good idea that consumers have more choices. At the same time, there are some dangers – insurance products are not always easy to understand, especially in terms of conditions and exclusions. That's where I see some potential pitfalls; it is important that people who buy products clearly understand what they buy. These changes require product simplification and also good guidance at the point of sale (either physically in a funeral home or on the phone or online). We should not forget that often, customers for this products are older, frail people who might need very clear guidance and a very honest presentation of the products."
"Let me give you two examples: first, many funeral insurance products come with a two-year waiting period, meaning that if a person purchases this product but then dies after 1.5 years, NO CLAIM WILL BE PAID. Only premiums will be returned. Secondly, if some medical questions in an application are not interpreted and answered correctly, it CAN MAKE THE POLICY VOID IN FUTURE. So the key is to ensure that the policy holder correctly understands the purchased policy, and it's a good idea for a friend or family member to attend the meetings too."
We hope these industry insights will be helpful for you and your family members in Nova Scotia when getting final expenses insurance/funeral insurance. Should you have any further questions, our insurance experts can help you with a funeral insurance quote or advice.