Get a free Auto Insurance quote from 10+ Canadian insurers in Alberta
Many publications are focused on Ontario's high car insurance rates, so that's why we decided to take a look at car insurance premiums in Alberta and provide more transparency about this topic, and how auto insurance quotes differ selected several Canadian provinces.
Car Insurance Rates in Alberta are 25% Lower than in Ontario
Analysis of data in our database indicates that Albertans pay, on average, $1,428 per year. That's a good chunk of money, but let's see how it compares to Ontario and other provinces.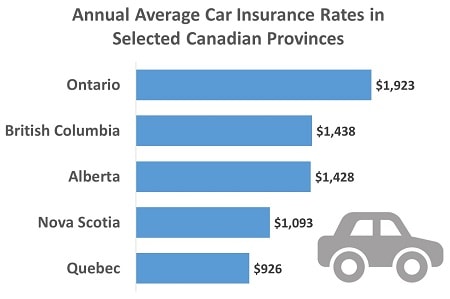 First, we will look at overall premiums and then we will drill down on numbers to understand how insurance premiums vary between men and women, and for good vs. high-risk drivers.
Rev up your engines and let's get started!
If we compare average annual car insurance rates in Alberta with premiums in Ontario (which average $1,923 per year), we see that Albertans pay approximately 25% less than drivers in Ontario. At the same time, drivers in Alberta pay nearly the same amount as drivers in British Columbia ($1,438 per year) and more than drivers in Nova Scotia ($1,093 per year) and Quebec ($926 per year).
This means that if you decide to get a car insurance quote for Alberta, you are likely to see that you will pay $500 annually less than Ontarians, but $350 and $500 more than drivers in Nova Scotia or Quebec. However, there will be no significant changes compared to British Columbia drivers.
Men pay, on Average, 20% Higher Premiums in Alberta Than Women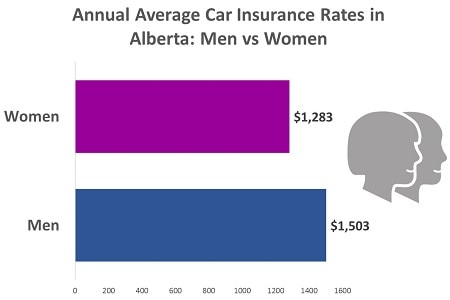 In general, women benefit from lower auto insurance rates than men. This happens due to the fact that women, as a rule (but not always), are more careful drivers. They also tend to have less serious accidents that require a lower claim payout as opposed to men, whose accidents are more likely to result in a totalled car. This logic is built in into most insurance companies' car insurance quotes and actuarial models.
In Alberta women pay, on average, $1,283 per year; whereas men's average annual rates reach $1,503. That is a difference of approximately $220 annually.
High-risk Drivers pay More than Double in Alberta
Another aspect that drastically impacts car insurance quotes, and, as a consequence, rates, is your driving record. An at-fault accident can significantly increase auto insurance rates everywhere across Canada. In some serious cases, such as DUI accidents, most insurance companies can even refuse to provide an insurance policy. In this case, drivers are forced to move ahead with companies focusing on high-risk drivers; and these companies are charging exorbitant rates. Several years will pass before a high-risk driver can see an improvement of his/her driving record and, as a result, a decline in car insurance rates.
So how do high-risk drivers' rates in Alberta compare to the premiums paid by good drivers? If you had no violations within the last six years (not considering parking tickets), you enjoy an average annual rate of $1,317 in Alberta.

Interested in Auto Insurance?
Get a free, no-obligation quote
We compare rates from over 20 insurers to show you 3 best quotes
If you have a maximum of two non-serious violations in the last three years (e.g. some speeding tickets), be ready to pay an average of
$1,687 per year
. Driver who have more than two violations in the last three years or a license suspension in the last six years face average annual car insurance rates up to
$2,900 per year
. That's more than double the rate of "good" drivers and in some cases, this amount can go up even further! In the worst cases, high-risk drivers can become uninsurable and the only place where they can get car insurance is the Facility Association, an organization that provides insurance to drivers (at high costs) who cannot get it anywhere else. Here you can find more about
high-risk car insurance
and get a quote.
Obviously, your driving history and gender are only a few things that impact your auto insurance premiums. We identified 101 factors impacting insurance costs, including car insurance costs.
These insights were compiled based on reports by consumers and collected through an interactive insurance rate comparison platform at InsurEye.com, where you can test your own insurance premiums, read independent consumer reviews for nearly every insurance company and get the best car insurance quotes to reduce your insurance expenses.