Get a free Life Insurance quote from 20+ Canadian insurers
There are countless articles about Life insurance but most are too general and few provide insight into the hard numbers. To address this, we spoke with certified Life Insurance agent, Zael Miransky from Investors Group who shared with InsurEye his insider knowledge on the main factors impacting Life Insurance policy. Zael explained how 8 key aspects impact the insurance premiums (example Term Life):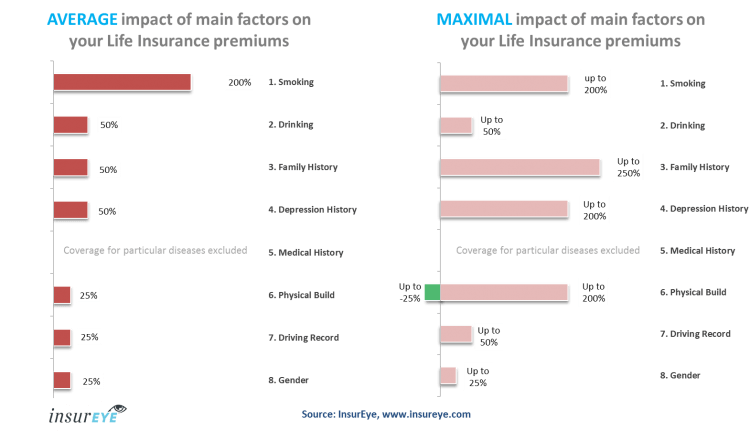 Multiple factors can impact the same Term Life policy. Whatever the applicable aspects are in your case, they can increase policy costs further. In some cases the insurer can refuse to issue a policy. These are estimated average numbers and can vary across providers.
Get a free, no-obligation Life Insurance quote
Important: By submitting this quote, you confirm that contact data is correct
1. Smoking: The largest premium "booster" is Smoking – if you smoke your Life insurance premiums go up immediately by 200%. In the worst cases you can be denied a policy.
2. Drinking: If you are an intensive drinker (3-4 beers a day); your premiums can go up by 25-50%. Excess drinking can result in your policy being rejected whereas "social drinking" does not really concern insurance companies.
3. Depression History: Interestingly, your depression history is a big thing for life insurance providers. On average, a history of depression can increase your rates by 50% but they could climb as far as 250% in certain cases. Insurers can also reject you as a customer if it appears, after discussion with your doctor, that there is a risk of suicide.
4. Physical Build: Being in shape means a lot for life insurance premiums. On average life insurance premiums go up by 25% due to the physical build. The key thing here is a ratio of your height to our weight – in other words, the insurer wants to know if you are overweight and punishes the worst cases with a potential 200% raise of premiums! The gravest cases can even be rejected. However, there is the other side of the coin – should you really be in great shape, your premiums can go down by up to 25%! In other words you are financially rewarded for spending time in a gym!
5. Your Family's Medical History: Your family's medical history may impact your life insurance rates as well – in many cases with a 25% add-on fee. Insurer assumes that if somebody in your family had a particular disease, you are more likely to be impacted by it. This can lead to a dramatic raise in premiums of up to 200% for particular diseases or even exclusion in the case of certain diseases
6. Your Medical History: The way your insurance company deals with current medical ailments is quite interesting. Your insurance premiums are not significantly impacted by your medical history, however having some particular diseases or symptoms can result in the insurance company not covering you in case of death from that disease. For example, if you have a history of kidney disease, your policy would not cover you if your death was a result of kidney failure.
7. Driving Record: A bad driving record will cost you when getting a life insurance policy. Light violations in the last 3 years will lead to an approximately 25% life premiums increase and could reach 50% in some cases. If you have had several at-fault driving accidents in the last 3 years, a life insurance company will likely not insure you at all.
8. Gender: At the moment, women win! Gender does impact life insurance rates and women pay on average 25% less than men. Because of a longer average life span and less stress in life, there is less life risk for female insurance customers.
Some occupations may impact your life insurance premiums as well but unless you are a member of a police bomb squad or similar you should not be concerned.
Your age also contributes to your life insurance premiums – on average premiums increase by about 4% per year.
A word of warning: Don't try to save on life insurance by lying to your insurance provider – you can be sure that in the case of an accident, the insurance company will do its homework. Lying on application is by FAR the largest reason for insurance company do not pay claims.
Little Known Aspects of Life Insurance
There are several other aspects which are important to know about Life insurance that Zael shared with us. Did you know that…
Start of the coverage: Your insurance protection is in effect and covers you first WHEN YOU HAVE COMPLETED THE FIRST PAYMENT and not when you were approved for insurance. It is the duty of a good life insurance broker to get to you the approved policy as soon as possible and make sure that all payments are done.
Additional sickness and bad habits that start after you purchased a life insurance policy DO NOT AFFECT your Life insurance premiums. Let's say you gained a lot of weight or had a car accident afterwards – your life insurance premiums will stay the same.
Saving on life insurance: If you quit smoking or drinking or your life insurance profile improves, you can lower your existing insurance premiums!
Travel abroad: You can be refused a Life insurance policy if you are planning a trip to an endangered location. For example, you may be refused a policy if you travel to a country with higher crime rate – however, you are eligible to re-apply for the policy upon your return.
Crucial to Know: When Can Your Life Insurance Provider Refuse to Pay
Although rare, insurance company sometimes make headlines when they refuses to pay out a claim. That's why we asked Zael, what the most frequent reasons that Life insurance providers reject paying out the premiums. His reply was:  Surely, there is a plenty of self-explanatory exclusions such as "you participate in armed conflicts" or "commit a suicide" but the two largest cases that everybody must be aware of are:
1. Lying on the application: In cases where you were not honest when completing an application or tried to hide some information and it came out – the insurer has the right to hold back on paying Life Insurance benefits.
2. Being drunk at the wheel: If the insurance policy holder dies while being drunk at the steering wheel, the insurance company will not pay any life insurance benefits. So in case you have a life insurance policy, do not forget about this. Drinking and driving might leave your family unprotected in addition to potentially endangering others.
Zael Miransky is an independent Life insurance agent and Financial Advisor with Investors Group Financial Services. "One of Zael's distinguishing characteristics is a desire to educate his customers so that they fully understand the insurance products they get. That's similar to what InsurEye does with its online services when educating consumers" says CEO and Co-Founder of InsurEye, Alexey Saltykov.
InsurEye Inc. is a Canadian company that provides InsurEye Consumer Experience, an independent platform for consumer insurance reviews. It covers most home insurers and their products across the country and is free for Canadians to use.