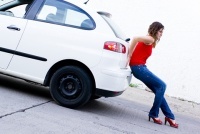 When choosing a credit card, for personal or business use, which is the most popular parameter that people consider? It's probably rewards! According to our research, this feature's value is strongly over-exaggerated. There is another segment of credit card features which is worth much more than consumers think.
Everybody knows credit cards come equipped with some kind of insurance plan, however very few are aware of the insurance perks details and benefits that come along with their card. InsurEye Inc. prepared an overview of tangible examples for the cases covered by credit cards insurance and associated expenditures. While doing so, no exotic, over the top scenarios were created, but rather typical life-like-cases were taken as examples: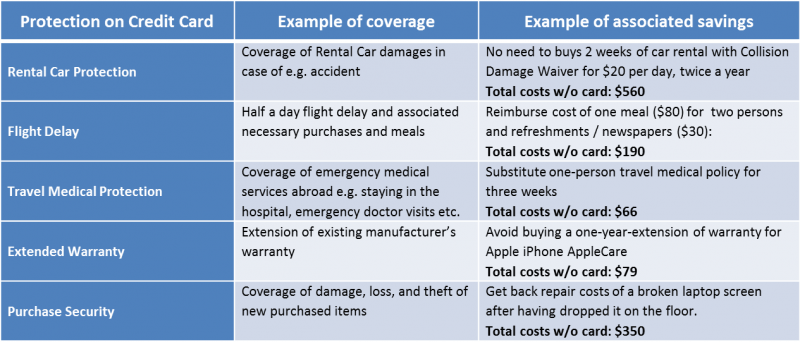 Considering the credit card features above, overall amount of savings is:  $1,250. Of course,  there are many other things we have not covered here such as Trip Interruption and Cancellation, Baggage Loss and Delay, Hotel burglary, Common Carrier Accident (life and disability insurance in case you were involved in a plane / train / bus / ship accident). Adding these features could plausibly increase the savings.
Now let's look at the value of different rewards…
According to a handy credit card tool from MoneySense which is able to calculate annual cash value of points/miles, the top cards such as e.g. Capital one Aspire World MasterCard or BMO World Elite MasterCard offer a value between $350 and $500 for traveller's cards. In case of cash back cards these numbers go down to approx. $400 for MBNA SmartCash Platinum Plus MasterCard and approx. $350 for Capital One Aspire World MasterCard which came out as top cards in this category. So obviously insurance benefits are higher!

Interested in Auto Insurance?
Get a free, no-obligation quote
We compare rates from over 20 insurers to show you 3 best quotes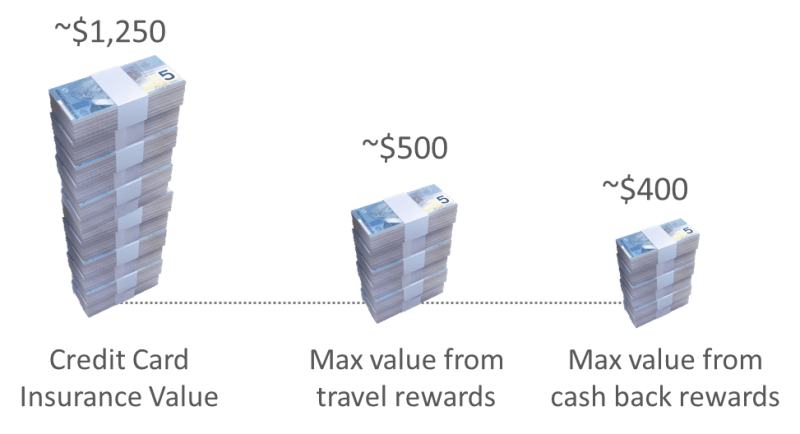 Clearly, there is no need to sacrifice one benefit for the other – there are plenty of credit cards offering both: insurance protection and rewards. You can explore these features and compare your available options through our free InsurEye Credit Card Navigator tool.  If you are looking to save money in the long run, we strongly suggest that when considering your next credit card, give first preference to insurance protection and then rewards.