Get a free Auto Insurance quote from 10+ Canadian insurers in Alberta
COVID-19 and Financial Difficulties

The coronavirus (COVID-19) pandemic continues to spread around the world with over 2,500,000 people infected and more than 175,000 deaths to date. Canada is affected with over 38,000 cases and nearly 1,850 deaths as of April 21, 2020. These numbers are heartbreaking, and the crisis impacts every person, every company, and every industry.
Unfortunately, the situation also impacts the personal finances of every Canadian – in most cases, negatively. Millions of people have already filed for financial support and for types of relief benefits such as the CERB (Canada Emergency Response Benefit) and EI (Employment Insurance).
Right now, it is vital to monitor both income and expenses. A few years ago, InsurEye found out that on average Canadians spend over $3,000 per year on insurance (includes home, car, and life insurance). Given car insurance rate increases and inflation, this number is likely to be even higher now.
Are there any ways, given the size of this price tag, to reduce your insurance costs during the COVID-19 pandemic when even small savings matter?
The major insurance cost component in most provinces (especially, Ontario, British Columbia, and Alberta) is car insurance. In addition to that, we suggest looking into your home and life insurance policies too as there are potential savings to be found.
Let's start with the biggest opportunity: car insurance.
COVID-19 and Car Insurance Savings
COVID-19 Car Insurance Tip #1: Switch to a parking policy
This opportunity is very tangible for the households that either have more than one car or no need at all to drive an existing car (e.g. due to working from home). There is an opportunity to switch an active car insurance policy into a parking policy (some companies also called it a suspended policy or a storage policy). As an example, my own insurance policy went down from $220 per month to $73 per month, which means savings of nearly 70 per cent! In this case, the coverage you have protects your car against theft and fire but has no liability, collision, accident benefits, or other insurance components. Obviously, you cannot drive your car while a parking policy is in place.
COVID-19 Car Insurance Tip #2: Explore COVID-19 relief measures offered by your insurer
A number of insurance companies are offering reductions in premiums amid the COVID-19 pandemic, and these approaches vary across insurers. The range of measures includes rate reduction, deferral of payments, and consideration of changes in driving habits (e.g. shorter driving distances). Some companies, such as Allstate, plan to return a part of their premiums back to their customers.
COVID-19 Car Insurance Tip #3: Adjust your policy parameters
Your car insurance depends on a number of factors such as the number of kilometres driven. If you used to commute to work and now you work from home, this number will drop significantly, and insurers reward this drop with discounts. As an example, Intact Insurance offers a 15 per cent rate discount if you drive less. Ask your insurance provider what similar programs they have in place.
COVID-19 Car Insurance Tip #4: Reduce coverage and/or insurance riders
If you still need to drive but your driving pattern is very limited, such as just to the next grocery store and back, you might want to review every component of your car insurance. As an example, you can consider reducing your coverage from all perils down to comprehensive coverage. You can also drop some unnecessary insurance riders such as rental car insurance. That is something you use when renting a car while travelling, but with no travel today, there is no need for it.
COVID-19 Car Insurance Tip #5: Increase your deductible
In theory, you can adjust your deductible. This means the out-of-pocket amount that you pay after an accident would go up. Practically speaking, however, the impact on premiums through deductible changes is not that high as our investigation a few years back has shown in the article "Car Insurance Deductible: One Major Mistake You Can Avoid".
COVID-19 Car Insurance Tip #6: Consider cancelling your policy temporarily
Similarly to tip #1, you can also consider cancelling your car insurance (especially, if you have two or more cars in a household and do not need to drive both) but remember, you will have no protection at all – not from fire or theft. An important thing to know is this: you can cancel your car insurance only if the car is fully paid off – it can not be leased or have a loan associated with it. Obviously, you are not allowed to drive a vehicle without car insurance – that is illegal. In general, we do not recommend cancelling your car insurance and if you do, you will need to explain the policy gap to your future insurance company.
COVID-19 and Home Insurance Savings
Home insurance does not offer as many savings opportunities as car insurance, but we summarized a few ideas for you.

COVID-19 Home Insurance Tip #1: Adjust your liability coverage
Right now, most of us spend a lot of time staying at home and working from home. This means your liability risk goes down somewhat (e.g. less guests, less opportunities to inflict damage or injury on other people while being isolated). Check what liability limits are in place on your home insurance and consider adjusting them.
COVID-19 Home Insurance Tip #2: Adjust your deductible
COVID-19 brought changes in the home insurance claim profiles – it appears that some categories such as fire went up due to people cooking more, whereas others like break-ins or flooding went down since people are at home and are able react faster to such issues. Given the lower level of risk, you might consider adjusting your deductibles – this can result in some savings.
COVID-19 Home Insurance Tip #3: Bundle your home and car insurance, including multiple vehicles
If you have not already done this, make sure that you bundle your home and car insurance. Even better, if you have several cars in the household you can get a multi-car discount as well.
COVID-19 Home Insurance Tip #4: Drop short-term rental coverage
If you used to offer your home on Airbnb, it is time to drop this coverage if you live in the property. For now, short-term rentals are probably not what you are considering, and travel options are extremely rare at the moment.
COVID-19 Home Insurance Tip #5: Shop around
This one is applicable also in non-COVID-19 times – if you are approaching the end of your home insurance lock-in period, compare the market. In some cases, even comparing prices while you are locked in can work in your favour – savings may outweigh penalty costs.
COVID-19 and Life Insurance & Living Benefits Savings
Many Canadians have life insurance and living benefits policies (disability insurance, critical illness insurance, health insurance). These insurance products also offer some opportunities for savings during the COVID-19 pandemic.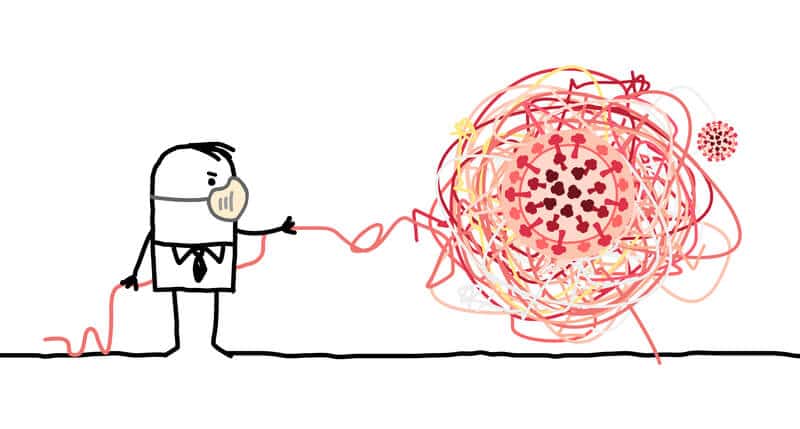 COVID-19 Life Insurance Tip #1: Align your coverage with your needs
Life insurance is one of those insurance types that continues running on autopilot for decades. In fact, your situation has probably changed and, most likely, you might require less coverage. Let's assume, you got a large life insurance policy awhile ago based on the young age of your kids, a large unpaid mortgage, and a considerable line of credit. Now, 10 years later, the time for your kids to become independent has shortened, part of your mortgage has been paid off, and you have paid down your line of credit. This means your life insurance coverage needs became smaller – explore opportunities to reduce your coverage. But be careful; if you cancel your insurance policy then try to get a new one, your rate for the same amount of coverage could be higher due to your age. Consider adjusting over replacing.
COVID-19 Life Insurance Tip #2: Consider cancelling your individual health top-up insurance
COVID-19 closed doors on many optional health services such as massage, physio, and acupuncture. The travel component of your health top-up insurance will probably not be usable for several months. Most health services that are currently open fall into the emergency services category and are covered under provincial medical coverage. If you can not access your usual health services, you can consider temporarily stopping your insurance. Attention – this might not be reasonable if you are using your health insurance policy for prescription drugs. Please assess the situation carefully.
COVID-19 Life Insurance Tip #3: Getting fit in a home gym? Move away from no medical insurance
If you have life insurance in place but you used the time at home for lifestyle changes such as more exercise, home-cooked healthy meals, etc., chances are that your physical form has improved. Should you have a no medical life insurance policy in place (e.g. simplified or guaranteed life insurance) consider applying for a traditional, fully underwritten plan instead. This will save you a lot of money. Most companies now offer an opportunity to do this remotely through medically underwritten, no medical exam policies.
COVID-19 Life Insurance Tip #4: If your health/lifestyle has improved, move away from rated traditional insurance
Even if you have a traditional life insurance policy (also called standard life insurance), there is a chance that your policy is rated – meaning that you are paying higher rates because you were not in good shape or health when applying for the policy. If your health has improved, you can qualify for better rates – talk to your insurer. The same applies if you stopped smoking.
COVID-19 Life Insurance Tip #5: Substitute your mortgage life insurance with term life insurance
This is something that makes sense also outside of COVID-19 times. In most cases, you will benefit from using term life insurance as opposed to mortgage life insurance to protect your outstanding mortgage (e.g. mortgage life insurance uses blended smoker and non-smoker rates). It is important to make sure that you are approved for your life insurance before cancelling your mortgage insurance.
Getting Your Hands on COVID-19 Savings
There are several steps to take when getting insurance savings during the COVID-19 pandemic.
The first step is talking to your insurers to understand their relief measures. If you do not ask, you might be missing on some easy-to-get opportunities. Afterwards, using the guidance above, scan your insurance expenses for opportunities and make decisions that can help you reduce your insurance bills.
The third step is to understand if you are overpaying for your insurance coverage. Through our car insurance quotes and home insurance quotes we provide access to dozens of Canadian property and casualty insurers. Our life insurance quotes allow you to benefit from the best rates of 20+ Canadian life insurance companies.
Take control of your insurance costs in these difficult times. We hope that you and you loved ones stay healthy and safe.