Get a free Auto Insurance quote from 20+ Canadian insurers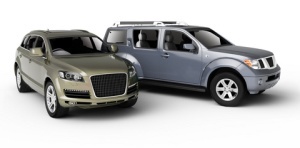 There are many aspects that impact your auto insurance rates, and age is one of them. Common sense dictates that young, less experienced drivers tend to have more accidents and pay more in insurance premiums. But just how much more?
We dug deeper into this matter and found that, on average, auto insurance costs decrease by approx. 15% during a lifetime. So how much do different age groups pay for auto insurance in Canada?
Young and restless: Ages 25-30
Interested in Auto Insurance?
Get a free, no-obligation quote
Interested in Auto Insurance?
Get a free, no-obligation quote
We compare rates from over 20 insurers to show you 3 best quotes
An average Canadian in this age bucket pays ~$130 per month for auto insurance, with men paying ~$140 and women spending ~$123 monthly. These relatively high insurance costs compared to other age segments are strongly driven by the higher accident probability for young drivers. Costs vary across provinces, where an average auto insurance premium in Ontario for this age segment goes as high as $163.
Ontario auto insurance
appears in general more expensive due to higher average injury claim in the province according to Auditor General Jim McCarter.
Experience and Stability: Ages 41-45
With age comes experience – it's time for premiums to go down. The average auto insurance premiums for this age bucket are $115/month in Canada, with $117 for men and $113 for women. Location plays its role here, as well, with prices going up to $146 in Ontario.
Relaxed and in No Hurry: Ages 56-60
Now you can really enjoy the benefits of a long, safe driving record…unless you live in Ontario. Average auto insurance premiums for ages 55-60 policyholders are lower than ever in this age group: ~$108 monthly across Canada, with $109 for men and $108 for women. Interestingly, Ontario premiums are stuck in the past. The 56-60 group in Ontario hardly saves in comparison with the 41-45 crowd, and still pays around $144/month.
Age/Premium Shift Stays Relative to Car Value
This study was performed across all car categories, but we tend to change cars over the course of a lifetime. While car values impact our premiums, the picture still shifts similarly with respect to age: For example: Those with a car valued at $10,000-$20,000 pay $141/month for insurance in the 25-30 age group, $92/month in the 41-45 range, and $101/month for those between 51-55 years old.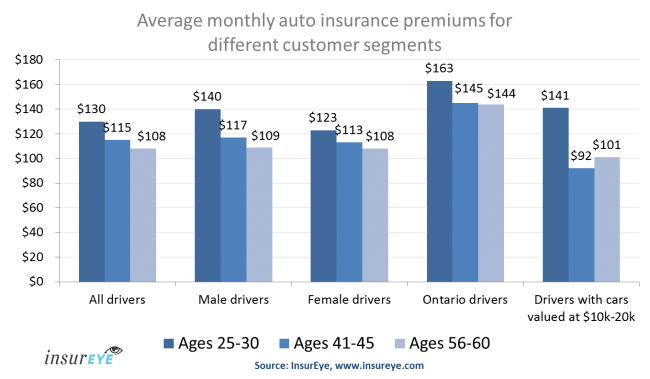 InsurEye Inc. is a Canadian company that provides independent, innovative online services to help consumers better understand and manage their insurance. Check out our Insurance Consumer Experience tool for useful, independent consumer reviews next time you buy insurance!