Attention again, all Canadian snowbirds, beach-seekers and slope-shredders! Our Best Canadian Travel Credit Card Study for 2013 has just arrived! To identify the best credit cards for travellers, InsurEye has used its Credit Card Navigator and proprietary consumer-driven data to analyze over 180 Canadian credit cards, creating a ranking of the top 10 credit cards for Canadian travelers. As always, we are focusing on Travel Insurance features only.
Our Top 5 Travel Insurance Cards
1. Desjardins VISA Odyssey Gold:  Offers the highest protection for almost every travel-related insurance need.  In addition, it extends coverage to senior card holders. This card was the leading card last year as well
2. National Platinum MASTERCARD and National World MASTERCARD:  These cards have the best medical travel protection in respect to coverage length (60 days for person aged under 54), but, as a small gap, it has no Common Carrier Accident protection. Options for seniors are also included.
3. Desjardins VISA Platinum:  This card is very similar to the VISA Odyssey Gold, but doesn't offer Trip Interruption protection.
4. Scotiabank Gold Amex: This card is a relatively new one in our ranking. It offers a full set of travel insurance features. It's competititve annual fee of $99 appears also quite attractive (don't forget a rich rewards program as well though this feature is not a part of our study)
5. RBC Rewards VISA Preferred: It offers extensive Baggage Delay and Hotel Burglary protections. On the other hand, coverage for important protection, such as Travel Medical insurance and Common Carrier Accident, is lower in comparison with the top three cards.
Travel Protection Does Not Come Without a Fee
The typical annual fee for travel credit cards can range from $110 – $170 (This study did not include more expensive cards such as e.g. Scotiabank Platinum Amex Card with an annula fee of $399). Don't expect extensive travel protection to come with low-cost or free credit cards. The only exceptions here are several Desjardins cards (Elegance Gold and Modulo) which offer extensive travel protection… but for only for very short trips of 3 days, which amounts to a long weekend.
More About Our Analysis
We analyzed the 8 travel insurance features: Travel Medical Protection, Rental Car Accident Insurance, Common Carrier Accident Protection, Trip Interruption Coverage, Travel Cancellation Protection, Flight Delay Insurance, Baggage Delay or Loss Protection, and Hotel Burglary Coverage.
Each feature was evaluated based on two factors:
Importance of protection, based on potential costs of accident, i.e.: A night in the hospital abroad can be really expensive
Level of protection, i.e.: Travel medical protection for 6 days is worth less than for 30 days
The chart below offers an overview of the results.  Did your card make it into the Top 10 Canadian Travel Credit Cards?  If not, check InsurEye's free Credit Card Navigator tool, which will show you the travel perks offered on your cards.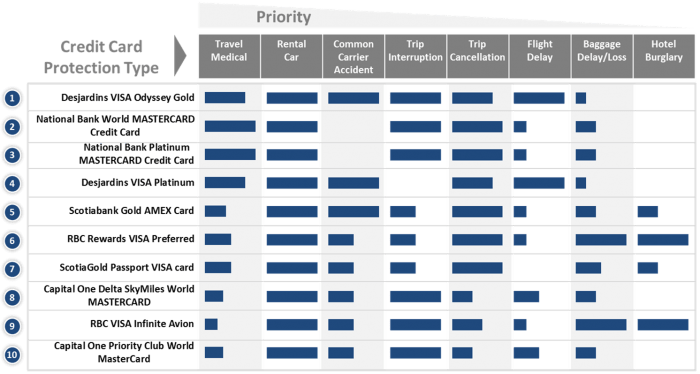 Magnifying the Fine Print
There are several flags we need to raise about the technicalities of credit card travel insurance:
Rental car insurance on credit cards only covers collision damages, NOT your liability (you damage someone's property or health) or your incurred injuries
If you have any health issues prior to the trip (e.g. treatment or sometimes even visits to the doctor), they can impact availability of your protection.  Check the details of your insurance
Nearly all types of credit card insurance are activated only if you pay for the corresponding services with the credit card and keep your bill (e.g. renting a car, booking flight tickets)
Many cards have limitations for travellers aged 55+.  The insurance protection can be reduced or not available.