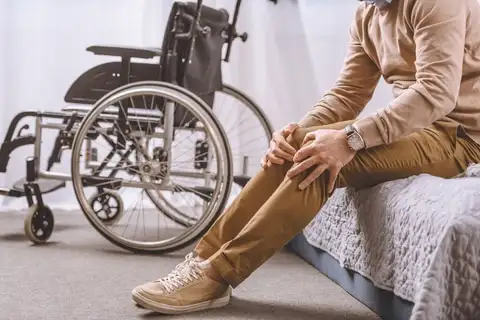 Most people are not familiar with how disability insurance works. Today we will take a look at what it is so we can dispel some myths about this important policy.
Disability insurance provides you with a continuous stream of income in the event of a disability. The idea is that it substitutes a part of your income until you return to work. Typically, disability insurance quotes are higher than life insurance quotes because the risk of a disability is greater than the risk of death.
Here are a few statistics based on Manulife's disability and critical illness calculator (see link below). If you are 30 and 40 years old respectively, here are your chances to get a disability before the age of 65.
30 years old
40 years old
Female
Male
Female
Male
41%
36%
35%
33%
~1 out of 2 women
~1 out of 3 men
~1 out of 3 women
~1 out of 3 men
Link to the risk calculation tool, Manulife: http://www.insureright.ca/what-is-your-risk/
Now let's dispel some myths!
Disability Insurance Myth #1: You can make a claim when you are ready.
Truth: Some disability policies have claim deadlines.
Disability Insurance Myth #2: My risk of disability is very low, so it's not worth insuring against this risk.
Truth: Disability risks are higher than vehicle accidents and house fires. The risk of disability to a 20-year old is 25 percent and much higher for those in risky occupations or for those who have extreme hobbies.
Disability Insurance Myth #3: My work insurance plan is more than enough to cover this risk.
Truth: Maybe, especially if your employer has Workers' Compensation in place, but you run more of a risk (90 percent) of being involved in a disabling accident outside of your workplace. Also, group health benefits end when you leave your employer.
Disability Insurance Myth #4: Workers' Compensation fully pays all disability claims.
Truth: Not all employers have this coverage in place, and even when they do, it's likely that just part of your income will be covered. You still need to deal with medical expenses and rehabilitation, etc. There is often a financial shortfall that can be addressed with an individual policy.
Disability Insurance Myth #5: I should have as many disability policies as I can, both through work and individual policies.
Truth: Be aware of your "all source maximum," which dictates that disability only pays a maximum of up to 70-80 percent of your income, even if you have multiple policies.
Disability Insurance Myth #6: Disability insurance is paid out in a lump sum.
Truth: No, it's not. It is a series of payments (a replacement "paycheck") to substitute part of your income.
Disability Insurance Myth #7: Disability payments start immediately.
Truth: The typical waiting period for an approved claim is three months, which is why you need to have a cash emergency fund in place.
Disability Insurance Myth #8: To qualify for disability insurance, I need to have a medical exam and answer medical questions.
Truth: Some disability policies are available as a no-medical insurance product.
Disability Insurance Myth #9: Blue-collar workers should get disability insurance instead of critical illness protection.
Truth: This is entirely dependent on each person's individual risk factors. If there is a family history of illness, critical illness may be a better option. If the job is dangerous, disability may be a better option. The best option may be to have both. A broker can do a needs analysis to determine your best options.
Disability Insurance Myth #10: If I don't make a claim, that money is wasted.
Truth: Insurance is never a waste because it protects your income "just in case"; however, some policies come with a return of premium feature that remits all or part of your premiums if no claim was made during the term. If this is not a standard feature on your policy, it may be available as a rider.
Disability Insurance Myth #11: There is no difference between disability and critical illness coverage.
Truth: They couldn't be more different! Disability replaces a portion of your income when you are unable to work due to an accident. Critical illness is a tax-free lump sum of cash that you receive when you contract an illness that is named in the policy, like cancer, heart attack, or stroke – whether or not you remain employed.
We hope you enjoyed myth-busting as much as we did, and that the truth will help you find the best life insurance policy for your needs. Should you have any questions, please do not hesitate to contact our disability insurance experts.