These days you're probably using your iPhone as a multi-purpose device. It is almost hard to imagine an efficient life without the little helpers that Apple has brought to market. They make contacting friends and family a cinch, daily planning and navigating a breeze, equip you with an endless toolbox of diverse apps, accept credit card payments for your business, and even make your bed. Well, maybe not the last one, but it I'm sure Apple is working on it. These are good reasons to keep reminding yourself why you spent over $600 for these little technological treats. So what are your options when dealing with protecting these handy investments?
Limited Warranty and AppleCare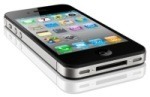 Your iPhone comes with an automatic 1-year Limited Warranty, with an option to purchase the AppleCare coverage as an extended warranty option. These warranties cover only potential hardware damage as a result of manufacturing defects.
By the way, have you paid for your iPhone with one of the credit cards that offers Purchase Security and Extended Warranty (3 out of 4 personal credit cards today)? Then you have already resolved the warranty problem – this extended warranty from your credit card typically doubles the original manufacturer's warranty, up to a maximum extension of one year making that basically very similar to the AppleCare benefits. Check our Credit Card Compare Tool to find out if your credit card has such benefits.
Here is a simplified breakdown of all three options: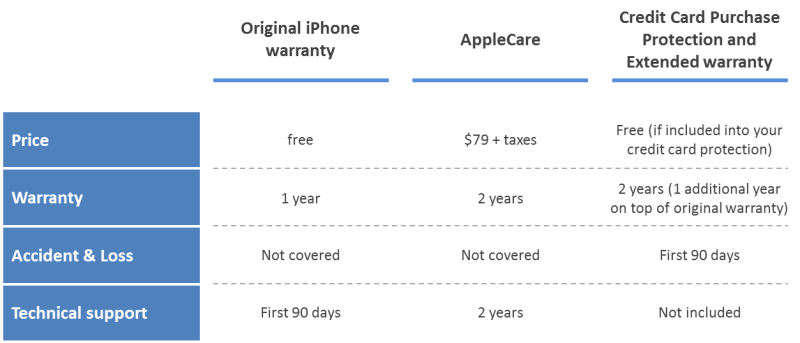 These protections do not include things like device loss and theft, accidental damage, power surge, vandalism, fire or liquid spills (credit cards with Purchase Security typically cover first 90 days after purchasing the item). For these unfortunate incidents, there are insurance options to keep you protected.
Iphone Insurance
The choice of iPhone insurance providers is quite limited in Canada. Telecommunications companies like Bell and Telus do provide coverage for accidental damage and loss, but these plans do NOT include Apple's iPhone.
One provider of iPhone insurance is Ensquared, which offers a 1-year ($69 one time fee) and 2-year plan ($99 one time fee). These plans cover accidental damage, liquid spill, power surge, device loss and theft, flood, vandalism, fire, standard battery, and home charger. This excludes any coverage for misuse and abuse, loss of data, and does not offer extended warranty coverage. A plan must be purchased within 90 days of your iPhone purchase, and also includes:
Up to $1,300 coverage per claim (3 claims/year maximum for 2-year plan & 2 claims/year maximum for 1-year plan).
15 day money back guarantee
Replacement of iPhone if it cannot be fixed
24/7 customer support
However, resembling any other insurance plan, there is always the subject of deductibles. Each iPhone claim will result in $160 with an additional $35 for the second claim.
In addition to Ensquared, your home insurance plan may provide some level of protection for your iPhone. These claims however are generally intended for coverage of larger accidents, so the deductible may make this an uneconomical option. It's a good idea to review your policy for details.
Is Insurance Worth My Hard Earned Money?
So now with warranties and insurance firmly understood, it's important to consider one more factor. A study has shown that the probability of accidental damage for the iPhone within the first year is twice as high as the probability of warranty related issues (6% vs. 12%).  For the second year, these probabilities go up to 12% and 25% respectively. That is a 1 in 4 chance that you will accidentally damage your iPhone within the first 2 years of owning it (SquareTrade Research).
From our perspective, insurance is more important than extended warranty since your device already carries a 1-year warranty that covers the majority of warranty issues you'd typically face.  Insurance would protect you in times of those unfortunate device mishaps that are more likely to occur in life.
So, if you don't consider your iPhone an essential part of your life, and only use it for a casual game of ANGRYBIRDS, you may want to consider taking a chance and saving your cash. Nevertheless, if you heavily rely on your iPhone, and it's an indispensable part of your life, then the one time insurance investment (and possible deductibles) could save you some huge headaches down the road.