Get a free Auto Insurance quote from 20+ Canadian insurers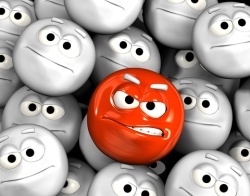 Insurance is an essential part of life since it protects our main assets: cars, dwellings, life etc. But how do consumers feel about insurance? What do consumers like and dislike about their insurance providers? How do insurance companies measure up when it comes to service, value, and claims experience? We recently completed an analysis digging into the question: "Which aspects of a service or product do Canadians do not like most in their insurance companies?" The most frequent issue indicated by consumers was
"unfair handling of claims"
including a perception of
"incorrect value estimation for my insured auto or dwelling"
. Also more dramatic issues such as
"Feeling threatened that insurance rates will go up"
made it to the top list of consumer concerns.
So What Exactly do Consumers Dislike About Their Insurance?
This analysis is based on over five hundred consumer responses from InsurEye's independent consumer review platform for insurance, the
Insurance Consumer Experience
. All negative consumer ratings and feedback have been closely studied to determine which issues most concern Canadians. The top 6 issues identified are (in order of increasing importance, as a % share of negative feedback):
Interested in Auto Insurance?
Get a free, no-obligation quote
We compare rates from over 20 insurers to show you 3 best quotes
#6: "Being threatened that insurance rates will go up" (3%):
Some consumers express that they feel threatened during interaction with insurance companies that their rates will go up if they make a claim.
#5: "Lack of contact / insufficient help from customer service" (15%):
Many consumers say that they didn't get enough help or guidance from the insurance personnel / call center staff either when filing a claim or when asking questions.
#4: "Rude insurance agents or call center personnel"(16%):
A surprising amount of consumers perceive customer service as unfriendly and often simply rude
#3: "Slow claim processing" (19%):
One of the most frequent issues named by consumers is slow claim processing time. Claims took several months in a number of cases, and up to 9 months in particular cases.
#2: "Increase of insurance rates w/o any reason: w/o accidents or after "not-at-fault" accidents" (21%):
Rising insurance rates are a permanent issue for the consumer. In some cases insurers justify increases via growing claims costs as e.g. per last year's report of the Auditor General. Overall the level of premiums, especially for auto insurance, reach exorbitant values and this trend is clearly reflected in consumer feedback. In addition, many consumers say that being not-at-fault can mean an increase in insurance premiums with their provider.
#1: "Unfair handling of claims, incorrect value estimation for insured auto or dwelling" (26%):
The top issue named by consumers has to do with fairness of treatment and the perception of the core values offered by insurers. Insurers could deal with this issue relatively efficiently with transparency and clear communication of policy conditions and value estimation rules for accident cases. This should be communicated both BEFORE a customer signs a policy and DURING the claims process.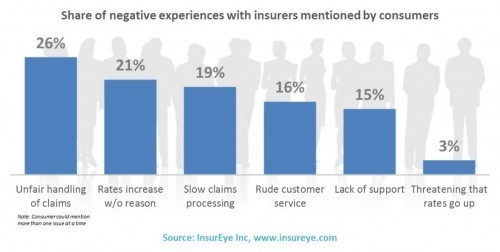 The CEO and Co-Founder of InsurEye Inc, Alexey Saltykov says: "Customer satisfaction has two benefits. First, consumers can express their opinion and share their concerns. Second, customer feedback allows insurers to improve their product and service".
More About Insurance Consumer Reviews
InsurEye's Insurance Customer Experience tool covers nearly all Canadian Home, Auto, and Life insurers and their products, across the country. This includes reviews of both large nationwide insurers and smaller regional insurance providers, such as ICBC in British Columbia, AMA in Alberta, or SGI in Saskatchewan. Insurance companies are rated using three main criteria: Customer Experience, Value for Money and Claim Experience, where consumers can evaluate their insurers on a scale of 1 to 5 stars. Consumer comments give reviews context and share their opinion about insurers. Before publishing, consumer reviews are assessed by moderators to ensure the quality of the content. All reviews are anonymous, guaranteeing an independent consumer perspective.
InsurEye Inc
is a Canadian company that provides independent, innovative online services to help consumers better understand and manage their insurance. The Insurance Customer Experience is an innovative tool that equips Canadians with independent insurance consumer reviews for
all main insurance types (Home, Auto, and Life)
and for all major Canadian insurance providers.