Get a free Uber Insurance quote and get on the road in no time!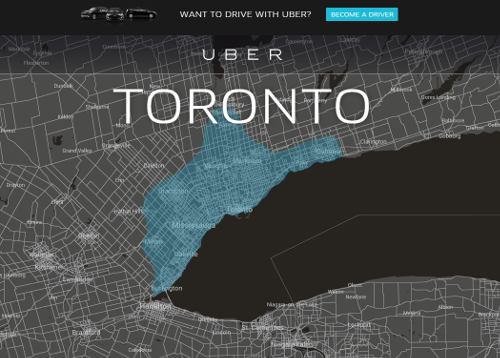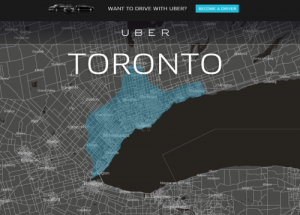 Uber ride-sharing services have arrived in Canada.  They are currently being used across the country in several major cities, including Halifax, Hamilton, Kitchener-Waterloo, London Ontario, Montreal, Ottawa, Quebec City, and Toronto.  Ride sharing contains many benefits, but it can also make things—like insurance—seem a little complicated.  Here's what you need to know about Uber insurance in Canada.
What is Uber ride-sharing?
Uber ride-sharing is a new mobile app that is becoming increasingly more available across Canada.  When you install Uber, it connects you to a real-time carpool network.  When you need a taxi, Uber will use GPS to find your location and connect you with the nearest driver—all you need to do, quite literally, is tap your finger.  Your payment is automatically billed to you through the app, and if you are ride-sharing with a group of friends, all of you just need to opt in and your payment will be dispersed among you.  The app enables you to request, ride, and pay all through your mobile phone.  Calling a cab has never been easier.  However, one thing you do need to keep in mind is car insurance.
How does insurance work with Uber?
One of the critical questions both for users and drivers of this ride-sharing service is car insurance.  As an Uber driver, you should not rely on your personal car insurance policy—it isn't going to cover you when it comes to compensation if you are carrying passengers.  If you got in an accident while being covered under your personal auto insurance policy only, there is a high risk that your insurer will not pay the claim.  If you are driving or riding with Uber, then you should make sure you have a special car insurance.
Steps to follow to ensure you have insurance coverage
Despite the fact that Uber claims to have a contingent $5M in auto and liability insurance, it is highly recommended that Uber drivers follow a few steps in order to ensure they are covered by car insurance in Canada:
1. Uber drivers should make sure that they consult with their current insurance companies or, ideally, with an insurance broker, about their current coverage. It is better to rely on an insurance broker to help you to sort out this information since they will have access to a range of products from multiple companies.
2. If an existing policy does not cover them, Uber drivers should get a commercial policy or an insurance endorsement to the current policy called "Permission to Carry Passengers for Compensation." Unfortunatly this policy is often significantly more expensive than a personal auto insurance policy.
3. Uber drivers also need to make sure that they comply with all local by-laws and requirements regarding the transportation of passengers.
There is no single set of rules across Canada with respect to the way Uber and other ride-sharing services are regulated across the country.  For instance, the Waterloo region was aspiring to develop standards for Uber drivers that paid for licenses for drivers, GPS, recording devices in the cars, and a commercial liability policy.  It will probably take some time for regulators across the country to come out with a unified, robust approach.  Until then, if you are riding in an Uber cab, you might consider asking the driver about what kind of insurance coverage he/she has.  If you are a driver, visit us today to connect with one of our network brokers (see the contact form below) and get proper Uber insurance in Canada.