Get a free Auto Insurance quote from 20+ Canadian insurers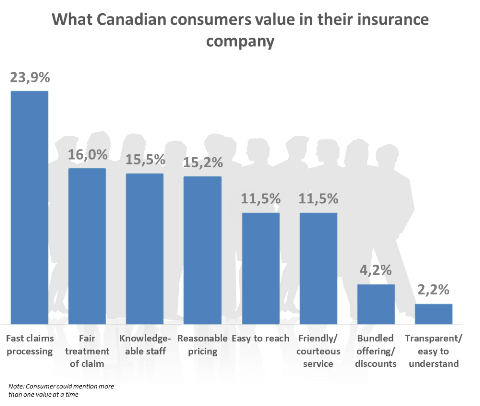 What aspects do consumers appreciate most of all in insurance companies? Each consumer has unique expectations, but overall there are commonalities. InsurEye has conducted a study analyzing over 600 independent consumer reviews to understand what consumers value the most in their insurance providers. The top feature by far is "Fast claim processing". The second is "Fair treatment of claim", closely followed by "Professional and knowledgeable staff" and "Low / reasonable pricing".
What Exactly Do Consumers Value in Their Insurance?
The InsurEye study considered over 600 independent consumer reviews to Home, Auto, and Life insurance companies, collected via the Insurance Consumer Experience tool, an independent insurance consumer review platform. All positive consumer ratings have been closely reviewed to understand what Canadians really appreciate in their insurance.
The top of the list is occupied by claims-related values. Consumers highlight the fast processing of their claims (23.9%) and being treated fairly (16.0%), particularly with respect to the reimbursed value. These are followed by professional and knowledgeable staff (15.5%). A similar amount of consumers state that they are happy with their rates or consider them fair (15.2%).
Other appreciated aspects are Easiness to reach insurers / Being quick to respond inquiries (11.5%) and Friendly and courteous service (11.5%). Bundled offering / Discounts are found closer to the end of the list (4.2%) followed by Transparency / Being easy to understand (2.2%).
Interested in Home Insurance?
Get a free, no-obligation quote
We compare rates from over 20 insurers to show you 3 best quotes
How do consumers perceive excellent claims service?  An ideal scenario according to one of the reviews could go something like this:  "I have had three auto accidents with this insurer, and each time the service and attention to the claim were excellent. I dropped my car off and they arranged for a rental. When my car was fixed and everything was done, all I had to do was sign to accept that the car had been repaired."
InsurEye's CEO and co-founder Alexey Saltykov says: "As we can see from the study, prompt and fair claims processing are key to consumer satisfaction. Unfortunately, most consumers don't know how their insurer will handle their claim until after having an accident.  We encourage all consumers to read the independent consumer reviews before purchasing insurance on our free Insurance Consumer Experience service, which  offers independent reviews for insurance companies, written by other Canadians who already have experience with specific insurers."