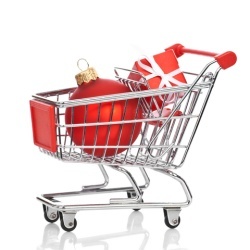 As stores happily ring your credit card through this holiday season, the euphoria of spending can soon become post-shopping stress.  What if your costly new items get broken, stolen, or need repair?
While there's no guarantee that your newest gadget won't be obsolete by next December, you might have more purchase protection than you think—and it's already included in your credit card.
Most consumers aren't aware of two very useful insurance protections included on many Canadian credit cards: Purchase Security and Warranty Extension.
Two Insurance Protections for Your Purchases
Purchase Security insurance covers your new items against accidental damage, theft and loss during the first few months following purchase, which gives you extra protection against what your unpredictable kids or pets might do from when you buy in December until the end of February (and sometimes beyond).
The Warranty Extension feature brings peace of mind for big ticket items, such as new appliances and electronics.  Instead of buying into the retail store's extended warranty program, save your money. Your purchase could already be protected by your credit card, typically doubling the standard warranty by up to one year.  So, if your new TV comes with a one-year manufacturer's warranty, the Warranty Extension could double that, giving you up to two years of coverage.
How to Use, Where to Find
Interested in Auto Insurance?
Get a free, no-obligation quote
We compare rates from over 20 insurers to show you 3 best quotes
To take advantage of these insurance plans, all you have to do is pay with your qualified credit card, and don't forget to keep the receipt.  How do you know which insurance is included on your card?  Canadians can now get an at-a-glace view of their credit card insurance using the Credit Card Navigator (
https://insureye.com/Canadian-Credit-Cards
).  InsurEye is an independent resource where Canadians can better understand and manage their insurance. Just choose your credit cards from the extensive list of cards and see what's included—and where you're not covered.  While you're there, see if your upcoming trip has delay, cancellation and interruption insurance, and if rental car insurance is included.
Credit card insurance is a valuable free tool that can save you money.  Knowing your coverage could make this spending season a bit less stressful—and a bit less expensive.  Happy holidays!