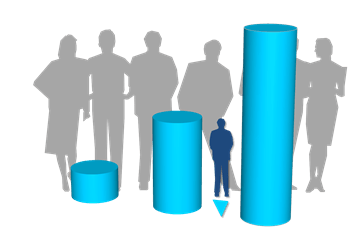 InsurEye Inc. is now live with its new innovative online service for Canadian consumers – Insurance Peer Comparison. This service shows users how their insurance spending compares to their peers. Insurance quotes can vary not just by 20%, but by 200% or more. Knowing what peers pay allows consumers to make informed buying decisions and discover providers with the best prices for their segment. By using the Insurance Peer Comparison buying tool, consumers can become aware of potential savings through aggregated social knowledge. Peer Comparison currently provides data for Auto, Home or Life insurance spending based on a user's age, location, gender, income and occupation.
The CEO and Co-Founder of InsurEye, Alexey Saltykov says: "According to our latest market research, 3 out of 4 Canadians think that they pay too much for insurance. Peer Comparison shows you if you are overspending, and identifies possible alternatives. There is no comparable service currently available on the market and we are confident that consumers interested in saving money will find it very useful."
Whenever someone is looking to buy new insurance, the collective knowledge and experience of others will find the most beneficial solution for you.
[home_insurance_square_widget]
How Does It Work?
InsurEye collects, validates and precisely analyzes thousands of insurance experiences from real people. In order to collect initial data, InsurEye worked with the leading market research and consumer data collection company, Research Now.  Peer Comparison covers not only spending information for insurance products available online (20%-30% of the total market), but also for the services offered directly by insurance companies, brokers and agents. As you share information about your insurance spending, you get access to collective experience and can identify your potential savings with a few clicks. Using the simple and user-friendly interface, you can learn from others like you, saving you time and money.
InsurEye works independently from banks, insurance companies, and brokers/agents. We show you information received from consumers. If your current insurance is cheaper, that's great. If not, you can use our tool as a starting point to find a less expensive option, so you can be informed when you speak with your insurance agent.
The current version of the Peer Comparison service is absolutely free and should be seen as a first step towards the detailed analytics for insurance services. We are currently working on a roll-out of premium services, which will provide customized analysis of insurance costs based on each consumer's individual profile incl. such details as, for example, driving record or house value.
Save, Secure, and Certified
Interested in Auto Insurance?
Get a free, no-obligation quote
We compare rates from over 20 insurers to show you 3 best quotes
We care very much about information privacy and security. InsurEye uses the same 256-bit encryption and data security levels comparable to the banks. Our practices are monitored and verified by VeriSign and Digicert.
We are confident that this service will be helpful in educating millions of Canadians by making insurance more transparent, understanding how much it costs, and offering better protection.