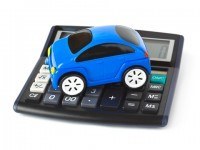 Travelling and surprises go hand-in-hand and if all surprises were pleasant, life would be perfect. Renting a car for a long weekend trip with friends is a common norm in North America and who is to deny mishaps happen with the best of us. It is unfortunate and sad when they do, but driving in a new city or territory can be more distracting than hearing your popular music band playing on the radio on a dull and boring Monday morning drive to work. Often you conveniently assume your credit card covers car accident insurance, until the day you're in an accident and discover otherwise. That's why today I want to dig deeper into Rental Car Protection offered by credit cards and reveal some important things that will help you the next time you're considering a car rental service.
Where Can I Find It?
According to data from InsurEye's Credit Card Navigator there are almost 80 credit cards in Canada which are 'armed' with the Rental Car Protection feature. You can check for free if your card has such a perk using InsurEye Credit Card Navigator. Giving the fact that an average Canadian has over 3 credit cards, the chances of you already having such a protection are quite high!
Credit Card Rental Car Protection: What Is Actually Covered?
There are four main things to consider while using a rental car insurance offered by your credit card:
1. Many risks are not covered: Most of these cards protect you only in case of collision damage. None of the cards covers your LIABILITY (i.e. damages to the 3rd party) or BODILY INJURIES. It means that if you drive into other person's house, you'll have to pay all the damages from your own pocket. The same about medical treatment, if it is not covered by the government health plans.
2. Not all vehicles are covered: In case you want to protect any 'fun'/exotic vehicles, the coverage is very disappointing: This type of insurance doesn't cover such vehicles as motorbikes, snowmobiles, ATV, off-road vehicles etc. Be extra-careful with mini-vans: they are covered only as long as you use them for people transport and not as a cargo vehicle – so, no coverage during moving from your old place.
3. Beware of sports and luxury cars: Rental car protection insurance does not like expensive vehicles either: Usually the cut-off is at $65,000 and only some AmEx cards have $85,000 limit. So, no coverage in case you crash a Ferrari during a fun weekend!
4. Place and time: Always pay special attention to the duration for which you are renting the vehicle. Couple of weeks is normally not an issue but most cards will not cover more than 31-48 days of rental in a row. Also location abroad is important – most cards will have no problem with U.S. but many might have issues with paying for accidents in Europe or Asia – you will need to check that in advance. At the risk of stating the obvious, the most important thing: Do not to forget to pay for the rental car with a credit card that has the protection: you will need a confirmation that the rental fee was charged exactly to this card.
Alternatives to Increase Your Protection
Interested in Auto Insurance?
Get a free, no-obligation quote
We compare rates from over 20 insurers to show you 3 best quotes
If you feel that you need more protection than your credit card offers or you do not want to spend $15-20 per day for a collision damage waiver offered by a rental agency, there is a better alternative. It is called
your own car insurance
. Many providers offer so called additional pieces of protection (insurance jargon: riders) which will also protect your rental car. That may cost you only additional $30 per year on top of your usual premiums. An informative
video from MoneySense
 with Duncan Hood offers more information on this topic. Choosing the right protection is quintessential. Our suggestion would be to rely on one that always covers the critical three aspects: Damages, Injuries and 3rd Party Liability. Typically, you will have this protection while driving your own car. Why should it be different for the rental vehicle? Have a safe road trip!
About InsurEye
InsurEye Inc. is a Canadian company, located in Toronto, ON. Its mission is to offer people transparency and insights around insurance using modern technology (https://insureye.com). The first service launched by InsurEye is the Credit Card Navigator that helps everyone to understand what options their credit card has including all possible insurance coverage.