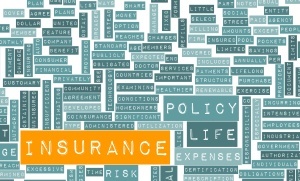 Think of the last time you had an encounter with an insurance salesman. This encounter could have been at their office or in your home. Did anything vividly stand out to you from the conversation? One word comes to mind – UNCERTAINTY. Insurance companies and their salespeople use uncertainty to sell their products, yet insurance is totally dependant on probability, the unknown and the unimaginable happening.
I certainly hope that you never have to use any of the below insurance policies. However, I won't argue that insurance is a good peace of mind. Insurance is one of those financial products you should have, hope that you never use and glad you have it when you may need it.
Accidents do happen and for those who have an insurance policy will be glad that they planned ahead. This is why you and your loved one should consider the following four insurance policies. Remember, it's all for the peace of mind.
1. Term Life Insurance
Get a free, no-obligation Life Insurance quote

The question that always comes to fruition when talking life insurance is this; if a tragic accident happened today, would your surviving family have the resources to cover the bills?
Planning ahead with term life insurance is a pretty good way of not leaving your loved ones behind in a hole. For those of you that are sole breadwinners, you must have a term life insurance policy – this is a no brainer.
For the working couple, I would recommend both the husband and wife having term life insurance policies.
Taking on a term life insurance policy earlier in life will benefit you down the road. Factors that determine the cost of your policy depend on your age, health, and any other medical conditions. Starting younger (when you're healthier/stronger) will give you a head start towards keeping the cost of your insurance policy in control down the road.
There are actually many types of Life Insurance protection (e.g. Universal, Whole, Variable etc.) but Term Life is the simplest and often the cheapest one available.
2. Disability Insurance
For most employed people, there is a good chance that they already have a disability insurance plan already – part of their benefits package. If you do have disability insurance through your employer, more than likely it does not cover 100% of your income. If you have a supplemental policy, you'll be paid for any time that you need to take off because of an injury or other ailment. Look at the different options and if need be, look for additional insurance coverage elsewhere. This type of insurance is even more important for those working slightly more dangerous jobs – such as construction workers, power line workers or those workers in the mining industry. Accidents do happen and they happen at a time when one least expects it.
3. Renter's Insurance
Get renter's insurance – it's just smart. If something happens to the apartment complex you're living in and all your possessions are damaged, stolen, or completely destroyed, don't go running to the landlord demanding full replacement. Condo corporations are covered for the building, and not for your personal belongings inside your apartment.
Rents insurance is one of the cheapest insurance policies available. In most cases, for less than $30/month, you can get pretty solid coverage for theft or damage. It's a small price to pay for a lot of coverage.
4. Home Insurance
Much like renter's insurance, if you're a homeowner you should definitely consider home insurance. Roughly about seven years ago, a freak snow and ice storm occurred in Toronto. It came out of nowhere and caught everyone off guard. In the end, there were hundreds of damaged homes, roofs caved in, downed trees, crushed cars and damaged power lines. Sadly, there were a lot of people feeling the pinch due to not having home insurance.
Being a condo owner my self, I take pride in having condo insurance. I'm not worried as much of someone breaking in and stealing something. Instead I have a peace of mind in case a flood happens while I'm not home and leaks down to the neighbors downstairs.
About author: Eddie is a personal finance blogger at Finance Fox sharing his opinions and experience to financial issues and topics affecting all of us today.