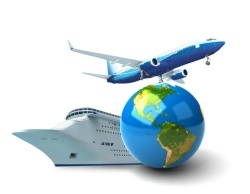 It's always great to discover that we have something for free without knowing it. Free Life and Disability insurance is today's topic. Recently I saw an interesting statistic that claims that 31% of all causes of death due to injury are Transport accidents.  If you consider only unintentional accidents (i.e. you exclude such causes as self-poisoning or complications of medical care) this number goes up to almost 50% (Source: U.S. National Safety Council). In other words, nearly half of all death/disability cases occur during transportation.  These cases are covered by a little-known insurance that's included in more than 60% of Canadian credit cards. What is this hidden insurance?  Its name does not help to clear things up, either: Common Carrier Accident Protection or Insurance.  So what is this insurance?
3 Most Important Things to Know About Common Carrier Accident Insurance
First: This is a Life and Disability insurance for particular cases, only if you pay your travel tickets with a credit card that has this feature.
Second: It covers most accident cases when you are travelling with a common carrier (plane, ship, bus, train, and sometimes car as well), prepare to board the carrier, or directly after arrival.  Sometimes, it even applies on the way to the airport or to the bus or train station.
Third: There is one number you need to know – the maximal coverage in case of death or disability.  This number can vary from $100,000 to $1,000,000 depending on your credit card.
Check a free educational tool Credit Card Navigator to find out if your card has this protection and how much is covered.
Which Credit Cards Offer the Most Protection?
Though 3 out of 5 credit cards offer this kind of protection, and some even offer it for free, the conditions across providers vary. Four providers offer the largest protection of $1,000,000:
Get a free, no-obligation Life Insurance quote
Important: By submitting this quote, you confirm that contact data is correct
CAA Bridgewater Bank credit cards
Some CIBC credit cards, e.g. Dividend Unlimited World MASTERCARD, CIBC Dividend VISA INFINITE Card, CIBC Dividend Platinum Card
Numerous MBNA credit cards, e.g. Smart Cash Platinum Plus, Travel Rewards
Some Desjardins credit cards
Check today if you have this kind of protection and don't forget to use this credit card while making your travel bookings. This way you will be protected during half of life's accidents, without even having any separate Life or Disability insurance. Of course, we hope you will never need to use it.
Have a very safe trip!