Get a Home Insurance quote now. Start saving.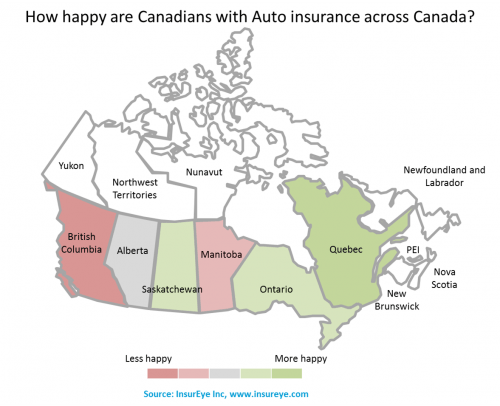 Auto insurance isn't everyone's favourite monthly expense, but just how do Canadians feel about the subject? Canadian company
InsurEye
 has completed an car insurance consumer satisfaction survey to answer the question:  "How do Canadians feel about car insurance and which provinces have the most critical consumer perspective?" The most critical attitude towards car insurance is in British Columbia. The most positive attitude towards auto insurance was registered in Quebec, closely followed by Ontario and Saskatchewan.
Looking to buy a new property?
Want to sell an existing one?
Let InsurEye connect you with the best real estate agents.
Stacking Up the Provinces
Results are based on consumer responses and ratings from InsurEye's new independent consumer reviews platform for insurance, the Insurance Consumer Experience. Ratings from Ontario, Quebec, British Columbia, Alberta, Manitoba, and Saskatchewan have been graded according to three criteria used in InsurEye's interactive online service
Insurance Consumer Experience
:
Customer Experience
,
Value for Money
and
Claim Experience
.  Consumers can evaluate their insurers on a scale of 1 to 5 stars. The results, based on aggregated rating values, are as follows:
Interested in Auto Insurance?
Get a free, no-obligation quote
We compare rates from over 20 insurers to show you 3 best quotes
The leading province in terms of the customer satisfaction is Quebec, with an overall ranking of 4.10/5.  Customers felt especially happy with Customer Service and Value for Money.
The second happiest two provinces are Saskatchewan (3.90/5) and Ontario (3.88/5).  Ontarians positively rate Claim Experience with their insurance provider, but are clearly unhappy with their Value for Money.
There are signs of decreasing customer satisfaction in Alberta (3.77/5) and Manitoba (3.75/5), where consumers are mostly unhappy with their Value for Money (both Alberta and Manitoba) and Claims Experience (Manitoba only).
The lowest level of consumer satisfaction with auto insurance was noted in British Columbia (3.62/5). BC drivers are critical towards auto insurance across all three dimensions: Customer Service, Value for Money, and Claims Service.
WHY DOES CONSUMER INSURANCE REVIEWS AND RATINGS VARY BY PROVINCE?
The strongest indicator for low customer satisfaction with car insurance in British Columbia is clearly reflected in consumer feedback ratings. People feel that they do not have enough choice of providers and cite a lack of competition. The same picture can be noticed in Manitoba, where consumers are faced with limited auto insurance choice.  Both provinces are characterized by having only one, government-run insurance company – for example in B.C. private insurers can only offer optional auto insurance. Ontario represents an interesting case – overall, consumers are quite happy with auto insurance relative to other provinces.  They appreciate their claim experience most of all, but it comes with a higher price tag.  Ontario auto insurance premiums are the highest in Canada, reaching on average $149/month with nearly a quarter of Ontarians paying over $190/month. As a consequence, Ontarians are not happy about the value for money from auto insurers. Quebec has the highest level of customer satisfaction due to lower premiums – the average
price of auto insurance
premiums is $76/month. The provincial government insures against injuries to people, while insurers cover property damage. In response to these results, InsurEye Inc Co-Founder Dmitry Mityagin says: "Not having enough competition limits choices and very often translates into a low customer satisfaction.  As we see, consumers are less concerned about paying too much and more concerned about not having enough choice. Competition motivates insurance companies to listen to the customers and further improve their product offering."
MORE ABOUT CONSUMER INSURANCE REVIEWS
Consumer insurance reportings cover most car insurers and their products across the country. This includes reviews of both large nationwide insurers and smaller regional insurance providers, such as ICBC in British Columbia, AMA in Alberta, or SGI in Saskatchewan. Consumer comments give reviews context and share their perspective about insurers. Before publishing, consumer reviews are assessed by moderators to ensure the quality of the content. All feedbacks are anonymous, guaranteeing an independent consumer perspective.
InsurEye Inc.
is a Canadian company that provides independent, innovative online services to help consumers better understand and manage their insurance.
The Insurance Customer Experience
is an innovative tool that equips Canadians with independent insurance consumer reviews for
all main insurance types
(Home, Auto, and Life) and for all major Canadian insurance providers.