Get a Home Insurance quote now. Start saving.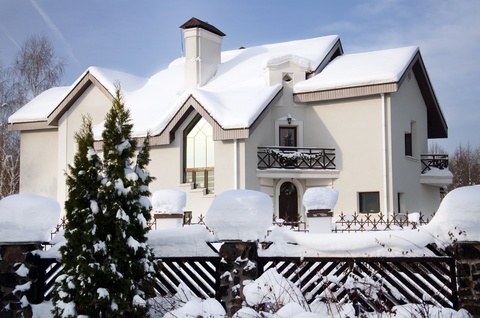 In a market dictated by sharply transitioning seasonal highs-and-lows, savvy house hunters looking to save big on their home purchase would be wise to choose the lull month of January to sign on the dotted line.
That's according to a new report from our friends from the real estate website TheRedPin.com, which looked at over six years of housing data in the Greater Toronto Area and found that property in January sold for significantly less than any other time of the year. So why is January the best time to buy a house?
Looking to buy a new property?
Want to sell an existing one?
Let InsurEye connect you with the best real estate agents.
Buying a house in January: Why and how much less exactly?
The study found that homes in January sold for an average of $60,000 less than property that changed hands during the hot Spring season.
When pitting January against calendar-year figures and not just the year's peak home buying months, January still shoots far ahead in terms of affordability, enjoying a marked $40,000 advantage over the rest of the year.
It's a trend that has proven consistent for every year since 2010, which is as far back as the report goes.
GTA was not alone in the trend. After looking at two years of Canada-wide real estate data, TheRedPin found January was the single-cheapest month to buy across the country, with property changing hands for an estimated $38,000 less than in January versus the peak spring season.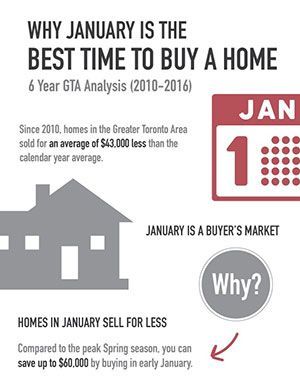 Check out the detailed GTA-focussed graphic on the right for insights on why January is so much cheaper. It's enough to get you thinking less about location, location, location and more about timing.
As one would expect, the reason why January is the best time to buy primarily comes down to supply and demand.
Winter typically sees significantly fewer home buyers out on the scene, accounting for only 13 per cent of market activity versus spring's 47 per cent. With a shortfall in the number of buyers, along with the fact that homes take an average of 11 days longer to sell in the frigid winter months, and it quickly becomes evident how Toronto real estate quickly flips over to a buyer's market in winter.
As to why January comes ahead of other winter months, a big reason is likely how closely it ties to the post-Christmas holiday comedown, when people are readjusting to a return to working hours or have already blown their budgets on costly winter vacations abroad or holiday gifts – among other things. However, these are broad assumptions.
Less pleasant sides of buying a home in January
The January-advantage doesn't come without its caveats however. Aside from having to cope with the cold, the selection of homes to choose from is often smaller in the first month of the year.
Get a Home Insurance quote now. Start saving.
The fact stands however – homebuyers looking to save thousands of dollars on their bottom line should mark January on their calendars as the time to buy, cold weather aside. Even slipping one month can you see pay an average of $31,000 more, as month-to-month price change between January and February is the largest of any other time of the year.
These insights on the the best time to buy a home were kindly shared by our friends at TheRedPin, a full service real estate brokerage that carries the largest database of residential listings in the Greater Toronto Area. TheRedPin allows you to receive custom listings straight to your inbox.
Need Home Insurance for your new home without paying too much? Check our home insurance partner below – the only Canadian provider that allows you to fully customize your policy online.