Get a Home Insurance quote now. Start saving.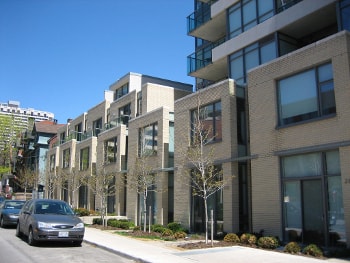 On the real estate hunt? Unless you have a million dollars and massive down payment to spare, chances are detached houses are out of reach. It's a reality facing many buyers, as prices have quickly outpaced income in Canada's hottest housing markets. Consider this: The average detached house price, according to the Toronto Real Estate Board, is $1.3 million. Assuming a buyer makes the median Toronto income of $76,219, and qualifies for a five-year variable mortgage rate of 2% (including a 20% down payment and 30-year amortization), the most they would qualify for is a home priced at $636,900. That's literally hundreds of thousands short of affording a detached house. The difference is even greater in Vancouver, where the average price tops $1.5 million.
Looking to buy a new property?
Want to sell an existing one?
Let InsurEye connect you with the best real estate agents.

Townhomes are Still a Great Option
The good news is that
Toronto townhouses
are still a relatively affordable deal, and are also a quickly appreciating real estate investment. According to
data from Zoocasa.com
, townhouse values have grown 51.4% over the past five years (compared to 69.9% for detached homes). And, at an average price of $558,930, they're still will within the realm of affordability for average earners. In addition to better affordability, the benefits of a townhouse include more room than a starter condo, and they often also included private parking, outdoor space, and homeowner autonomy – but they're not all created equal. Here's what buyers should consider when choosing the perfect townhouse for their needs.
Condo Townhouse vs. a Freehold
Generally, there are two types of townhouses: those that are part of a condo corporation, and those that are stand-alone (referred to as freehold) dwellings. A condo townhouse is run similarly to a high-rise unit; as an owner, you are part of the condo corporation, which manages things like the budget and maintenance. You'll pay a monthly condo fee in exchange for services such as landscaping, seasonal yard work, and exterior repairs. These services can make condo townhouses can be an extremely convenient option for those who don't want to take on the maintenance tasks of homeownership. The downside to condo townhouses is you'll need to abide by condo rules, which could mean having less control over the look and feel of your home. You may not be able to alter the exterior of your townhouse, or keep a barbecue on your balcony, for instance. As well, as a member of a condo board, you may be tapped from time to time to pay a special assessment, should an emergency repair or budget situation arise. A freehold townhouse, on the other hand, is as close as you can get to detached home living. Your home isn't part of a condo corporation, meaning you own the unit – both the exterior and interior – in full. You can decorate or change your home as your see fit, and won't be on the hook for any condo fees or special assessments. Freehold townhomes tend to be in greater demand for these reasons, and they are often priced higher and appreciate in value faster than their condo counterparts.[home_insurance_square_widget] However, owning a freehold townhome means the full onus of homeownership rests on your shoulders. You are responsible for any repairs, upgrades or maintenance of your property – should your home require a structural repair, it'll come out of your pocket with no emergency condo fund to the rescue. You also won't be protected by aforementioned condo rules – should you have noisy or intrusive neighbours, for instance, it's automatically a police or civil matter, rather than action taken by a condo board.
Which is Right for You?
Both condo and freehold townhouses can be a great fit for buyers – but as with any home purchase, it's important to take both your short-term and long-term needs into consideration. Ask yourself:
Would you benefit from the support of a condo board?
Is autonomous home ownership important to you?
Are you able to maintain an emergency fund in case your home requires upgrades or repairs?
Are you purchasing your home with the intent of living there long term?
Will you require more space within the next few years?
Do you intend to use the property as a rental investment?
It's important to connect with a qualified real estate agent to help navigate the market, and choose the best townhouse for your needs – and to make the most of your affordability.