Get a Home Insurance quote now. Start saving.
Overall, home insurance is a straightforward product that is easy to understand. There are some types of home insurance, such as house insurance, condo insurance, and homeowners insurance, that are quite similar; that is until flooding becomes an issue. Many people do not understand if they are covered or not. Many policy holders are surprised when insurers suddenly decline their flooding-related claims. Others struggle to decide which water damage/flood insurance policy to choose.
In Canada, there are actually four different types of flooding from the insurance companies' perspective, and each of them is treated differently. It is important to know about each one so you can properly protect yourself and your dwelling. An overview below shows four different types of flooding that you may face in your house, and some are more likely to happen than others. They can all be protected via a home insurance policy (sometimes with additional endorsements).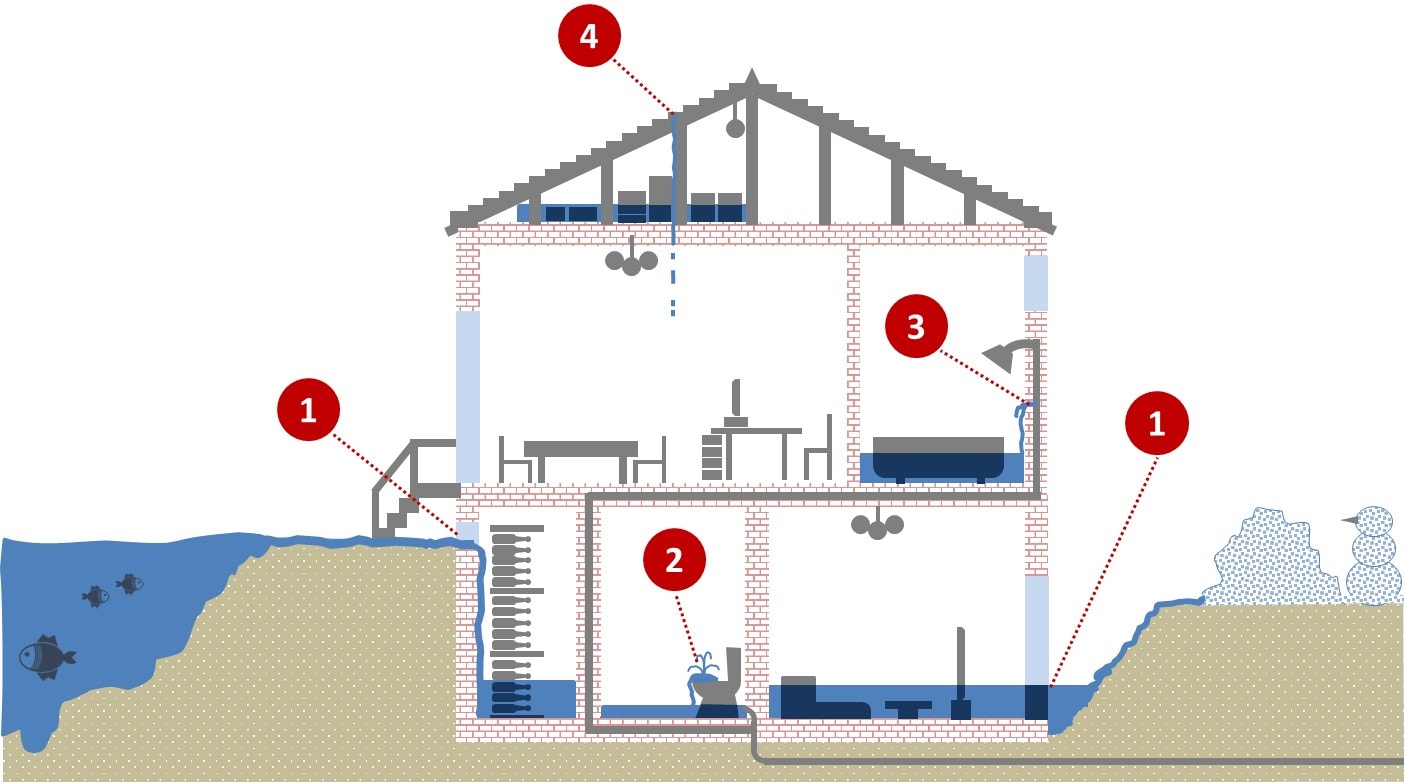 What characterizes each of those four flood types?
Overland flooding
Sewer backup
Plumbing issues
Leaking roof
Originates outside of your home
Often enters your house through the basement/ windows/doors/walls and house foundation
Often has natural causes e.g. rising river level, heavy rains, melting snow
Originates inside your home
Often enters your dwelling through a toilet/sewage system
The major cause is an overflow in municipal water storage pushing sewer water back into your house
Originates inside your home
Can be caused by burst pipes, broken faucets, malfunctioning taps, incorrectly sealed pipes
Originates on your roof starting from the top floor/attic
Reasons can vary from lacking roof maintenance and natural wear-and-tear to roof damage due to falling trees or ice
Now, let us explore each of these flood types in detail as they are different and, thus, are treated differently by insurance companies. By the end of this article, you will know a great deal more about how to deal with each type of flood insurance, and what the best insurance strategy is to avoid as much financial loss as possible. Did you have a particular insurance experience (either positive or negative) related to flooding? You can leave your home or house insurance review here.
Let us start with overland flooding since it is something that Canadians are experiencing more and more in recent years, especially in Alberta, Ontario, and Quebec.
Looking to buy a new property?
Want to sell an existing one?
Let InsurEye connect you with the best real estate agents.
Flood Insurance Topic #1: Overland flooding
Degree of damage: High – Very High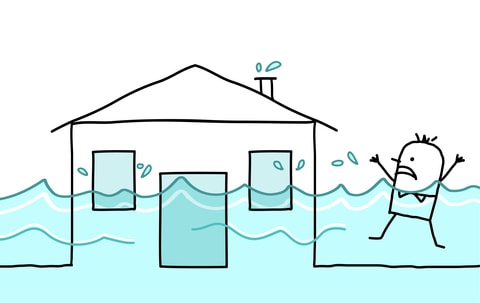 Insurance perspective: Until recently, home insurance in Canada has not been covering this risk. Insurers, in most cases, would have simply rejected your claim (or paid only if it served their good PR). Then, during the last 2-3 years, Canadian home insurers developed overland flooding coverage that is typically sold separately from a standard home insurance policy and added on top of your standard home insurance policy.
Insurance companies will typically assess the risk associated with your property and decide if you fall into one of the following categories:
Low risk: You will be able to get overland flooding protection (also called overland flooding endorsement) for a low price and it will have an extensive coverage.
Medium risk: An insurer will offer you overland flooding coverage, but the limits might be lower than in the previous case, and this coverage will be more expensive.
High risk: You might have challenges to get this coverage due to the history of flooding in your neighbourhood, or your case will be treated as a high-risk home insurance case (i.e. meaning much higher premiums). High River in Alberta is an example of such a location.
It is interesting to note that a rough estimation suggests that less than 10 per cent of homeowners are aware of insurance details related to overland flooding and understand whether or not their insurance policy covers it.
Congratulations! Once you finish reading this article, you will join these 10 per cent of homeowners!
Let us continue – there are several other important aspects related to overland flooding.
Chances that insurer will pay your claim: With an overland flooding endorsement – very high; without it – very low
What could you have done up front to avoid potential issues?
Home location: Before buying a property, try to understand if it is located in a flood-endangered location. Typically, local flooding maps will help you understand this (click here for flood maps for Toronto; flood maps for Calgary, including this interactive map; flood maps for Edmonton, full set of flood maps for Edmonton).In addition to that, a good real estate lawyer that works on your closing formalities should inform you if your property is in the flood-endangered zone.
Overland flooding endorsement: In general, if you have a house that has a basement (the part of the house that is most likely to be flooded during overland flooding), consider getting an overland flooding endorsement after understanding its costs. Chances are, it would add just a few dollars per month to your home's insurance policy. In addition to that, some insurers bundle the overland flooding endorsement with the sewer backup endorsement. It's handy to have both. More on that in the next point.
Bundles: For customers' simplicity, some insurers bundle sewer backup and overland flooding insurance riders, offering a combined product with a range of limits and deductibles. Examples of such companies include Intact Insurance and Economical Insurance.
Flood Insurance Topic #2: Sewer Backup
Degree of damage: High-Very High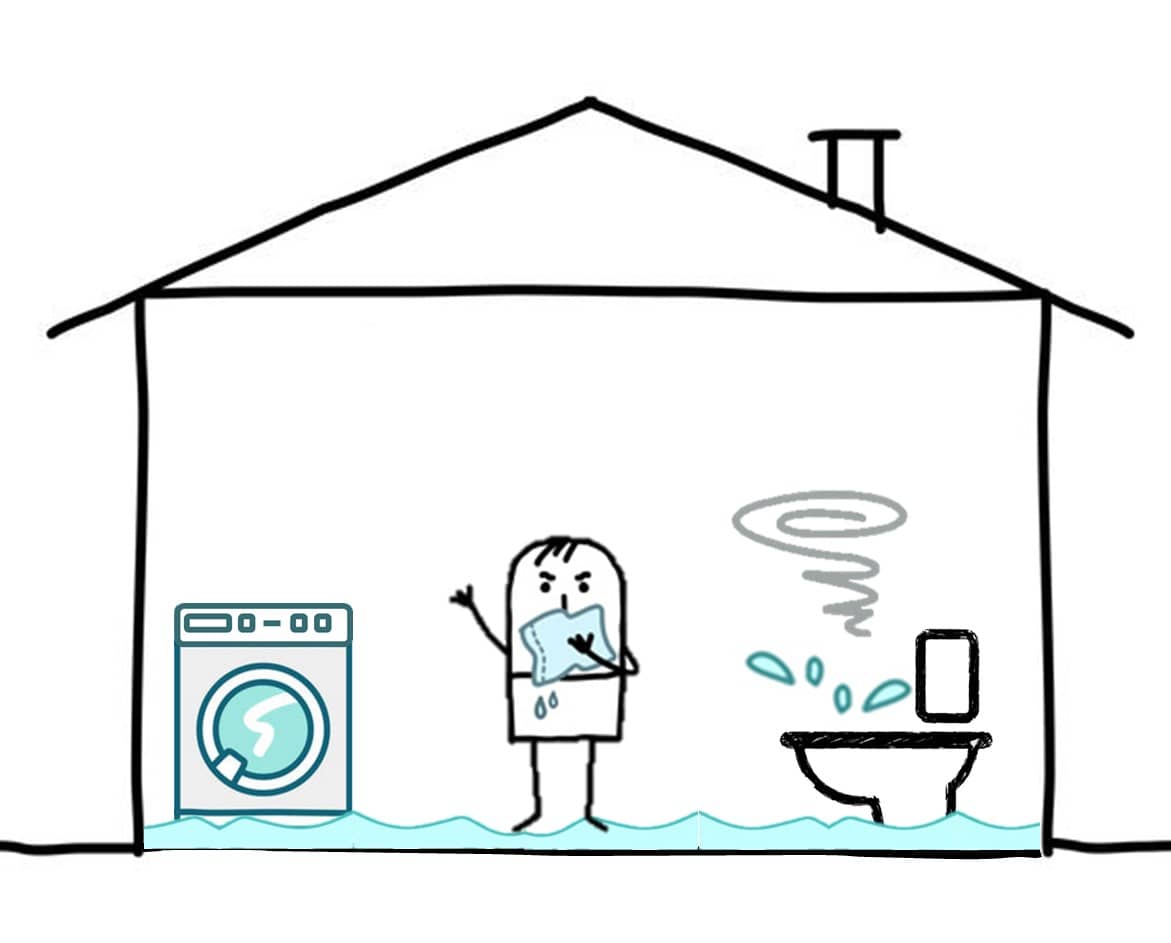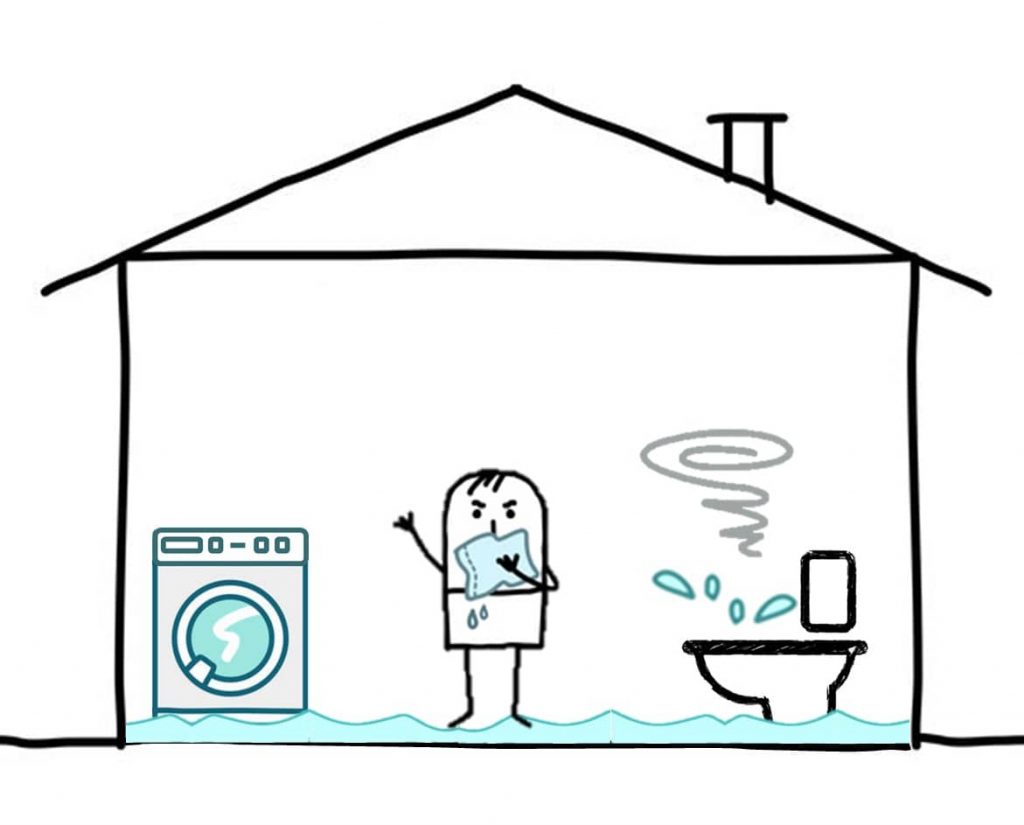 Insurance perspective: Insurance companies treat sewer backup as a separate risk and often cover it through a separate, optional endorsement, also called a sewer backup endorsement. This insurance coverage has been on the market for a long time; therefore, significantly more policy holders know about it – somewhere around 50 per cent. This coverage is typically not that expensive, and it adds just a few additional dollars per month to your home insurance policy.
Chances that your insurer will pay your claim: With a sewer backup endorsement – very high; without it – very low
What could you have done upfront to avoid potential issues?
Sewer backup valve: Getting a sewer backup valve (also called a backwater valve) is not too complicated. If it is integrated into your plumbing system, it will help to keep the house protected against unpleasant sewer backup surprises. A sewer backup valve does not allow sewer water from the municipal storage to enter your dwelling because it allows water to flow only in one direction: out of your home, not in. Pricewise, these devices cost under $250 and are a cost-efficient way to prevent sewer backup accidents.Depending on the age and construction, your home may require either a backwater valve on the main sewage line (typically for homes built before the 70s) or both on the main sewage and storm line (newer homes). Check with your plumber or with municipal services.
Water damage/sewer backup endorsement: As mentioned earlier, this type of coverage does not cost a lot, but it can prevent significant financial loss. Cleaning and restoration costs can add up to $50,000 – $100,000 and, together with damaged content upgrades (especially in the case of finished basements), can reach $250,000 – $500,000 for larger homes. A water damage/sewer backup endorsement will not break the bank for most homes (unless you are located in a high-risk flooding area), but it will take care of the financial side should you suffer from a sewer backup accident.
Coverage limits: Carefully understand coverage limits for sewer backup – these can either be defined separately, or can be equal to the full policy coverage. Be careful when going with insurers that cap their coverage (e.g. TD Insurance, State Farm).
Flood Insurance Topic #3: Plumbing issues
Degree of damage: Medium-High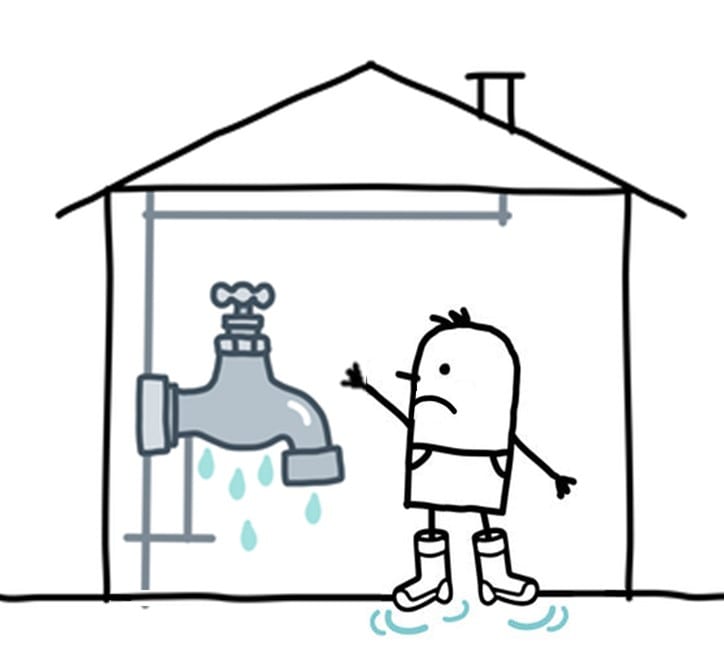 Insurance perspective: From the insurance perspective, this is one of the easiest flooding situations to deal with. The flood originates within your house and, in most cases, is covered by your standard home insurance policy.
Unlike the case of overland flooding or sewer backup, you do not need to buy an extra insurance endorsement or rider to protect your home.
Chances that an insurer will pay your claim: High
Unless there are special circumstances, the insurance company will typically pay this claim (after subtraction of your deductibles, which are mentioned in the insurance policy).
An example of a special circumstance that was reported to us included a dog that was the reason for a tap being left open, running the whole night and flooding the basement. Thus, make sure that you have corresponding coverage if you have pets!
What could you have done upfront to avoid potential issues?
Modern plumbing: Make sure your home uses copper or plastic pipes as opposed to lead or galvanized plumbing. That will also be rewarded with lower insurance premiums.
Switch off water: Turn off water if you are leaving for several weeks (like on a long vacation or a business trip), and make sure that somebody visits your place regularly. It is important to know that some insurers may even reject your claim if something happens during your long absence and nobody was regularly visiting your home. Some policies may even require that these visits take place as often as every 4th or 5th day.
Insulation for interior pipes in winter: Your interior pipes may cause problems while you are away – make sure they are well insulated in the winter to prevent pipe bursts due to ice buildup.
Keep external pipes dry in the winter: Your external pipes should be dry in order to prevent any ice build-up; otherwise, that can also lead to a burst pipe.
Flood Insurance Topic #4: Flooding due to a Leaking Roof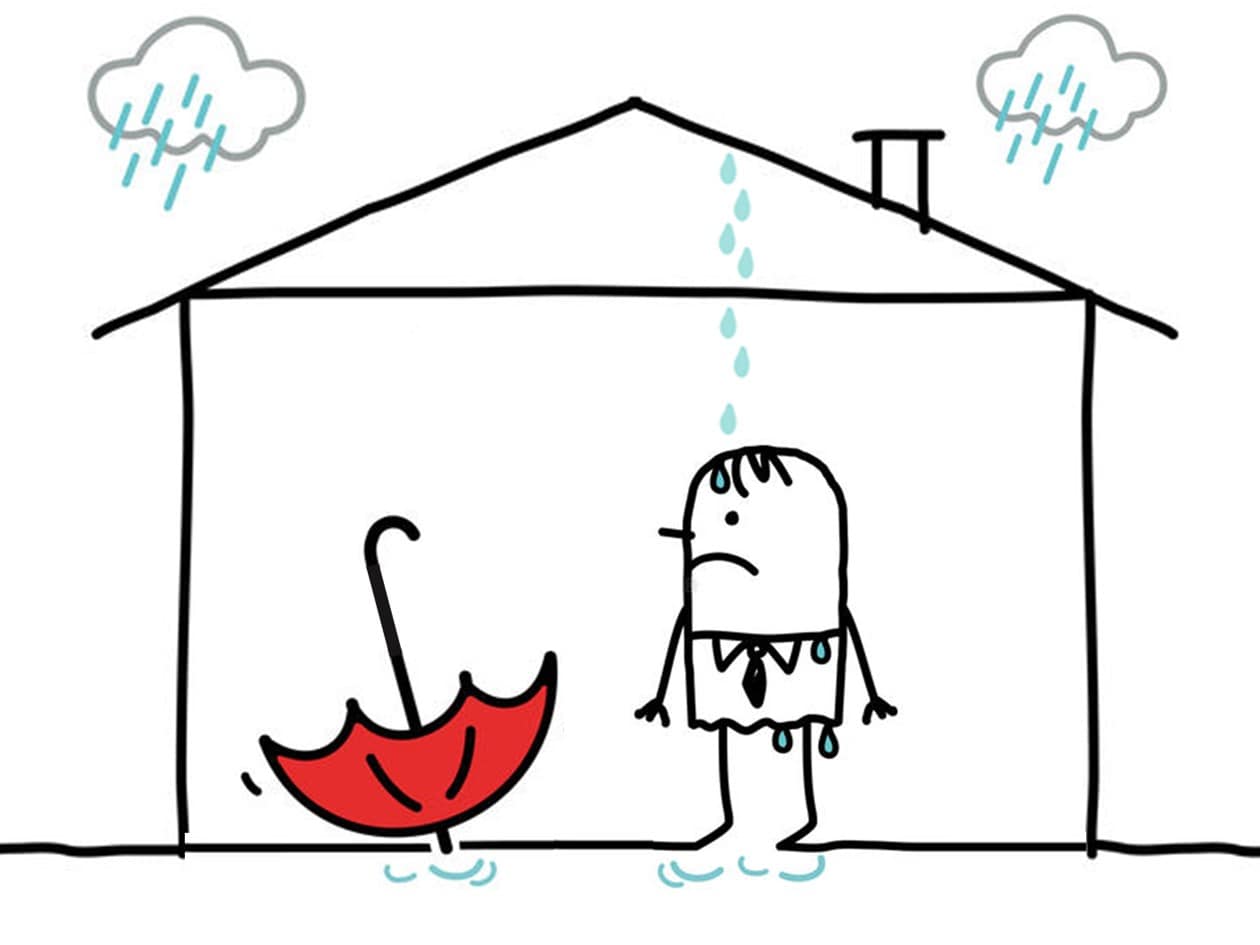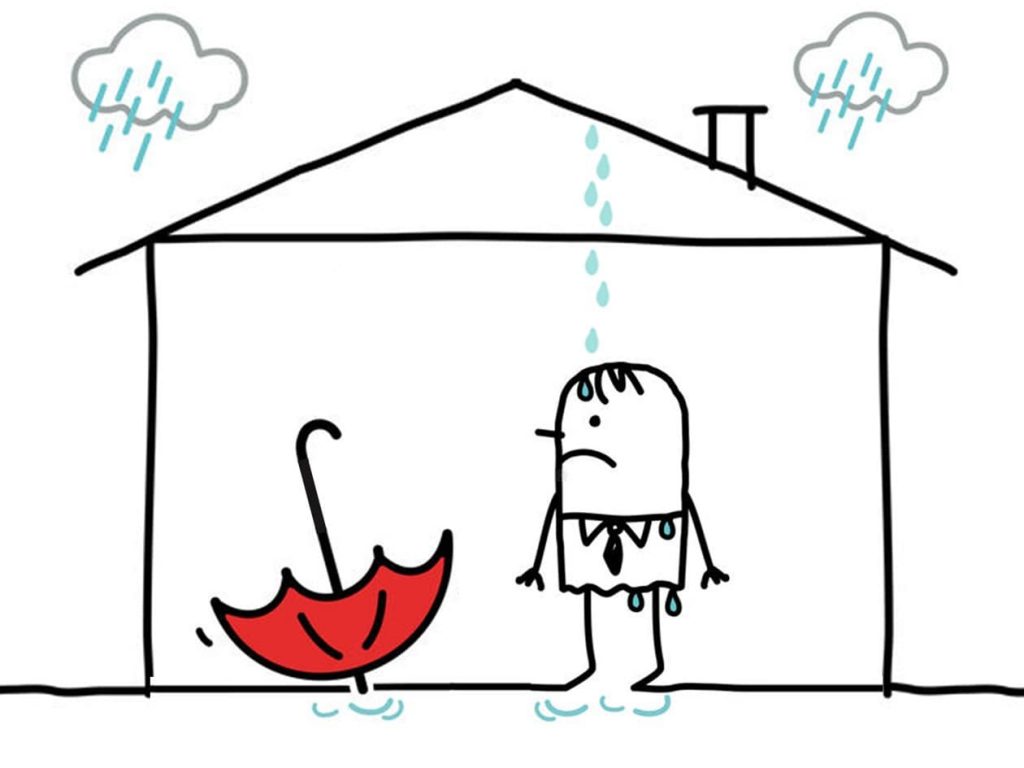 This type of flooding normally happens when water enters your home through a damaged roof and starts damaging your dwelling, starting from the top floor.
Degree of damage: Low-Medium
Insurance perspective: Insurance companies know that, often, flooding via a leaking roof is a consequence of poor maintenance or an old roof. If you have a leaking roof, make sure that it does not fall into the category of insufficient maintenance. On the contrary, if your roof has been badly damaged due to hail, a falling tree, ice, etc., you have a good chance to get your insurance claim paid.
Attention – special situation: If you live in a condo and have a leaking roof that has resulted in some damage within your unit (e.g. when you live on the top floors), it is important to understand that your own condo insurance covers only content damage within your unit. The roof itself is covered by commercial condo insurance that your condo corporation owns.
Chances that the insurer will pay your claim: Medium – if an insurer decides that it is a lack of maintenance that led to the leakage, you are on the hook for all the costs.
What could you have done upfront to avoid potential issues? Make sure that you maintain your roof in a good condition. Fixing or upgrading your roof prior to getting home insurance may result in insurance savings. Insurers like properties with upgraded elements (e.g. roof, plumbing, etc.) as opposed to older, not upgraded properties.
What else do you Need to Know About Water Damage and Flood Insurance?
Two other aspects that you need to keep in mind:
Pay attention to deductibles: Make sure that you understand what your deductible for flooding-related accidents is. Some providers have very high deductibles ($10,000 or even $30,000 and higher) while others do not. In the first case, you might be on the hook for tens of thousands of dollars before your insurer even jumps in.
Get a Home Insurance quote now. Start saving.
Know and document your expenses: Should you face an extensive water-related incident in your place and submit a home insurance claim, there will be a question of a claim payout. It is not in the interest of an insurance company to overpay for insurance claims – these are purely expenses for insurers. Thus, make sure that you have confirmation for all major spending associated with your home. A couple of ideas related to that topic include:

Invoices: Have a separate folder with all the invoices associated with major home spending, such as upgrades, new appliances, home improvements, home electronics, pieces of art, expensive wines, collection items, etc.
Photos: Make it a rule to walk twice a year through your house with a camera or smartphone, taking photos of all items and upgrades. This will help to prove their existence to your insurance company in the case of an insurance claim.
Flooding in Your House – Last Resort: Government Flooding Programs
In addition to the home insurance, there is another potential safety net that you could use in some cases. It by no means it substitutes your home insurance, but it is important to know this source of help.
Below you will find an overview of provincial disaster financial assistance programs for Canadians.
British Columbia, Disaster Financial Assistance
Manitoba, Disaster Financial Assistance
New Brunswick, Disaster Financial Assistance
Newfoundland and Labrador, Disaster Financial Assistance Program
Nunavut, Emergency Management
Nova Scotia, Flood Assistance
Prince Edward Island (PEI), Emergency Measures Organization
Northwest Territories, Disaster Financial Assistance
Ontario, Disaster Recovery Assistance
Quebec, Financial Assistance for Disaster Victims
Saskatchewan, Provincial Disaster Assistance Program
Yukon, Emergency Measures Organization
We hope that this article equips you with the knowledge you need about flood insurance and that it saves you a lot of headaches in the future.