Get a Home Insurance quote now.
Start saving.
By: Penelope Graham, Zoocasa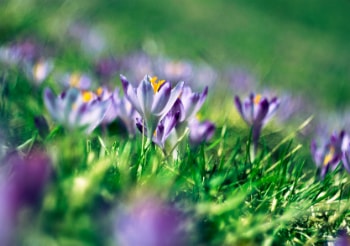 The spring real estate market is the busiest of the year; those who have been mulling over a change of scenery since January are finally ready to take the leap, and eager to close the deal over the summer so they can be settled come fall. The market also sees an influx of new inventory, as sellers come out of hibernation and join the fray.
Unlike selling a home in the winter, however, listing your home in the spring means more competition. And, even if you're selling in an uber-hot market such as Toronto or Hamilton real estate, it's important that your home stand out to the hordes of buyers attending open houses.
Selling your home in the spring can also be a more time-sensitive affair, especially if you're putting your home on the market in order to buy another before the season is through; selling your home quickly not only opens up capital for your next purchase, but cuts down on the costs of carrying your mortgage for another month, not to mention the physical inconvenience of keeping your property in showing shape.
One proven way to get more eyes on your home when time is of the essence is to stage it. According to the Consumer's Guide to Real Estate Staging, homes that have been staged stay on the market for an average of just 23 days, compared to an average of 143 for unstaged homes.
But beautifying your home for sale involves more than a fresh coat of paint. As buyer standards and expectations evolve, they need to connect visually with your home and envision themselves living there. Here's what you should consider to make your listing appeal to spring buyers.
Looking to buy a new property?
Want to sell an existing one?
Let InsurEye connect you with the best real estate agents.
1: Should You Go Pro?
Depending on the amount of work your home requires, you may consider hiring a professional stager to tackle the dirty work. Bringing in a pro has garnered popularity in recent years, as buyers are increasingly drawn to airy, thoughtfully laid out rooms filled with chic furniture. A professional stager (many of whom have interior decoration or design backgrounds), can help you remove unnecessary items, suggest what upgrades will be most impactful, and even source furniture rentals that best show off the space.
The stager's goal is to best display the potential use of each room and highlight its best features. For example, they may suggest reverting a storage room back to its intended second bedroom, or bringing a dining table into an open concept living space.
If you've already moved out and your space is sitting empty, staging can have a big impact. Not only will it make your home seem more inviting and livable, but it will help prospective buyers visualize how to use the space, especially if rooms appear awkwardly shaped or small when empty.
Stager fees vary depending on the level of support you require. A consultation could cost around $500, while a full-blown makeover including paint, new fixtures and furniture rental could be as much as 1% of the purchase price, per month.
Up Your Curb Appeal
Just as it's important to stage your home's interior, its exterior should put its best face forward. If your home is low-rise and on a lot with a yard, ensure all signs of winter, such as leftover snow, slush and ice, salt marks, and holiday decorations have been cleared away. Show off your garden with seasonal blooms and perennials if weather allows, or add a few decorative planters to add some colour if the earth isn't yet cooperating. Clear and stage pool, barbecue, and al-fresco dining areas so buyers can picture themselves enjoying the property during the warmer months. Condo owners aren't off the hook: add some green with a few well-placed succulents, clear clutter and stored items from the balcony, and include a potted seasonal plant.
Lighten Up
Spring ushers in sentiments of lightness, and this should be reflected throughout your home. Swap out dark, heavy piece of furniture for lightly coloured pieces, display vases of fresh blooms, and emphasize natural light sources with gauzy curtains. An easy example would be swapping wood dining room chairs for transparent lucite – clear furniture creates more visual real estate throughout the room and makes it seem larger. The same goes for linens and blankets – trade out heavy fake fur and flannel accents for lighter bedding, pillows and fabrics.
Don't Take It Personally
Finally, don't leave too many personal details on display. Framed family phots and craft projects should be cleared from shelves and the fridge, along with paperwork, counter-top appliances, and evidence of pets. Keep in mind that prospective buyers can be distracted by such items, and find it tough to picture themselves dwelling in the home. Pack up personal effects early, and put them in storage while your house is shown – you'll be reunited with them once you unpack in your own brand new abode!