Get a free Tenant Insurance quote and start saving today!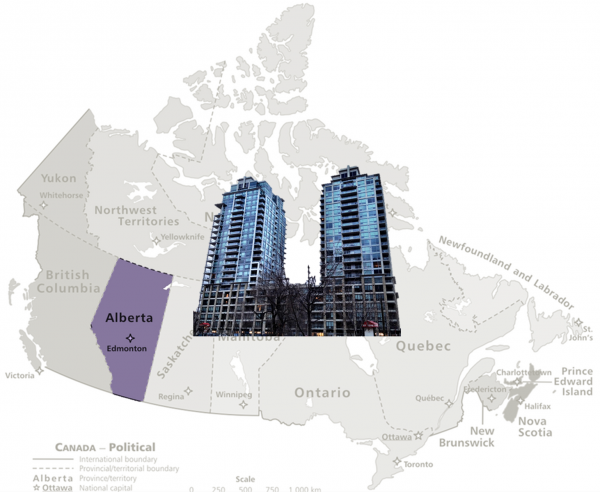 According to data accumulated by the CREA (the Canadian Real Estate Association), Alberta property prices are on the decline. The average price of a property in Alberta has experienced a slight drop, from $395,552 in July 2014 to $394,977 in July 2015.
Calgary has experienced a similar trend. Calgary real estate prices have slipped down from $460,790 in July 2014 to $459,958 in July 2015. The exception to this downward trend has been Edmonton. Where most regions of Alberta experienced a slight downturn, Edmonton's real estate prices grew slightly, from $361,099 in July 2014 to $372,910 in July 2015.
Edmonton aside, Alberta's real estate trend is moving in opposition to Ontario's average real estate prices, which have grown from $417,376 in July 2014 to $454,098 in July 2015. How do insurance premiums compare between provinces? Is homeowner and tenant insurance in Alberta comparable to national premiums?
Looking to buy a new property?
Want to sell an existing one?
Let InsurEye connect you with the best real estate agents.
How Does Tenant Insurance in Alberta Compare to Ontario
Despite the fact that property prices are on a declining trend across Alberta at the same time that they continue to climb in Ontario, individuals are still, on average, paying more for homeowner and tenant insurance policy in Alberta than they are in other regions of Canada—including Ontario. In Alberta, Canadians pay an average of $59 a month for insurance while Ontarians pay $47 per month. A similar picture can be seen with tenants insurance in Alberta. On average, Alberta tenant insurance premiums sit close to $25 per month, whereas Ontarians pay on average $21 a month for their rental home insurance. And the difference is even more visible when you compare homeowner insurance. In Alberta, monthly homeowner insurance premiums are up to $75 a month, while homeowner premiums in Ontario are closer to $65 a month.


This difference in premiums between Alberta and Ontario arises on top of the fact that Alberta homeowners pay almost three times more than they would pay for tenant insurance in Alberta ($75 and $25 respectively).
What Drives Higher Costs of Tenant Insurance in Alberta?
[home_insurance_square_widget]It is important to note that market real estate value does not hold the key to determining the price of an insurance policy, whether it relates to
homeowner insurance or tenant insurance in Alberta
. Insurance premiums relate to the cost it would take to rebuild the dwelling.
Many other factors are also considered when pricing a home insurance policy, including location and neighbourhood, specifics of the building, such as build year, type of construction, roofing, upgrades, plumbing, electrical wiring, and much more.
The key reason that tenant Insurance in Alberta and other types of Alberta insurance are more expensive than they are in Ontario is due to Alberta's harsh climatic conditions and its history of weather disasters, such as Alberta's 2013 flooding.
Want to Know if You're Overpaying for Tenant Insurance?
Here at InsurEye, we've partnered with a unique home insurance provider, Square One Insurance, in order to specialize in home insurance. Unlike many other policies, you can fully tailor your policies to your needs—and you can exclude all the expensive extra elements that do not pertain to your situation.
Get a tenant insurance quote or home insurance quote today to find out how much you can save by switching your home insurance policy in Alberta.