Get a Home Insurance quote now. Start saving.
Sales in half of all local Canadian markets saw an uptick last month, according to the latest report from the Canadian Real Estate Association (CREA). It's an optimistic sign of short-term recovery following several months of slower sales, as the market reacts to a number of new regulations designed to cool prices in the Greater Golden Horseshoe, and an indication more buyers are emerging to check out houses, townhomes and
condos for sale in Hamilton
, Toronto and surrounding areas.
New Mortgage Rules Could Be Fueling Sales Uptick
Sales rose 0.9 per cent from the previous month, says CREA President Andrew Peck, who says the increase could be due in part to pending new mortgage rules taking effect in January – buyers want to get into the market before their purchasing power is reduced, he believes. "Newly introduced mortgage regulations mean that starting January 1st, all home buyers applying for a new mortgage will need to pass a stress test to qualify for mortgage financing," he stated. "This will likely influence some home buyers to purchase before the stress test comes into effect, especially in Canada's pricier housing markets."
However, year over year activity remains well below what was recorded in 2016, declining 4.3 per cent from October 2016 –  for the seventh month in a row.
Check out the data, and a forward-looking prediction, in the infographic below: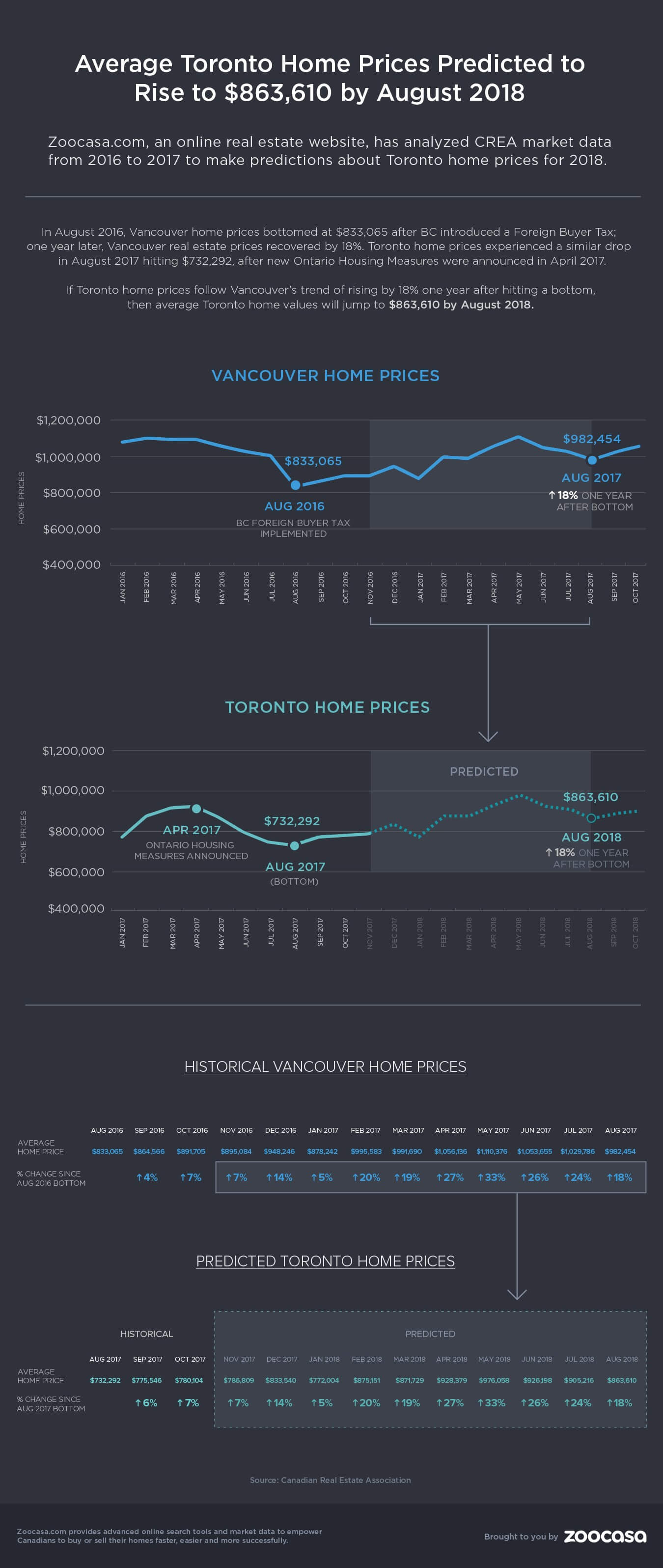 Home Prices Still on the Rise
Slower sales did little to temper real estate prices, though, with the national average rising 5 per cent to $506,000 and the National MLS Home Price Index benchmark up by 9.7 per cent – however, it should be noted that's the smallest increase since March 2016. Condos led the way in price growth, increasing 19.7 per cent, followed by townhomes and rowhouses, at 13.2 per cent. Detached homes appreciated the least, with one-storeys up 6.3 per cent, and two-storeys up 5.2 per cent.
Excluding Toronto and Vancouver from the national average would strip out $120,000 from the total.
[home_insurance_square_widget] Recovering Seller's Conditions
The slight improvement in sales, combined with a slight 0.8-per-cent decline in homes available for sale, indicates the market is leaning more toward sellers' conditions, with a national sales-to-new-listings ratio of 56.7 per cent.  However, Canada's largest markets revealed they're moving in opposite directions, with a ratio of 46.5 per cent in the GTA (just slightly over buyer's territory), and a whopping 67.1 per cent in Vancouver, indicating a strong seller's market. CREA considers a ratio between 40 – 60 per cent to be a balanced market.
Will Toronto Follow in Vancouver's Footsteps?
Conditions have been much softer in the GTA following the implementation of the Ontario government's Fair Housing Plan in April; the 16-point plan (which includes a 15-per-cent foreign buyer tax), designed to cool prices and improve affordability in the province, led to a psychological barrier among buyers, who decided to wait longer for lower prices, and panic among sellers, who started listing their homes en-masse, plunging the market into buyer's conditions. As a result it's become slightly easier to purchase a detached house, condo or townhouse for sale in Toronto.
A similar phenomenon was witnessed in Vancouver following the introduction of its own foreign buyer tax in August 2016 – sales immediately plunged 51 per cent, especially in the pricey detached home and luxury segments. However, while demand in the west coast market remains highest for lower-priced home types such as condos, the has been significant price recovery, from its bottom of $833,065 to the $982,454 recorded in August of this year.
Could the same recovery be on the way for Toronto? Pending any unexpected policy additions, Zoocasa crunched the housing data trends in Vancouver and used them to forecast where prices may be headed in the GTA, finding they could reach a peak of $863,610 in 2018.
The infographic has been kindly provided by our friends at Zoocasa.

Looking to buy a new property?
Want to sell an existing one?
Let InsurEye connect you with the best real estate agents.