Get a Home Insurance quote now. Start saving.
Long before finding
cheap home insurance
, property hunters must first actually find a home that crosses off their list of must-haves, put down an offer, beat out competing bids and ultimately, close the deal. In Toronto's super-hot housing market, that's only proving to be a tougher task – especially if the dream is to own a single-family abode.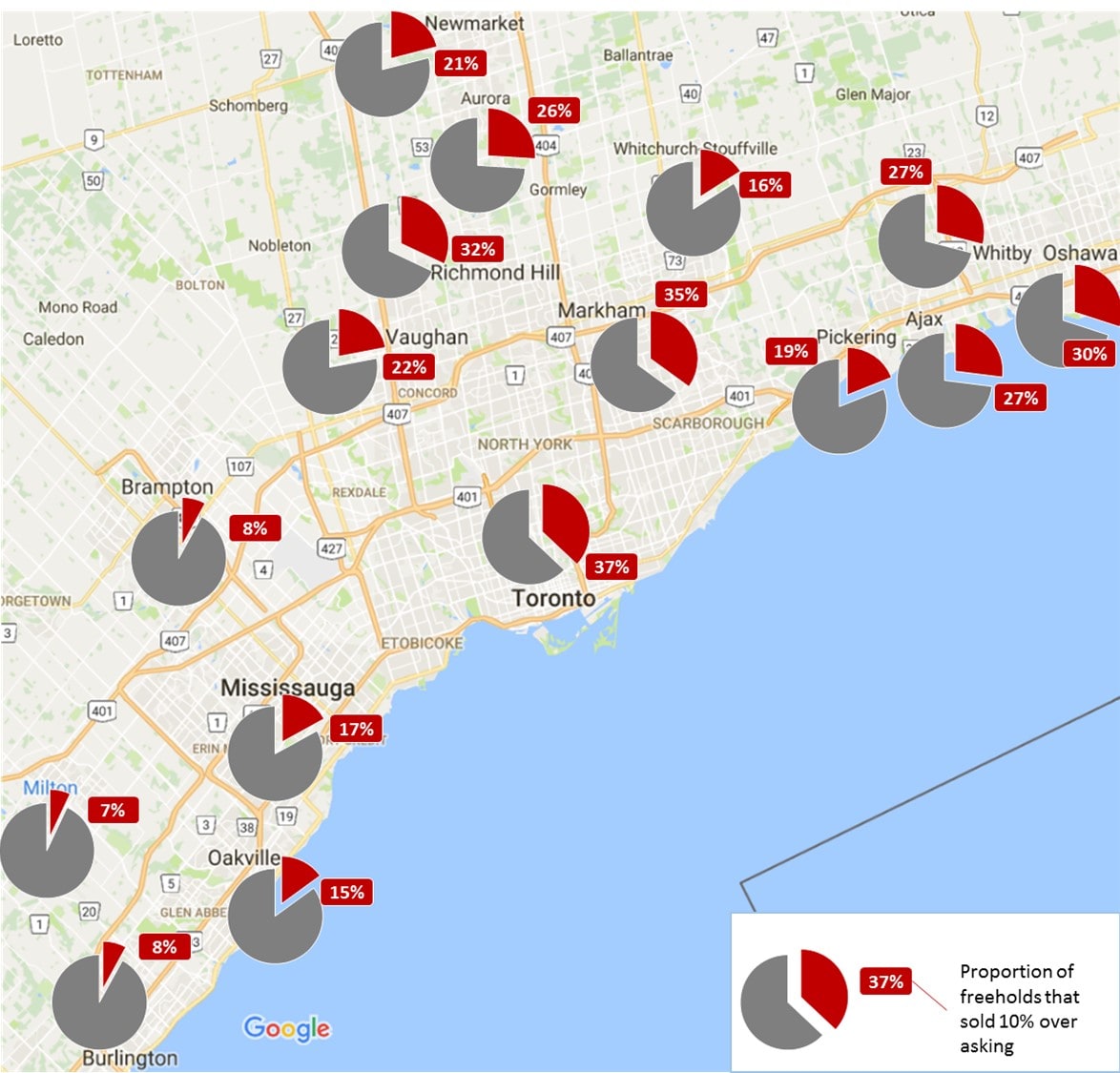 Looking to buy a new property?
Want to sell an existing one?
Let InsurEye connect you with the best real estate agents.
Supply of freehold houses is at record lows according to the Toronto Real Estate Board, which recently stated the number of active listings (AKA homes up for sale) plummeted nearly 50% in January 2017 compared to the previous year. And that's all in the face of unwavering demand and a city facing an ever growing population, which jumped 6.2% between 2011 and '16. Property values have obviously been impacted, as in the last five years, the average price of a family style house in the Greater Toronto Area has shot up over 65%, or around $350,000. With conditions stepping well into those of a fervent seller's market, it only makes sense that bidding wars are emerging as the new norm in Toronto and its fringe suburban cities. In today's market, buyers are often stuck in situations where they have to waive financing conditions just to win over sellers. In an effort to shed light on how ubiquitous bidding wars have become, TheRedPin, a Toronto-based real estate brokerage, delved deep into the data to expose how many homes have been snatched off the market for over their list price. Whether through strategically under pricing a home to egg-on multiple offers, overwhelming demand – or more likely, a mix of both – TheRedPin found approximately one out of every five detached, semi-detached and townhomes sold for well above asking. In the case of this study, the brokerage defined "above asking" as properties that were acquired for minimum of 10% above their list price. Based on the study, the following handful of trends emerged:
The amount of GTA homes sold for above asking more than doubled between 2016 and 2015, increasing by approximately 160%
The City of Toronto saw the largest proportion of detached, towns and semis close for above asking, followed closely by Markham and Richmond Hill (see table below for a breakdown of 16 prominent municipalities)
Condominiums are far less prone to the competitive environment of multiple offers and saw a significantly smaller share of above asking transactions. Only about 2% of residential condo apartments were purchased for a minimum of 10% above list price. Even when isolating prime neighbourhoods in central* Toronto like the Entertainment District and Liberty Village, the figure stayed at 2% of total sales
CITY
TOTAL 2016 FREEHOLD SALES
NUMBER OF FREEHOLDS THAT SOLD 10% OVER ASKING
PROPORTION OF FREEHOLDS THAT SOLD 10% OVER ASKING
Richmond Hill
3,393
1,082
32%
Mississauga
6,265
1,055
17%
Whitchurch-Stouffville
1,038
164
16%
For house hunters looking for some quick tips on how to come out with a winning bid during a multiple offer situation, here are some good courses of action to take:
Ditch the idea of thinking a mortgage pre-qualification is enough. Get a full-fledged mortgage pre-approval instead. It'll signal to home sellers you're serious about buying and that your finances are in order
Part-time realtors may not be equipped with the experience of dealing with a bidding war. Instead, having a full-time agents by your side who's familiar with navigating the ultra-competitive environment of bidding wars is often a must
Understand when a seller is intentionally underpricing their home to garner attention from a larger pool of buyers. Always put in an offer that matches market value, even if the seller is asking for considerably less
Be accommodating to the seller's needs. Little niceties like granting flexibility on the closing date can make your offer more enticing
We hope that you found these insights useful – good luck in your house hunting. *Toronto Multiple Listings Community C1