Get a Home Insurance quote now. Start saving.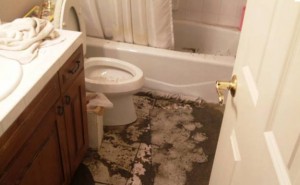 Sewer backup coverage is important, however, most homeowner insurance policies don't cover this type of coverage – which is why you need to find out everything you can about it; particularly if you're a first time home buyer.
What is Sewer Backup?
Sewer backup is flooding that occurs in your home; and it usually happens due to an overflow of the public sewage system. The system is not able to deal with an inflow of water so it overflows, and pushes water back into home. Sewer backup is caused by various things such as thunderstorms or melting snow; and the outcome of this type of flooding is an ugly image of dirty water mixed with bacteria and other contaminants.
Looking to buy a new property?
Want to sell an existing one?
Let InsurEye connect you with the best real estate agents.
How to Clean up Sewer Backup
Cleaning up sewer backup requires a complicated and expensive restoration process that may easily cost $10,000 – $50,000.  As well, items in your household are often damaged, such as carpets, furniture, electronics and personal items; and they have to be replaced.
How to Get Sewer Backup Coverage
[home_insurance_square_widget]A lot of policies don't include sewer backup insurance, so this type of coverage has to be bought as a supplemental insurance. This is called a sewer backup rider, and the good news is that they're usually not very expensive. The cost of sewer backup coverage as an addition to your regular policy costs between $10 and $250 per year, but a rider around the $30-$40 mark will provide you with decent enough coverage.
For peace of mind it is highly recommended that you get sewer backup coverage. However, as a consumer you have to be careful and aware of the following:
Never assume it's in your home insurance policy, because it probably isn't.
Some coverage comes with a very high deductible. In fact, some companies have a $10,000 sewer back up deductible – so you have to pay this amount before your insurance coverage will even kick in.
Pay attention to how sewer backup coverage is adjusted. For example, in the last few years TD Insurance significantly lowered its coverage limits.
What Do Consumers Say to Changes in Sewer Backup Coverage
I have been an auto and home insurance client with this company for over 30 years. However, despite only 2 home claims being submitted, (1992 and 2008), they have increased my home insurance premiums a whopping 105% from 2011 to my 2014 premium of approximately $1,500. The main reasons provided for the increases is the jump in claims for sewer backup water damage attributed to more frequent and severe climatic incidents such as the flooding in the Alberta and GTA regions this past spring. They have also reduced my sewer backup coverage from $50K to $15K and increased my premium by more than $100. I was told I cannot increase my sewer backup coverage unless I install a sewer backup valve. They also refused to provide me with historical data to substantiate why my postal code area reflects the highest risk factor for backup. There have not been any major events in the area for the past few years. I have received multiple quotes at a significantly lesser overall premium, which include sewer backup coverage over $500k. Beware to current clients and consumers considering this company.

by Ottawa-Orleans Resident, Feb 2014

I got my insurance renewal, with $800 additional for sewer backup (and only up to $15000 with $2000 deductible. The ice damming coverage is $130 a year. Are you kidding me? Also, a half duplex rental property for $342 per year, just for sewer backup?

by Unhappy, Jul 2015

We have been with this company for many years. We have always had and paid for a comprehensive solution. in the last 5 years premiums have just been rising and they cannot provide any good reasons. some stories about being in a high risk zone for sewer backup was one they are trying to get past us. coverage for that has gone from 100,000 to $15,000, while the premium for it has increased 460% in the past 5 years. Every year I call and ask why we are being penalized. we have already increased deductibles. Service is good when you need them, but we cannot continue to allow them to take advantage of us.

by Tired of Being Ripped Off, Jan 2015
A Non-Insurance Option to Sewer Backup Coverage
F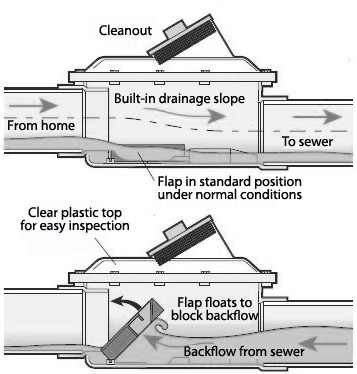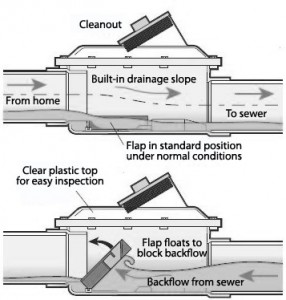 or a non-insurance option you can protect yourself by installing a backwater valve (see picture – source "Absolute Draining and Plumbing"). It's a simple device that is attached to your pipeline, and it allows water to flow from your home to a sewer, but for protection it automatically closes if the public sewer system returns water.
Some cities encourage people to install backwater valves. For example, the city of Toronto has a special subsidy program that offers up to $3,200 to home owners who install flood protection devices.
If you already have sewer backup coverage in your home insurance policy, make sure you review it. If you're unsure if you do contact your insurer/insurance broker to find out, and if you don't have it make sure you get it.
If you have any questions about sewer backup coverage, or if you want to get a quote for a home insurance that includes sewer backup, you can do it here.