Get a Home Insurance quote now. Start saving.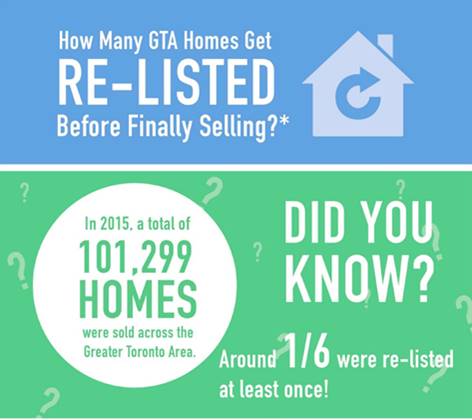 The word "hot" preludes almost every mention of the Toronto housing market, with news headlines reporting on significant spikes in sales figures and prices on a month-to-month basis. Even a superficial glance at the numbers is enough to resoundingly prove how real estate in Canada's largest metropolis is experiencing a record-breaking streak. Last year alone, property values jumped 9.8 percent across the GTA, home sales shot passed 100,000 and the average price of a detached home in the City of Toronto surpassed the $1,000,000 ceiling for the first time. However, a recent study from TheRedPin – Canada's largest online real estate brokerage – unravelled a new set of numbers that offers a different look into the country's biggest housing market. After examining 2015's figures, the brokerage found roughly 1 in every 6 properties that sold across the GTA needed at least two attempts before successfully finding a buyer and were re-listed in the process. When isolating just the City of Toronto, that figure jump to 1 in 5 (or 20 percent). The practice of relisting involves removing a home for sale off MLS and placing it back on the market in a short time frame – often with a different price tag. If a property has "lingered" on the market for a sustained period of time, relisting can serve as a workaround for many sellers to remove the stigma that a property is stale or unwanted by essentially reversing its days on market back to zero.
Looking to buy a new property?
Want to sell an existing one?
Let InsurEye connect you with the best real estate agents.
Upon finding a new listing, one of the first questions on every house hunters mind is: how long has it been on the market for?" Any number of days that falls close to 60 is likely to elicit some eyebrow raises and a handful of questions to follow about why it has failed to receive an offer. It's worth noting that sellers did not rush to relist, instead waiting an estimated 25 days between relists. The asking price also dropped between each instance, falling by an average of 3.3 per cent between the first and second listing. To avoid having to relist and instead, selling your home the first time around, some key tips include:
Pricing accurately and not overvaluing your home for emotional reasons
Hiring professional photographers to best capture your house's interiors and exteriors
Declutter
Investing time and money to fix minor home repairs.
If you are selling your home, view the infographic below for a visual of all the study's findings.

[home_insurance_square_widget] These insights on the the best time to buy a home were kindly shared by our friends at TheRedPin, a full service real estate brokerage that carries the largest database of residential listings in the Greater Toronto Area.