5 Reasons to Get a Car Insurance Quote in Brampton
Compare car insurance rates in Brampton across 30+ insurers
Available remotely from the comfort of your home
Find out if you are currently paying too much
Spend 5 minutes to save hundreds of dollars
Talk to a live agent if you have questions to your quote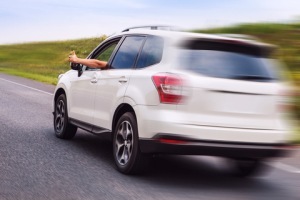 Welcome to your car insurance guide for Brampton, where you will learn about car insurance premiums, ways to save on insurance, and more useful tips and tools.
What are typical Car Insurance rates in Brampton?
The charts give you average rates (by province and by age range) of car insurance in Ontario and across Canada.
Drivers in Ontario spend more on auto insurance than drivers in every other province. Government intervention has attempted to drive down the rates, but they still remain disproportionally high.
When it comes to car insurance rates, Brampton stands out with the highest premiums in Canada. Drivers in Brampton pay a soaring $190-$230/month in average auto insurance premiums. Many insurance providers and insurance brokers consider this region as a high risk. Brampton's neighbourhoods of Northwood Park, Mount Pleasant, Madoc, Huttonville, Bramlea and a few others are more expensive in terms of insurance premiums when compared to Malton, Old Malton and Mount Charles.
Get to know all Car Insurance components
Car insurance is a combination of different pieces. Some of them are mandatory, others depend on the policy you choose and your coverage needs:
| Insurance component | Description | Type |
| --- | --- | --- |
| Collision insurance | This insurance pays for damages to your vehicle after an accident. If your car is beyond repair, it pays a reasonable sum to replace it. | Not mandatory |
| Liability insurance | Liability insurance is mandatory coverage that protects the other person and vehicle in the accident. It is used to help with the resulting medical bills, lost earnings, legal fees, etc. In some provinces one driver can sue the other, and this could push your costs into the millions. For this reason, we suggest getting more than the minimum liability coverage required – a good investment since liability coverage is not expensive, but being sued is very costly. | Mandatory |
| Comprehensive insurance | Purchase comprehensive to protect yourself from non-accident related damages that affect your car, such as extreme weather, flooding, and vandalism. | Not mandatory |
| All perils | This protection is for when someone in your household steals your car, or it is damaged by an additional driver. | Not mandatory |
| Uninsured motorist / Hit-and-run coverage | Some drivers illegally operate without coverage, or flee the scene of an accident (hit and run). This coverage protects you financially from these irresponsible individuals. | Mandatory |
| Accident Benefits | Medical expenses, income replacement, and other such expenses are covered by accident benefits. | Not mandatory |
What cars are the most expensive ones to insure?
Auto insurance is linked, in part, to the different types of claims associated with the vehicles: accident benefits insurance claims, collision insurance claims, comprehensive insurance claims, and direct compensation property damage insurance claims. Following is a list of cars (model years 2014-2018) that have high insurance costs:
BMW X6
BMW 4th series
Tesla Model S
Cayenne
BMW 3rd series
Audi Q7
Mercedes-Benz S series
Hyundai Genesis
Audi S5
Mercedes-Benz CLS
Mercedes-Benz C series
Audi A5
Subaru/Toyota BRZ
Dodge Charger Ford Mustang
Lexus IS
Other elements, such as your driving habits, age, driving history, location, policy type, and coverage, have a greater impact on your car's insurance rates. The model/make alone is not a good predictor of the cost of your premium.
7 Ways to save on Car Insurance in Brampton
Cheap car insurance in Brampton is not easy to get since insurance rates in Ontario are so high. However, it is not impossible to lower your rate. We have complied several tips to help you reduce your auto insurance rates in Brampton.
Improving Your Driving Record: It takes three years to clear tickets and infractions from your record. Maintain a good driving record to help keep your rates low.
Direct Insurers: Direct insurers such as Belairdirect or TD Insurance may offer lower rates if an agent or broker is not collecting a commission on the sale of your policy.
Multiple-Cars-Bundle: Insuring more than one vehicle? Bundle them with the same insurer to get a discount.
Leverage Your Credit Card: Why pay the collision damage waiver for a rental if your credit card has this coverage already? You can use a credit card navigator tool to help you find a credit card with rental car insurance.
Private Garage: Some insurers offer a discount if you park in a private garage or a secure location.
Annual Review: Your insurance needs change year to year. Always do an annual review to ensure you are not over or under insured.
Professional Membership: Members of professional organizations, like Certified Management Accountants of Canada or The Air Canada Pilots Association have discounted auto insurance for members. Check to see what your professional or alumni organization has to offer.
Brampton Car Insurance quotes, examples?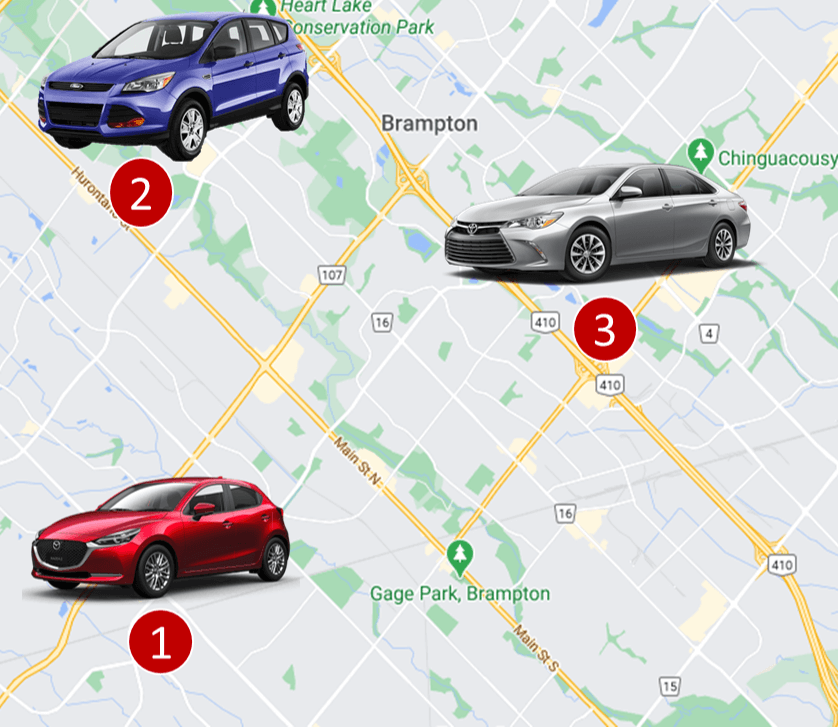 Sample car insurance quote #1:
A male driver, 45 years old, no claims in the last three years, no at-fault accidents, and no license suspensions. Vehicle: 2018 Mazda 3 GX, CAA member, comprehensive coverage (including collision). Policy: $1,000 deductible, 3rd party liability – $2,000,000.
$141 per month ($1,692 annually)
Sample car insurance quote #2:
A female driver, 52 years old, no claims in the last three years, no at-fault accidents, and no license suspensions. Vehicle: 2014 Ford Escape, collision-only coverage (no comprehensive). Policy: $1,000 deductible, 3rd party liability – $1,000,000.
$114 per month ($1,368 annually)
Sample car insurance quote #3:
A female driver, 34 years old, no claims in the last three years, no at-fault accidents, and no license suspensions. Vehicle: 2016 Toyota Camry, comprehensive coverage (including collision). Policy: $1,000 deductible, 3rd party liability – $1,000,000.
$200 per month ($2,400 annually)
Car Casualty Rates in Ontario (including Brampton)
Based on 2018 casualty statistics from Transport Canada, Ontario drivers operate in a safer manner than drivers in other provinces.
| Province | Fatalities per 100,00 licensed drivers | Injuries per 100,00 licensed drivers |
| --- | --- | --- |
| NU | 74.2 | 928.0 |
| YT | 24.1 | 681.1 |
| SK | 15.8 | 517.5 |
| PE | 13.2 | 573.8 |
| NS | 10.2 | 978.9 |
| NB | 9.0 | 484.3 |
| AB | 9.0 | 530.0 |
| BC | 8.0 | 555.7 |
| MB | 7.6 | 1310.0 |
| NT | 7.6 | 382.5 |
| Canada | 7.2 | 575.0 |
| NL | 6.6 | 460.8 |
| QC | 6.4 | 622.1 |
| ON | 5.8 | 491.3 |
Even with a good provincial driving record, auto insurance rates in Ontario remain very high.
Car Insurance in Brampton – what you must know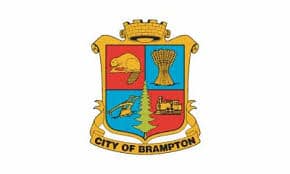 Car insurance is mandatory in Brampton and across the province of Ontario.
The minimum mandatory third-party liability coverage included in every policy is $200,000.
Additional car insurance benefits you can expect in Brampton, Ontario include:

Disability income benefits: 70% of your gross income up to max of $400 per week.
Non catastrophic injuries: The standard maximum for expenses such as medical, rehabilitation, and paramedical expenses (physiotherapy, chiropractic, aide, etc.) is $65,000.
Catastrophic injuries: The standard maximum benefit is maximum is $1,000,000.
The maximum amount for caregiver benefits is $250 per week for the first dependant. Also available is $50 per week for each dependant.
If you need help to perform your typical housekeeping or self-care duties, you may be eligible for a maximum of $100 per week to hire assistance.
The standard amount of death and funeral benefits is $25,000 for your eligible spouse, and a further $10,000 for each dependant. Also provided is a maximum of $6,000 for funeral expenses.
What cars are the least expensive ones to insure?
Some cars are less likely to get into an accident and when they do, the associated costs are lower. Here are cars (model year 2014-2018) that typically cost less to insure.
Smart Fortwo
Ford F150
Nissan Frontier
Chevrolet Tahoe/Yukon
Chevrolet Silverado/Sierra
Fiat 500
Ford Mustang Convertible
Jeep Wrangler
Buick Encore
Honda CR-V
Jeep Compass
Chevrolet Equinox/Terrain
Nissan Xterra
Honda Pilot
Hyundai Accent
Remember, the car's model is just one of the many factors defining your insurance rates. Your personal driving history impacts your rates a lot more than the car's make/model.
5 Car Insurance myths to know
Myth #1: If you lend your car, it will be covered through the insurance policy of another driver
When you lend your car, you lend your policy. If it's involved in an accident your insurance covers the damages.
Myth #2: It is more expensive to insure red coloured cars
Despite the prevalence of this myth, it is not true. The colour of the car has absolutely no bearing on your premium.
Myth #3: The no-fault system results in lower costs since it eliminates the need for expensive legal processes required to determine who is at fault
Even though Ontario has a mixed system that skews towards no-fault, this province still has the highest insurance rates in Canada.
Myth #4: If I have a really bad driving record, I will not be able to get car insurance
You can get insurance no matter how bad your record is, but your rates will be exorbitant. You may also need to get your policy from a high-risk auto insurance provider like PAFCO. If you cannot get insurance from them, your next option is a special organization called Facility Association, but it will be very expensive. It is the last option for people to get car insurance if they failed to get it anywhere else.
Myth #5: If I have comprehensive coverage, I can always expect to get OEM (original equipment manufacturers) parts for my vehicle
Check your policy to see if it allows for OEM parts, or aftermarket/recycled parts. In many cases insurers use non-OEM parts to keep costs down.
Frequently Asked Questions (FAQ): Car Insurance in Brampton
Basically, brands like Hyundai, Nissan, Ford, Buick, Chevrolet, and Jeep have cheaper insurance rates. Brands like BMW, Mercedes-Benz, Audi, and Lexus have higher insurance rates. This is simply because more expensive cars have higher repair costs. Check the tables above for the exact makes/models. Another aspect contributing to car insurance costs are statistics (e.g. theft, accidents, etc.) associated with each car make/model.
Car insurance costs in Brampton, Ontario, are the highest not only in the province, but in the country. On average, drivers in Brampton will pay between $190 and $230 monthly. That includes most neighborhoods such as Northwood Park, Mount Pleasant, Madoc, Huttonville, Bramlea and a few others. Please note that car insurance rates in Brampton depend not only on location, but on many criteria. For example, if you have a maximum of two violations in the last three years (parking tickets not included), you can expect to pay 20%-35% higher rates. If you have a serious history of driving problems, you can expect around double the rate. Also, younger drivers can expect significantly higher auto insurance premiums due to their driving inexperience.
You can get car insurance in Brampton through different ways. You can contact directly an insurance company but then you need to call each of them separately or talk to your insurance broker (we suggest to check with how many insurers he/she works to be able to provide you with good deals). Alternatively, you can let technology work for you and by clicking a quoting button let the clever algorithms find the best rate for you – across nearly 30 Canadian car and home insurers.
Since 2012, our proprietary insurance review platform has collected independent consumer reviews for a variety of insurance and financial products. Click here for free access to our thousands of car insurance reviews.
Our Publications related to Auto Insurance
Car Insurance by Location