5 Reasons to Get a Car Insurance Quote in Hamilton
Compare car insurance rates in Hamilton across 30+ insurers
Available remotely from the comfort of your home
Find out if you are currently paying too much
Spend 5 minutes to save hundreds of dollars
Talk to a live agent if you have questions to your quote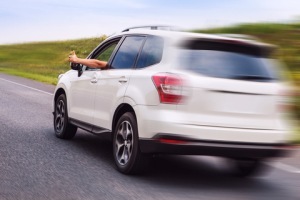 This complete car insurance guide for Hamilton will give you an idea of average car insurance premiums in the region, will show you how to save on car insurance, and will bust common myths. With our guide, you will learn everything you need to know about car insurance in Hamilton, Ontario.
What are typical Car Insurance rates in Hamilton?
These charts compare rates across Ontario and Canada, and then across ages. As you can see, the differences can be considerable.
Ontario drivers spend more on auto insurance than any other Canadian province. Even though government efforts attempted to drive down rates, they are still disproportionately high.
However when compared to Toronto, Brampton, and Mississauga, drivers in Hamilton enjoy somewhat lower rates. Car insurance premiums in the following Hamilton neighbourhoods range between $150 and $170 per month: North End, Normanhurst, The Delta, Corktown, Buchanan, Hamilton Mountain, and Inch Park. Several other neighbourhoods such as Hampton Heights, Berrisfield, Rosedale, and Bartonville have even lower rates of $120 – $150 monthly.
Get to know all Car Insurance components
Car insurance is made up of various factors. Some are mandatory, others are optional. Therefore, car insurance policies in Hamilton are built around your coverage needs.
Insurance component
Description
Type
Collision insurance
This insurance pays for damages to your vehicle after an accident. If your car is beyond repair, it pays a reasonable sum to replace it.

Not mandatory
Liability insurance
This mandatory coverage is for the damages you cause to others in an accident. Damages include but are not limited to
medical bills, lost earnings, legal fees, etc.

Depending on the province, you can be sued for damages, driving your costs into the millions. Since rates for liability insurance are not high, we suggest getting more than the minimum coverage.
Mandatory
Comprehensive insurance
Purchase comprehensive to protect yourself from non-accident related damages that affect your car, such as extreme weather, flooding, and vandalism.
Not mandatory
All perils
What happens if someone in your household steals your car? Or an additional driver on your policy damages it? All perils covers these concerns.
Not mandatory
Uninsured motorist / Hit-and-run coverage
Some drivers illegally operate without coverage, or flee the scene of an accident (hit and run). This coverage protects you financially from these irresponsible individuals.
Mandatory
Accident Benefits
Medical expenses, income replacement, and other such expenses are covered by accident benefits.
Not mandatory
What cars are the most expensive ones to insure?
The cost to insure cars is correlated, in part, to the different types of claims associated with these cars: accident benefits insurance claims, collision insurance claims, comprehensive insurance claims, and direct compensation property damage insurance claims. Here are some examples of cars (model years 2014-2018) that have high insurance costs:
BMW X6
BMW 4th series
Tesla Model S
Cayenne
BMW 3rd series
Audi Q7
Mercedes-Benz S series
Hyundai Genesis
Audi S5
Mercedes-Benz CLS
Mercedes-Benz C series
Audi A5
Subaru/Toyota BRZ
Dodge Charger Ford Mustang
Lexus IS
Other factors, like your driving habits, age, driving history, location, policy type and coverage, impact your cars insurance rates as well. The model/make alone is not a good indicator of what your insurance will cost.
7 Ways to save on Car Insurance in Hamilton
Since car insurance rates in Hamilton are high, it's not easy to get cheap insurance. However, it's not impossible either. We've collected these tips so you can reduce your car insurance rates in Hamilton.
Improving Your Driving Record: It takes three years for your driving infractions to be cleared off your record. Maintain good driving habits to avoid higher premiums.
Direct Insurers: A direct insurer, like Belairdirect or TD Insurance, if selling commission free services, can sometimes get you a better rate.
Leverage Rental Car Coverage: Think about skipping the collision damage waiver on your rental car if this is already covered by your own auto insurance policy.
Annual vs. Monthly Payments: Annual payments save the insurer time and administration costs, so they pass those savings on to you.
Pay-As-You-Drive: Not a frequent driver? Ask your insurer about a device you can install in your car that tracks your driving profile, so you only pay for the time you are on the road.
Hybrid Vehicles: If your insurance company offers a discount for hybrid vehicles, you'll save more than just gas money on your hybrid car.
Alumni: Some insurance providers offer discounts or group insurance rates to alumni members. Two examples of these groups are University of Toronto and McGill University.
Hamilton Car Insurance quotes, examples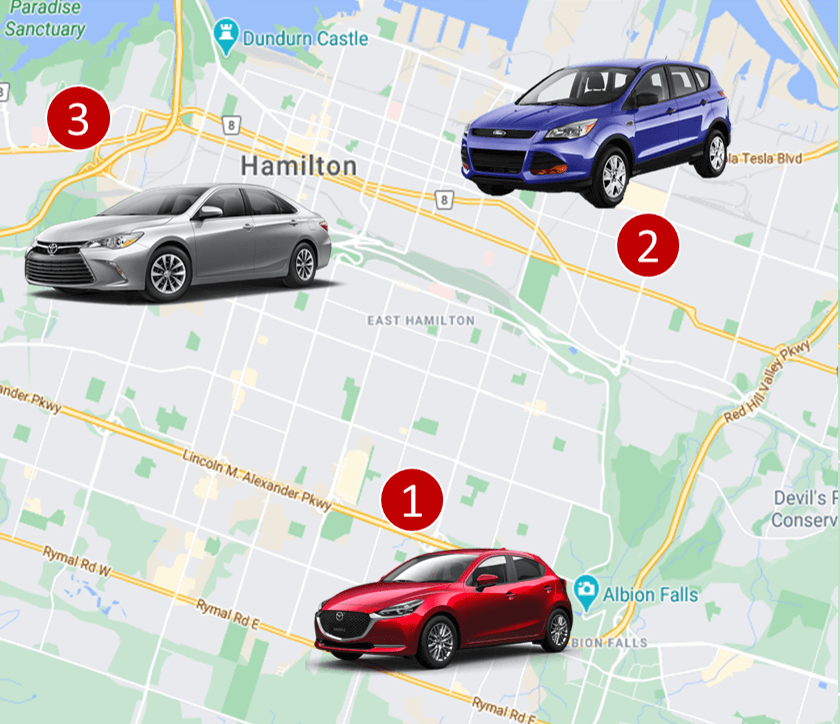 Sample car insurance quote #1:
A male driver, 45-years old, no claims in the last three years, no at-fault accidents, and no license suspensions. Vehicle: 2018 Mazda 3 GX, CAA member, comprehensive coverage (including collision). Policy: $1,000 deductible, 3rd party liability – $2,000,000.
$111 per month ($1,332 annually)
Sample car insurance quote #2:
A female driver, 52-years old, no claims in the last three years, no at-fault accidents, and no license suspensions. Vehicle: 2014 Ford Escape, collision-only coverage (no comprehensive). Policy: $1,000 deductible, 3rd party liability – $1,000,000.
$87 per month ($1,044 annually)
Sample car insurance quote #3:
A female driver, 34-years old, no claims in the last three years, no at-fault accidents, and no license suspensions. Vehicle: 2016 Toyota Camry, comprehensive coverage (including collision). Policy: $1,000 deductible, 3rd party liability – $1,000,000.
$125 per month ($1,500 annually)
Car casualty rates in Ontario (including Hamilton)
Casualty statistics numbers from Transport Canada (2018) show that Ontario drivers appear to be quite safe as compared to other provinces.
| Province | Fatalities per 100,00 licensed drivers | Injuries per 100,00 licensed drivers |
| --- | --- | --- |
| NU | 74.2 | 928.0 |
| YT | 24.1 | 681.1 |
| SK | 15.8 | 517.5 |
| PE | 13.2 | 573.8 |
| NS | 10.2 | 978.9 |
| NB | 9.0 | 484.3 |
| AB | 9.0 | 530.0 |
| BC | 8.0 | 555.7 |
| MB | 7.6 | 1310.0 |
| NT | 7.6 | 382.5 |
| Canada | 7.2 | 575.0 |
| NL | 6.6 | 460.8 |
| QC | 6.4 | 622.1 |
| ON | 5.8 | 491.3 |
Unfortunately, a good safety record is not reflected in car insurance rates in Ontario, as they remain among the highest in the country.
Car Insurance in Hamilton – what you must know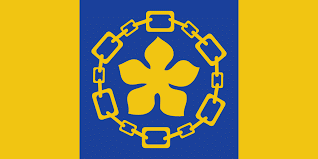 Car insurance is required by law in Ontario, including the city of Hamilton.
Mandatory liability coverage is the minimal 3rd party liability coverage that is required by law. It is automatically part of every car insurance policy. In Ontario the coverage is $200,000.
Other car insurance benefits available in Hamilton, Ontario include:

Disability income benefits, which are 70% of your gross income up to a max of $400 per week.
Non catastrophic injuries: The standard maximum amount for medical, rehabilitation and attendant care expenses (for example, physiotherapy, chiropractic treatment or an aide to assist you if your injuries limit your ability to care for yourself) is $65,000.
The standard maximum for catastrophic injuries is $1,000,000.
The caregiver benefits maximum is $250 per week for the first dependant, plus $50 per week for each additional dependant.
If you need help with housekeeping and maintenance as a result of the accident, you may be eligible for a maximum of $100 per week to help with the cost of hiring help.
The standard amount of death and funeral benefits is $25,000 for your eligible spouse, with an additional $10,000 for each dependant. There is also a maximum of $6,000 for funeral expenses.
What cars are the least expensive ones to insure?
Some cars are less likely to get into an accident and when they do, the repair or replacement costs are lower. Here are examples of cars (model year 2014-2018) that are less costly to insure.
Smart Fortwo
Ford F150
Nissan Frontier
Chevrolet Tahoe/Yukon
Chevrolet Silverado/Sierra
Fiat 500
Ford Mustang Convertible
Jeep Wrangler
Buick Encore
Honda CR-V
Jeep Compass
Chevrolet Equinox/Terrain
Nissan Xterra
Honda Pilot
Hyundai Accent
Remember, the car model is just one of the factors defining your insurance rates. Your personal driving history impacts your rates to a greater degree than a car make/model.
5 Car Insurance myths to know
Myth #1: You can always be added as a second driver on your parent's insurance policy
This is called fronting and it is insurance fraud – insurers are always on the lookout for this. If you go ahead with this scheme and there is an accident, your claim could be denied.
Myth #2: If you get into an accident once or get a ticket, your insurance rates will always stay high
The accidents and tickets that affect your rates only impact your premium for three years.
Myth #3: Other parties can always sue you for damages or/and injuries if you are at-fault
This depends entirely on the system in which your province operates. In some provinces you cannot sue the other party even if they are at fault.
Myth #4 Insurance works in the same way across all Canadian provinces
Some provinces use a no-fault system, some use a tort (at-fault) system, and some use a mix of both. The system used is not to determine fault, but defines which insurance company pays the claim, and if one driver can sue the other driver.
In some provinces, car insurance is only available through one provider. In MB, SK and BC only MPI, SGI and ICBC respectively can provide car insurance coverage.
Myth #5: It is more expensive to insure red coloured cars
This is one of the most longstanding myths out there, but it is completely false. The colour of your car has no impact on the quoting process or the premium. You could drive a hot pink or lime green car and it wouldn't impact your rates.
Frequently Asked Questions (FAQ): Car Insurance in Hamilton
Some car brands, like Hyundai, Nissan, Ford, Buick, Chevrolet, and Jeep have cheaper insurance rates. Others, like some series of BMW, Mercedes-Benz, Audi, and Lexus cost more to insure. This is because these more expensive cars have higher repair costs. Check the tables above for the exact makes/models. Another aspect contributing to car insurance costs are statistics (e.g. theft, accidents, etc.) associated with each car brand / model.
Car insurance cost in Hamilton, Ontario, depends on many different factors. On average, drivers in Hamilton pay around $120 and $170 monthly, depending on the neighbourhood. These neighbourhoods have lower premiums: Hampton Heights, Berrisfield, Rosedale, and Bartonville. Drivers in Corktown, Buchanan, Hamilton Mountain and a few other neighbourhoods have higher rates. It is important to remember that if you have a maximum of two violations in the last three years (parking tickets not included), you can expect to pay 20%-35% higher rates. If you have a serious history of driving problems, expect to pay double rates. Also, younger drivers can expect significantly higher auto insurance premiums due to their lack of experience.
Our Publications related to Auto Insurance
Car Insurance by Location