5 Reasons to Get a Car Insurance Quote in Sarnia
Compare car insurance rates in Sarnia across 30+ insurers
Available remotely from the comfort of your home
Find out if you are currently paying too much
Spend 5 minutes to save hundreds of dollars
Talk to a live agent if you have questions to your quote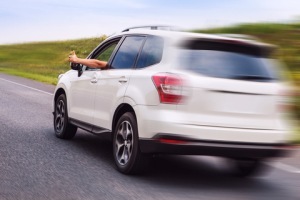 This complete car insurance guide for Sarnia will discuss car insurance premiums in Ontario, will show you how to save on car insurance rates, and will also bust some common myths. Our guide has all the useful tips you need to find the best car insurance protection in Sarnia.
What are typical Car Insurance rates in Sarnia?
The rates in the first chart show you an average of insurance prices in Ontario and how they compare to some other provinces in Canada. The second chart compares drivers of different ages. The differences in rates can be considerable.
Ontario drivers spend more on car insurance than any other province in Canada. Recent government efforts to bring down high auto insurance rates have not yet managed to change the fact that the premiums remain disproportionately high.
When compared to Toronto, Brampton, Mississauga, Hamilton, and London, drivers in Sarnia enjoy somewhat lower car insurance rates – they range here between $80 and $105 monthly.
Get to know all Car Insurance components
Car insurance is like a puzzle. There are some components that are mandatory. The rest of the pieces are selected based on the coverage you need. Let's look at the various component.
| Insurance component | Description | Type |
| --- | --- | --- |
| Collision insurance | Collision insurance covers damages to your car and if the damages are so bad the car cannot be repaired, this coverage provides a reasonable cost to replace it. | Not mandatory |
| Liability insurance | This mandatory coverage protects the other person and vehicle in the accident. The benefit helps with medical bills, lost earnings, legal fees, etc. Every province has a minimum amount, but you can pay extra to top it up. We highly recommend topping up this coverage. It is not expensive. In some provinces, the other driver can sue you – which can push your costs into the millions. | Mandatory |
| Comprehensive insurance | Comprehensive coverage is for incidences outside of collisions, such as damage from falling objects, fire, theft, vandalism, and floods. | Not mandatory |
| All perils | Someone in your house could steal your car, or an additional driver listed on your policy could damage it. This would be covered by all perils. It is not mandatory coverage so be sure to include it if this is a possible risk in your household. | Not mandatory |
| Uninsured motorist / Hit-and-run coverage | Although it's against the law, some people drive without insurance, or leave the scene of an accident (hit and run). That is why this coverage is mandatory. | Mandatory |
| Accident Benefits | Accident benefits helps with medical expenses, along with nursing care, income replacement, etc., resulting from the accident. | Not mandatory |
What cars are the most expensive ones to insure?
Car insurance costs are linked, in part, to the types of claims associated with them: accident benefits insurance claims, collision insurance claims, comprehensive insurance claims, and direct compensation property damage insurance claims. Here are some examples of cars (model years 2014-2018) that tend to have high insurance costs:
BMW X6
BMW 4th series
Tesla Model S
Cayenne
BMW 3rd series
Audi Q7
Mercedes-Benz S series
Hyundai Genesis
Audi S5
Mercedes-Benz CLS
Mercedes-Benz C series
Audi A5
Subaru/Toyota BRZ
Dodge Charger Ford Mustang
Lexus IS
Other factors, like your driving habits, age, driving history, location, policy type, and coverage have a bigger impact on your car insurance rates. The model/make alone is not a good predictor of your rate.
7 Ways to save on Car Insurance in Sarnia
Getting cheap car insurance in Sarnia is not easy since car insurance rates are high across Ontario. However, it is not impossible to get a good rate. We have collected a number of ways for you to reduce your car insurance rates.
1. Drop the Glass Coverage: Compare the cost of glass coverage to the cost of a new windshield. If your car has an inexpensive windshield, it may make sense to not have glass coverage.
2. Minimal Coverage: Drive an old car with little value? If you only have liability insurance, you'll save on your premium. However, remember that while you'll be covered if you damage someone else's car, your car will not be covered and you will have to pay for your own repairs or vehicle replacement.
3. Rental Car Rider: A rental car rider on your policy is $20-$30 a year. A waiver at the rental company is around $20/day. If you rent cars frequently, consider adding a rental car rider to your policy.
4. Short Distance to Work: A shorter commute to work means a lower car insurance premium.
5. Annual Review: Review your coverage annually. As your life changes, so do your insurance needs and available discounts.
6. Winter Tires: Many insurers will offer a discount if you install winter tires on your vehicle since this is a proven way to reduce your risk when driving in winter conditions.
7. Professional Membership: Some insurance companies offer discounts for members of professional organizations, like Certified Management Accountants of Canada or The Air Canada Pilots Association. If you belong to an association or professional organization, check to see if they have partnered with insurers to offer member discounts.
Sarnia Car Insurance quotes, examples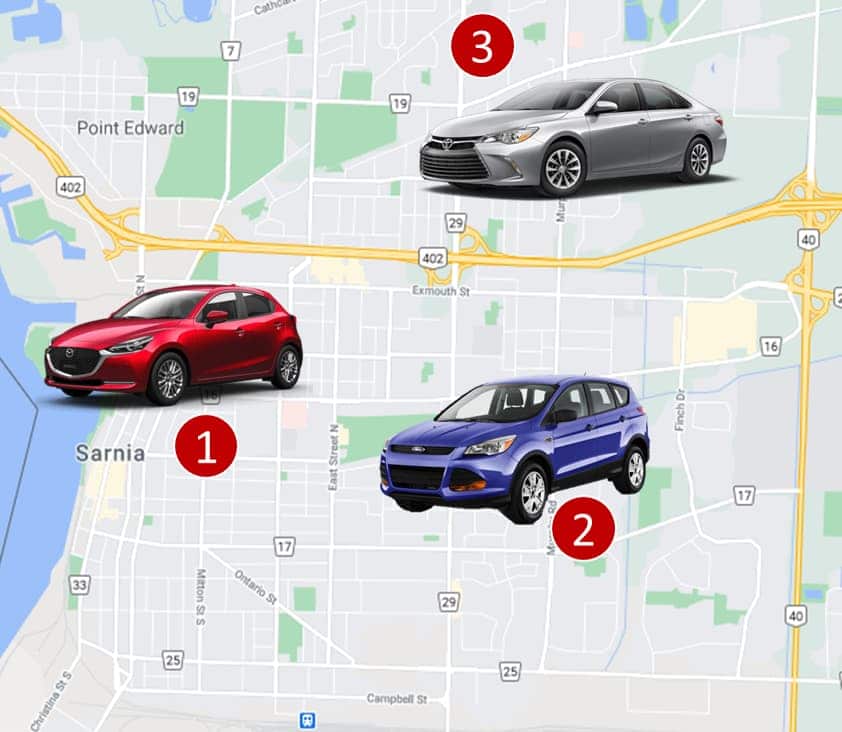 Sample car insurance quote #1:
A male driver, 45 years old, has no claims in the last three years, no at-fault accidents, and no license suspensions. Vehicle: 2018 Mazda 3 GX, CAA member, comprehensive coverage (including collision). Policy: $1,000 deductible, 3rd party liability – $2,000,000.
$72 per month ($864 annually)
Sample car insurance quote #2:
A female driver, 52 years old, has no claims in the last three years, no at-fault accidents, and no license suspensions. Vehicle: 2014 Ford Escape, collision-only coverage (no comprehensive). Policy: $1,000 deductible, 3rd party liability – $1,000,000.
$78 per month ($936 annually)
Sample insurance quote #3:
A female driver, 34 years old, has no claims in the last three years, no at-fault accidents, and no license suspensions. Vehicle: 2016 Toyota Camry, comprehensive coverage (including collision). Policy: $1,000 deductible, 3rd party liability – $1,000,000.
$110 per month ($1,320 annually)
Car casualty rates in Ontario (including Sarnia)
According to casualty statistics from Transport Canada (2018), Ontario drivers are more cautious than drivers in other provinces.
However, this safe driving record is not reflected in car insurance rates in Ontario, which are still among the highest in the country.
| Province | Fatalities per 100,00 licensed drivers | Injuries per 100,00 licensed drivers |
| --- | --- | --- |
| NU | 74.2 | 928.0 |
| YT | 24.1 | 681.1 |
| SK | 15.8 | 517.5 |
| PE | 13.2 | 573.8 |
| NS | 10.2 | 978.9 |
| NB | 9.0 | 484.3 |
| AB | 9.0 | 530.0 |
| BC | 8.0 | 555.7 |
| MB | 7.6 | 1310.0 |
| NT | 7.6 | 382.5 |
| Canada | 7.2 | 575.0 |
| NL | 6.6 | 460.8 |
| QC | 6.4 | 622.1 |
| ON | 5.8 | 491.3 |
Car Insurance in Sarnia – what you must know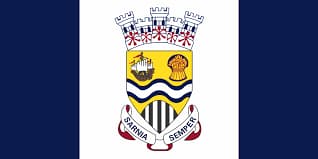 Car insurance is mandatory in Sarnia, as it is mandatory in the province of Ontario.
The minimum third party liability coverage in Ontario (that is required by law and included in every car insurance policy) is $200,000.
Other car insurance benefits in Sarnia, Ontario:

Disability income benefits will provide 70% of your gross income to a maximum of $400 per week.

The standard maximum for non-catastrophic injuries is $65,000. This is to help with costs like medical treatments, rehabilitation, and attendant care expenses (physiotherapy, chiropractic treatments, or an aide to assist you if you have been seriously injured).

The maximum for catastrophic injuries is $1,000,000.

Caregiver benefits max out at $250 per week for the first dependant, and $50 per week for each additional dependant.

If your injuries prevent you from your usual housekeeping or home maintenance routines, you may be eligible for benefits to hire assistance. The maximum benefit payment for this is $100 per week.
The standard amount of death and funeral benefits is $25,000 for your eligible spouse, with a further $10,000 for each dependant. Another maximum of $6,000 may be allotted for funeral expenses.
What cars are the least expensive ones to insure?
Some car models have lower accident records and when they are in a collision, the repair costs are lower too. Here are examples of cars (model year 2014-2018) that cost less to insure.
Smart Fortwo
Ford F150
Nissan Frontier
Chevrolet Tahoe/Yukon
Chevrolet Silverado/Sierra
Fiat 500
Ford Mustang Convertible
Jeep Wrangler
Buick Encore
Honda CR-V
Jeep Compass
Chevrolet Equinox/Terrain
Nissan Xterra
Honda Pilot
Hyundai Accent
Remember that the car model is just one of the aspects defining your insurance rates. Your personal driving history impacts your rates a lot more than the make and model.
5 Car Insurance myths to know
Myth #1: If you lend your car, it will be covered through the insurance policy of another driver
When you lend your car, you lend your insurance. If your car is involved in an accident, your policy is impacted.
Myth #2: Insurance works in the same way across all Canadian provinces
The way insurance works varies across Canada. There are two systems – no-fault or tort (aka at-fault). The names are misleading as they don't describe who is at fault in an accident, rather which policy pays for the damages and if the drivers can sue each other. Some provinces are no-fault, some are tort, and some use both systems. The differences don't stop there. In MB, SK, and BC, insurance is only available through MPI, SGI, and ICBC respectively.
Myth #3: No-fault insurance means that none of the parties involved in an accident are at fault
This is not true. In an accident, there is always an at-fault party, or fault can be split between both parties if both are partially at-fault. No-fault means each driver's insurance covers the claims costs, not just the at-fault driver. No-fault is designed to be a faster system since insurers don't have to take the time and spend resources to figure out who is at fault.
Myth #4: It is more expensive to insure red cars
This myth is a classic but it's not true in the least. The colour of your car has absolutely no bearing on the premium. Neon, lime green, hot pink, and yes – bright red – drive whichever colour you wish.
Myth #5: If I have comprehensive coverage, I can always expect to get OEM (original equipment manufacturers) parts for my vehicle
In most cases aftermarket or recycled parts are used to keep the costs of claims down. Some insurance companies offer the OEM option if you purchase an additional rider. Each policy is different, so be sure to read and understand yours to know if OEM parts are covered or not.
Hyundai, Nissan, Ford, Buick, Chevrolet, and Jeep have cheaper insurance rates, but various series of BMW, Mercedes-Benz, Audi, and Lexus cost more to insure. This is not surprising as these are more expensive cars that have higher repair costs. Check the tables above for the exact makes/models.
Car insurance costs in Sarnia, Ontario, depend on many criteria. On average, drivers in Sarnia will pay $80 and $105 per month. Infractions impact your insurance. If you have a maximum of two violations in the last three years (parking tickets not included) you can expect to pay 20%-35% higher rates. If you have a serious history of driving problems, expect double the rate. Also, younger drivers, due to their lack of experience, should expect significantly higher auto insurance premiums.
Our proprietary insurance review platform has collected independent consumer reviews for different insurance and financial products since 2012 and has thousands of insurance reviews that you can access for free. Click here for all our car insurance reviews.
Our Publications related to Auto Insurance
Car Insurance by Location