We hope you enjoy our home insurance guide for Brampton, Ontario. Here is where you will learn a variety of tips on how to save on home insurance, how to compare rates, and learn about myths that could be preventing you from getting the best policy. Our guide is for homeowners, condo dwellers, and renters.
What are average Home Insurance cost in Brampton?
In this chart that shows average renters and homeowners insurance rates, you will see that typically, renters pay less. Why? This is because renters (aka tenant) insurance only covers contents and sometimes liability. Homeowner policies cover more risks, such as damage to the land, outbuildings, and from hail or other natural disasters. Homeowner insurance can also be enhanced with optional riders to cover specific risks if they are not already included, like earthquakes or sewer backup.
Over the past few years, Ontario has increasingly been impacted by flooding. While most insurers offer protection for overland flooding (where water enters the home from the outside due to perils like a swollen river or fast melting snow), often this coverage is offered via an endorsement (aka rider). These are add-ons that you purchase to enhance the policy. Check to see if you are covered or if you need a rider for complete protection.
How to save on Home Insurance in Brampton: 10 Tips
New Home: BCAA and Wawanesa are two insures that offer discounts for new homes. Check to see if your insurance company offers this discount.
Decrease your liability: Take common-sense steps to reduce your risk of a liability claim. Harness your aggressive dog. Fence off your pool or trampoline. Keep your sidewalk clear of snow and ice.
Avoid danger zones: Avoid living in areas with high probability of natural disasters, and areas prone to thefts and break-ins.
Hydrants and fire-station: Some insurers offer a discount if you live next to a fire station or by a hydrant.
Retire: Insurers assume you are home more often if you are retired, and therefore more able to spot and thwart risks. Ask if your insurer offers a retiree discount.
Annual vs. monthly payments: Annual payments cost the insurer less time and money in administration, so they give you a discount if you pay yearly instead of monthly.
Stop smoking: Smoking is a huge fire risk (and a major health hazard). Naturally, you'll pay higher premiums. Save money by stopping smoking and demonstrating that you have maintained quitting over the long haul.
Mortgage insurance vs life insurance: Mortgage insurance pays the bank and covers your outstanding mortgage balance, but the premium doesn't go down as your mortgage is paid down, and there is no extra for your beneficiaries. On the other hand, life insurance could cover the mortgage and leave some left over. Life insurance is also portable, but mortgage insurance is not portable. This means if you switch banks, you'll lose your insurance. Life insurance may be the better deal for you. Chat about this with an advisor.
Repair if possible: Don't quickly reach for the phone to call in that claim! If your deductible or potential rise in premiums offset the value of making a small claim, see how much it would cost to do the repairs yourself. This is a good strategy for smaller scale repairs.
Rebuilding vs. market costs: There is a big difference between the market value and rebuilding value of your house. Market value can be significantly higher. Rebuilding value restores it to the condition it was in before the loss.
5 Elements that will increase your Home Insurance costs
Old or poorly maintained house elements: If structural elements, like your roof, are in poor shape, you can expect more expensive premiums or even a denial of insurance until renovations are done.
Roof type: Roof type matters to insurers. They consider shingle or wood shake to be the least reliable.
Basement: Why do finished basements increase the cost of insurance? During a flood, burst pipe, or sewer backup, water flows down to the basement, meaning more cleanup and replacement/repair costs.
Garden and trees: Beautiful gardens and trees aren't risky, but they can increase your cost of insurance. Expect to pay a little more to cover your beautiful landscaping.
Business property: When your home is also your place of business, you have more assets on the property, and more people coming and going too. This puts your personal and professional items at risk and increases your liability – and therefore your premium.
Brampton – Home Insurance quotes, examples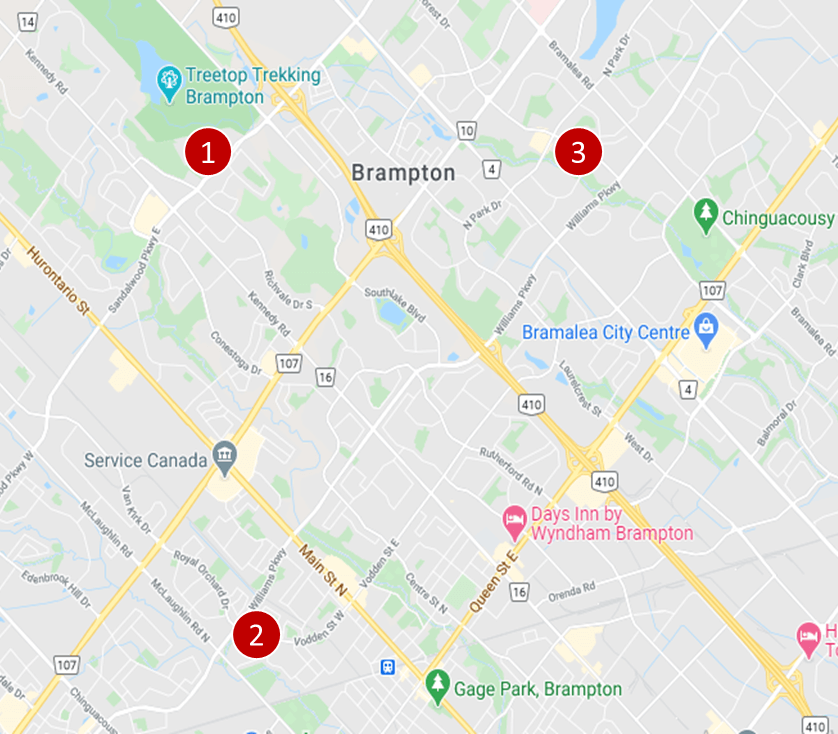 Brampton home insurance quote #1:
Homeowners insurance for a two-storey detached brick house, about 1,700 sq. feet. This house has a built-in garage for one car, a pool, and does not have a basement. It is located on Royal Palm Drive next to Heart Lake Conservation Park. The policy is a bundle of home and car insurance.
$67 per month ($804/year)
Brampton home insurance quote #2:
Tenant home insurance for a two-storey detached brick house under 1,000 sq. feet. The house has a single built-in garage and a new roof. Located on Martindale Crescent next to Martindale Park
$26 per month ($312/year)
Brampton home insurance quote #3:
Homeowners insurance for a two-storey unit in a duplex, about 1,500 sq. feet. The building has built-in garage for one car, no basement, a new roof, vinyl siding, and is located next to Maitland Park in Bramalea.
$83 per month ($996/year)
7 Home Insurance myths to know
Myth #1: Home insurance pays for required upgrades/maintenance
Normal wear and tear are not covered by your policy. You still need to replace those shingles and water heater when they approach their expected life cycle's end.
Myth #2: Your temporary living allowance allows you to live in a home similar to yours
Your insurance's coverage limits for accommodations have a cap. Should your home be damaged in a storm or fire to the point where you cannot live in it until it is repaired, make your living allowance go further by staying in cost-effective accommodations. Be sure to know the coverage amount and the time limit (such as not being able to stay in a hotel for longer than 6 or 12 months) on your policy.
Myth #3: After my first claim, my premium goes up
Some insurers have first claim forgiveness. Others simply remove the claim-free discount. Your first claim does not always raise your premium.
Myth #4: Once my child goes away for university, their belongings are fully covered
Square One is an insurer among the very few that have no limit for covering a student's property. Most insurance providers have coverage caps for students while they live on campus, and if they are renting an apartment or suite off campus, they should look into separate tenant's or renter's insurance.
Myth #5: Insurers will substitute my lost or damaged items with new ones
This comes down to the wording in your contract. The definitions to watch for are actual cash value or replacement value.
Myth #6 If I am a tenant, my landlord's insurance covers everything because it is all their responsibility
Absolutely not! Your landlord's insurance does not cover your liability nor your contents. You need tenant, aka renters, insurance to cover theft of your belongings, and liability if you flood your neighbour's unit, or if someone is hurt in your home due to negligence.
Myth #7: It doesn't matter where I get my insurance because it's all the same
This is not true. There are a variety of policy types with many different coverage structures. It is important to see if (through the main policy or through riders) water damages such as sewer backup, overland flooding, etc. are covered. Also, note the differences among the living expenses caps. Compare a variety of policies to find the best one for your needs.
Frequently Asked Questions (FAQ): Home Insurance in Brampton
What does Home Insurance cover in Brampton?
Brampton home insurance is similar to coverage throughout Ontario and across Canada, meaning, the coverage you get depends on the type you choose. Here's a quick overview:
Tenant insurance: Covers contents and personal liability.
Homeowners insurance (house): Covers the entire rebuilding costs for your property, several natural impacts depending on your riders (such as earthquake, flooding, snow damage), liability, tree and garden (may need a rider for landscaping coverage), and additional structures on your property like your storage shed or detached garage.
Who has the best Home Insurance in Brampton?
Some insurers specialize in different population segments. Some focus on seniors, while others focus on affiliated groups. Some even focus on geographical areas, types of buildings, or specific risk types. Get as many quotes as possible from a variety of insurers to compare home insurance in Brampton, and understand the differences in coverage, deductibles, exclusions, etc. Our insurance professionals can help you find quotes and answer your questions.
How much is home insurance in Brampton?
Brampton home insurance costs vary. It depends on the type of home insurance you need (homeowners, tenant, coverage for a single family home or a condo) as well as the condition of the home, and other factors.
Tenant insurance: can be as low as $15/month, making it the cheapest type of insurance.
Homeowners insurance for a house: has the broadest range. It can be as low as $50/month and be as high as several hundred. It all depends on the size and age of your home, the condition of the property, if you have a finished basement, the geographical location, history of natural disasters, structural element conditions, etc.
Home Insurance in Brampton – Reviews: where to find them?
Our proprietary insurance review platform has been collecting independent consumer reviews for a wide variety different insurance and financial products since 2012. We have now amassed thousands of insurance reviews. Please click here to access, for free, all our home insurance reviews.
Our Publications related to Home Insurance
Home Insurance by Location