Welcome to the complete home insurance guide for Scarborough. Here you will learn about home insurance premiums in Ontario, how to save on home insurance, and other useful tips.
What are typical Home Insurance cost in Scarborough?
The chart shows average rates for renters and homeowners in Ontario. Renters insurance in Scarborough is cheaper than homeowners insurance rates. This is because renters insurance only covers your contents and sometimes liability. On the other hand, homeowners insurance covers the dwelling, the property, liability, and some extras like the trees and garden.
Increasingly, flooding is impacting regions in Ontario. Overland flooding (characterized by water entering your home from the outside as seen with heavy rainfall or fast snow melt) is covered by most insurers in Canada. Sometimes, however, it is sold as an optional policy rider and/or goes by different names or is bundled with other coverage like sewer backup. As overland flooding is important coverage to have, check your policy to ensure you know if you are covered or need a rider.
Cheap Home Insurance in Scarborough: 10 Tips
Wiring: Older homes can have knob and tube or aluminum wiring, which is a fire and environmental hazard. If you are fortunate to find an insurer that will cover this, they will require a full electrical inspection (at your costs) and the premium will be very high.
Heating: It's cheaper to insure forced-air gas or electric furnaces and more expensive to insure oil heated homes. Remember this when house hunting.
Decrease liability risk: Be a responsible homeowner to decrease your liability. Keep your dog in a dog run or on a leash. Remove snow and ice from your walkway. Fence off your pool.
Change your content coverage: Renting a condo or apartment? You may not need the full $250,000 of contents coverage if you have just a laptop and IKEA furniture.
Water damages: Water damage is indicative of bigger maintenance problems. Have your home inspector check carefully for a history of water entry before you buy a house.
Hydrants and fire-station: Some insurers offer a discount if you live close to a hydrant or fire station.
Professional Memberships: Are you a member of a professional organization such as Certified Management Accountants of Canada? Some insurers, like Meloche Monnex Insurance, offer a discount to members of professional associations.
Retirees: It is assumed that retirees spend more time at home, so they are able to spot issues sooner. This is why some insurers provide a discount to retirees.
Annual review: As your life changes, your insurance needs change. Assess your coverage each year to see if you need to adjust your coverage.
Repair instead: Do you have small repair issues that you can fix (or have fixed) on your own? Consider the rise in premiums and your deductible costs before making a claim for an easy-to-fix repair.
5 Elements that will increase your House Insurance costs
Fireplace or woodstove: These are lovely additions to your home but also a source of potential smoke or fire damage. This is why a fireplace or wood stove can increase your premiums.
Roof type: Insures consider wood shake and shingle roofs to be the least reliable. More durable roofs can save you money on your insurance.
Galvanized or lead pipes: Galvanized or lead pipes are outdated and a risk to your home, environment, and health. Insurers charge extra for this so be sure to update the pipes as soon as possible.
Basement: During a flood or pipe burst, water flows down – which is bad news for finished basements. Expect to pay more to defray this risk.
Garden and Trees: Your trees and garden are not considered risky elements, but they can be covered by insurance, which is why you either pay a higher premium or add coverage for them via a rider. 
Scarborough Home Insurance quotes, examples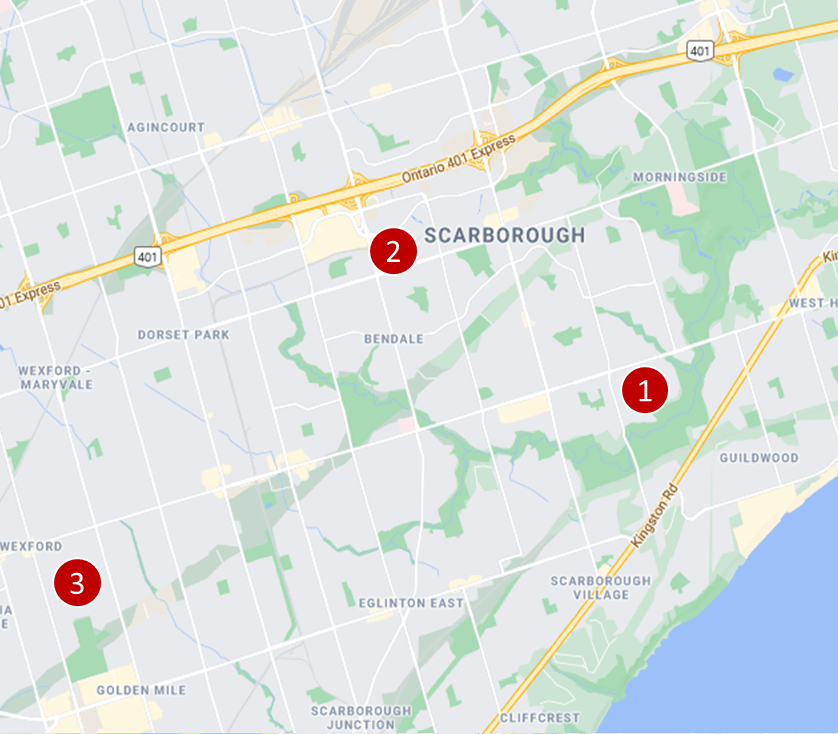 Scarborough home insurance quote #1:
Homeowners insurance for a two-storey detached house, about 1,750 sq. ft. This home has a built-in garage for two cars, partially finished basement, is equipped with a monitored burglar alarm, and the owner is bundling coverage with auto insurance. Located in Golfdale Gardens next to Willow Park Jr Public School:
Price: $105 per month ($1,260/year)
Scarborough home insurance quote #2:
Homeowners insurance for a two-bedroom condo unit under 1,000 sq. ft in a high-rise building with non-smoker occupants. The building is located near McCowan Subway Station:
Pilot: $38 per month ($456/year)
Scarborough home insurance quote #3:
Tenants insurance for a 1.5-storey detached brick house, about 1,500 sq. ft. This home has a semi-finished basement and no garage. Located next to Wexford Park:
Price: $29 per month ($348/year)
5 Home Insurance myths to know
Myth #1: If I am away on vacation, my house is covered
Your policy outlines the steps you must take when away for an extended period of time. In addition to having someone check on the property every 3-7 days, you may be asked to shut off the water, empty the pipes, and ensure the heating cycle is maintained. Failure to comply can invalidate your claim.
Myth #2: Home insurance covers the market value of my house
Home insurance covers the rebuilding, not market value of your home. The rebuilding cost is always lower because it does not include the value of the land. For example, if your home burned down, it can be rebuilt but the land does not need to be replaced. However, some allowance is usually made for debris cleanup.
Myth #3: Home insurance automatically covers upgrades to the home or condo
Home insurance will not automatically cover your kitchen, washroom or other upgrades, nor your routine maintenance. When you upgrade or renovate your home, or add a wood stove or fireplace, etc., you must inform your insurance company. Check your policy carefully as different insurers treat upgrades in different ways.
Myth #4: Insurance is cheaper for older, less expensive homes
The opposite is true in most cases because if they are not upgraded they have older elements. Oil heating and aluminum wiring may be present. The shingles may be at the end of their lifecycle.
Myth #5: If I make a home insurance claim, my insurance costs will go up
Not every claim increases your premium. Some insurers have first claim forgiveness. Some simply remove your claim free discount. It all depends on your policy's stipulations.
Frequently Asked Questions (FAQ): Home Insurance in Scarborough
What does Home Insurance cover in Scarborough?
What's covered by homeowners insurance in Scarborough depends on the type of insurance you need:
Tenants insurance:  Tenants, which is also known as renters insurance, only covers your unit's contents, storage locker, and liability. 
Homeowners insurance (condo): If you own a condo, your insurance covers the unit and associated upgrades; your contents against theft, damage, etc.; and your liability. The building envelope (roof, walls, exterior windows), and common areas (hallways, rec room, lobby, elevators, etc.) are covered by the condo corporation.
Homeowners insurance (house): As the most complete coverage, homeowners insurance for a house covers the rebuilding value of your home, your liability, and some natural disasters like floods, earthquake, or landslides either via the main policy or through optional riders.
How much is Home Insurance in Scarborough?
The cost of homeowners insurance in Scarborough depends a variety of factors, including the profile of your home and property, and the type of dwelling in which you live.
Tenant insurance, aka renters insurance, is the cheapest. It can be as little as $20/month.
Homeowners insurance for a condo is not very costly since it only covers your condo unit, along with your upgrades, contents, and liability. It is around $20-$50/month.
Homeowners insurance for a house varies because of the many factors involved. Taken into consideration are: the size of the home, the location, the risks in the area (flooding, earthquakes, etc.) the condition/maintenance of the home, the type of wiring, the presence of a fireplace and more.  Homeowners insurance can start at $50/month and go as high as several hundred dollars per month depending on your property.
There may be additional costs depending on your needs. If you have rare art, a jewellery collection, business assets, or run a daycare or bed and breakfast from home, this may result in higher premiums. Other aspects, such as the deductible level you choose, your coverage limits, etc., will also impact the final premium.
Home Insurance in Scarborough – Reviews: where to find them?
Since 2012, our proprietary insurance review platform has collected independent consumer reviews for all types of insurance and financial products.  Click here for free access to thousands of reviews.
Our Publications related to Home Insurance
Home Insurance by Location